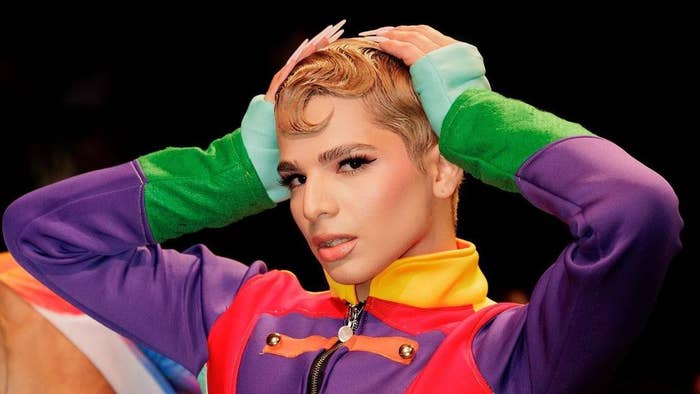 Everyone and their mother is talking about the opening night of Beyoncé's Renaissance World Tour, which kicked off on May 10 in Stockholm. While Queen Bey is getting all the praise and flowers for a stellar performance, there's another name that has been trending on social media, too: Honey Balenciaga. 
For those who may be unfamiliar, Honey Balenciaga is a popular Ballroom artist who has gained national attention over the last six years for bringing exciting freestyle moves and feisty energy to the Ballroom floor. Honey performed throughout the show, including during numerous dance segments as well as the Ballrom segment, which occurred at the end of the night. She quickly became a trending topic on Twitter after videos of her voguing went viral. 
Honey Balenciaga's price is definitely about to go up. Get to know more about one of the breakout stars of the Renaissance Tour, below. 
She discovered Ballroom as a form of expression and family in her late teens
Honey Balenciaga identifies as a member of the LGBTQIA community. She found refuge in the ballroom scene—an underground subculture that originated in New York City for Black, Latino, and LGBTQIA people in the late '80s. She made her debut around 2017 as a member of the House of LaBeija, a prominent family that was founded in the late 1960s. In a 2022 interview with V Magazine, Honey said she was drawn to the world of Ballroom because of its community and family atmosphere. "Ballroom offers another support system, an extended family outside of your own," she said. "I was surrounded by people who knew what I was going through—it's a beautiful thing."
She gained mainstream attention as a star in TV series such as Legendary 
She is currently in the House of Balenciaga
She has appeared in many fashion campaigns 
She is curating her own capsule collection and music 
Honey Balenciaga is continuing to build her brand. In 2022, she revealed that she is launching her own capsule collection called "Honey Essentials" that is inspired by the garments that she wears to the Ball. "It's definitely going to be a little fashion collection. I don't want it to be merch. I want to be a forever thing," she told V Magazine in 2022. "I want it to be fashion. I want it to be something you use, you know? So that's one thing that I'm doing. I'm also getting into music. I'm definitely gonna have a couple of tracks out very soon. There's a lot happening!"