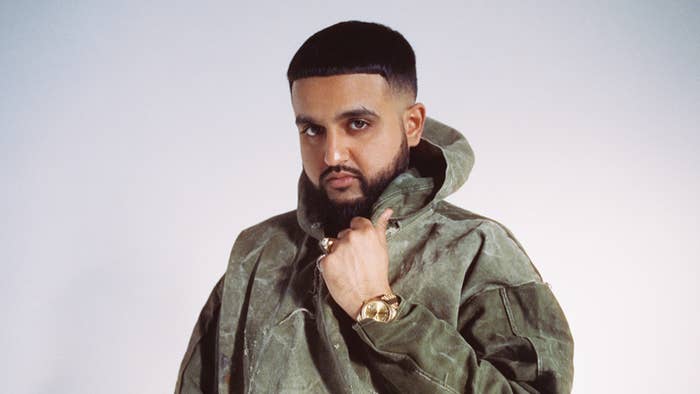 For someone who began their career as an enigma, Nav has started to open up. First gaining widespread attention for contributing to Drake's "Back To Back" and following that with a self-titled mixtape in 2017, Nav seemed to be following in the footsteps of his mentor, the Weeknd, creating an air of mystery around his Auto-Tuned tales of Toronto trap life and material excess. But over just a few years, he went from being a key member of the XO roster to a unique solo star in his own right, navigating a newfound level of visibility. His 2019 album, Bad Habits, even debuted atop the Billboard 200.
Though much of his output has been met with critical indifference, Nav seems to have recently found a way to lean into his designer-draped musical persona to more enjoyable results while proving in candid, strangely endearing interviews that he's willing to admit when he's fallen short. He's famously acknowledged that he phoned in most of his debut album, Reckless. In the last year, he's made a concerted effort to get his face out there more, carving out a unique lane in the crowded world of crooning trap.
Nav's third solo album continues his trend of starry guest lists—Young Thug, Future, and Travis Scott all appear—while its woozy midtempo songs toe the line between run of the mill rap boasts and a kind of winking-at-the-camera self-awareness that's a more recent development. It seems he's having more fun making music now, and that shift is evident on Good Intentions' better moments.
"After [Bad Habits] came out and went no. 1, I returned to the studio more confident, relaxed, not worrying about what people think," he says. "It let me be more honest this time on this record."
"Recap," "Run It Up," and "Coast to Coast" are among his catchiest tracks, while "Saint Laurenttt" and "Brown Boy" consciously try to show his dimensionality. The latter sees Nav rapping about himself from the perspective of a jealous onlooker, but also acknowledging some of the negative comments that have dogged him throughout his career.
"The lyrical content [of 'Brown Boy'] I get from my comments. I saw one that I responded to yesterday where someone was reacting to me having Pop Smoke on the album," he says. "They said, 'How the fuck does he always pull this kind of shit off?' and I responded, "Because of people like you.'"
As Nav has grown more comfortable in the public eye, he's also become a worthwhile social media follow, dispensing wisdom—and the occasional platitude—on Twitter that he's gained from an unconventional rise to mainstream prominence.
The day before the release of Good Intentions, we spoke to Nav about his relationship with Pop Smoke, and his new production style. While we had him, we also asked him to break down some of his signature motivational tweets.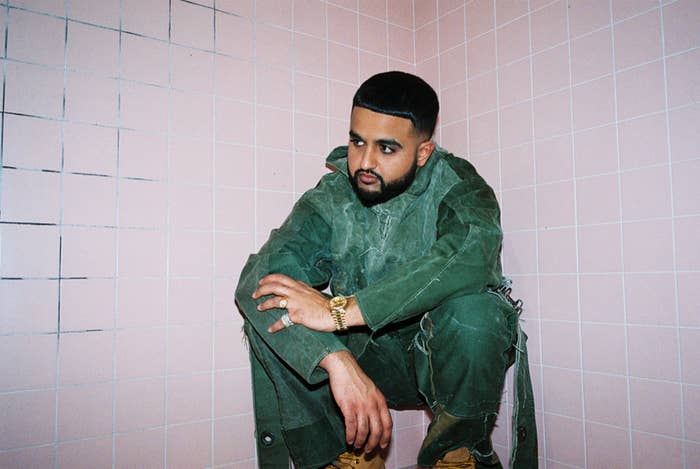 The concepts of Bad Habits and Good Intentions are connected. Can you explain the relationship between those two projects?
I feel like I'm in the same creative headspace and work ethic as the last album. Then when it came to the content on the album, I've been more reflective, more honest. It was buzzer-beater time and I came up with the song "Good Intentions." On it I say, "I've got bad habits, I've got good intentions." So it only made sense to make that the album title. It felt good. We were trying to come up with an album title for a long time and couldn't think of anything; nothing was really resonating with us like that did.
Did you write this whole album post-Bad Habits or was any of it older material?
This record came from a very relieved standpoint. I was really stressed out making Bad Habits. I felt like if I didn't do well on that album, my career would be done, even though maybe that wasn't true. After that came out and went No. 1 and I did more sales than I'd ever done, I returned to the studio more confident, relaxed, not worrying about what people think. It let me be more honest this time on this record.
On "Brown Boy," you talk about yourself from someone else's viewpoint. Do you think a lot about the way you're perceived by listeners?
It was kind of funny how the song came about. When I record, I move stuff around a lot. I'll start off with a verse but then make that the hook. That song actually started with the hook, and then I was sitting there listening to it and said, "What if we took the hook off the front so the first time people hear the first couple lines they think, 'What if he's talking about another dude? What's going on?'" Then it all ties in on the hook. The lyrical content, I get from my comments. I saw one that I responded to yesterday where someone was reacting to me having Pop Smoke on the album. They said, "How the fuck does he always pull this kind of shit off?" and I responded, "Because of people like you."
That's one of the songs where you seem conscious of the way you're looked at as one of very few Indian voices in rap.
The portrayal of my people can be unfortunate. I feel like the last real representation of us in pop culture is like, Apu from The Simpsons, you know what I mean? But there are Indian people in all different walks of life. My boy [Young] Thug's engineer is Indian. We're in the same room and we're completely different people, but we're from the same country.
You don't have to go back too far in the past to get to a point when mainstream pop culture was really homogenous and extremely white.
Even when I was coming up, I'd literally be in a trap house with my friends. Some of the guys would be like, "How are you gonna rap? You don't have the look." I was like, "I'm in the trap with y'all right now. What's fake about this?"[Laughs]. It's crazy, what they were saying makes sense to me now. The people in the world who don't know my background, don't know my story, don't know anything about me, they're gonna judge it off face value and hate right away. People hate what they can't understand.
Your second collaboration with Pop Smoke is on this album. You two seemed to be getting close before his death. What was your relationship like with him?
I have a lot of principles in life that I live by, manifestation stuff. In that time that I met Pop Smoke, I just learned to show up to work, to the studio, with no expectations. It's tricky, because let's say you have a session with somebody—if you go in there with expectations of doing three songs and you only get one that you don't really like, it's gonna lead to disappointment. I've learned to work with no expectations. That day, I didn't even know I was gonna see Pop Smoke. I didn't even know I was gonna see Meek [Mill], who was in the other room, too. I was chilling with Meek, listening to some of his songs, and then I went back to my room and next thing I know, he walks in with Pop Smoke. I'd been wanting to work with him, and it happened naturally. Every day, if you show up with no expectations, you don't know what's going to happen.
"Run It Up" is definitely a departure from his usual sound.
We did one [drill song] and I said, "Okay, dope." But then he wanted to make something more in my sound. That's how we got the song that's on my album. I want fans to see the other sides of Pop. I think he was more versatile than people think.
"Recap" with Don Toliver also stood out on first listen. You've been supporting him for a while. What is it like to finally be putting out a record with him now that he's made more of a name for himself?
It's crazy. I met him in Hawaii when we were doing the ASTROWORLD stuff. I didn't even really know anything about him, but he's just a cool kid. He's really humble and he deserves it all. That attitude will get you far. I feel like I have a similar attitude. I see myself in him coming up. He was one of the only artists that really wanted to hear his song [on Good Intentions] again and change parts. He really cared about his stuff. And he's dope, too. I like him as a friend, so it's easy to work with him musically.
Your voice and his blend together well and create some unique textures.
When I first started recording my music, I used to think, "Man, I sound weird. I don't like the way my voice sounds." But it's what made me unique and stand out on features, so when I pair up with another unique voice, people love it. Anytime I do a song with Gunna or with Uzi or something, it's night and day comparing [how we each sound].
You use Twitter to share a lot of motivational and inspirational messages. Why is it important for you to put those messages out there?
You know how when you write something down on a piece of paper, you remember it better? I feel like, if I'm having an insightful moment, a good way to remember it is to tweet it and also share that with other people. Obviously there are gonna be people who say, "Shut up." [Laughs]. And I get it, because I've been in a space like that in my life before, too, where someone was trying to tell me something motivational and I was like, "Shut up. You don't know what's going on." I get it. But the ones who see the good purpose in it, it's for them.
If you're up for it, I wanted to ask you to expand on a few of your tweets or tell me about how they apply to your life and career.
Sure, why not.
The first one I have is: "You become washed when you stop learning."
I feel like, as a human being, no matter what field you're in, if you stop learning, you're gonna be washed. You're not sharpening your tools, you're not adjusting to the times. It's kind of like what happened to Blockbuster when Netflix came out. Once you stop learning, you're gonna be washed. You're done. You'll end up like Blockbuster. You should've just taken the deal from Netflix.
That's a good analogy. Next, I have one from earlier this year: "You can't win a race with a friend that's not ready for the baton when you pass it."
That's a fact. I felt like, at one point in my life, I had friends that were holding me back, but I'm going to the destination no matter what. Even when I go out at night to parties, I'll be telling my friends, "This is a one-way train. You can hop on and off, but it's going to the destination no matter what." I felt like at that time maybe I was moving too fast for the people around me. A lot of people say you change when you make it, but I feel like it's them who changed. Nobody was asking me for anything before or even calling my phone, so I feel like they changed and not me.
How about "Being mentally tough is worth more than any muscles?"
If you think about it, being mentally tough is essential, even if you want to make muscles so you're driven to go to the gym. I feel like you can have all the muscles in the world, but if you're weak in your soul and your heart, you ain't nothing. I've seen a lot of big men fold and cry and fall down. [Laughs]. We're not fooled by big muscles. I've seen a lot of tough looking guys be really weak in their brains.
Once, you said, "I don't have it all figured out and I distance myself from people that think they do."
I forgot who made the quote, but someone once said, "The problem with the world is that all the geniuses are full of doubt and all the psychopaths are so sure of themselves." I agree with that. I don't like people that feel like they have it all figured out, because they usually don't.
It kind of goes hand in hand with the one about learning.
Yeah. I'm okay with saying I don't know how to do something. Some people just want to say that they know how and then they mess it all up. I'm okay with saying that I don't know something.
I'm really curious to hear more about this one. You said, "I'm addicted to staying lowkey."
[Laughs] I'm trying to channel back to when I said that. I don't know, I feel like when you pop out too much, it's not good. I read The 48 Laws of Power and it talked about the power of absence. I see that a lot in my life, even with my rapper friends. The other day, I hadn't seen the guys in a minute and I walked in and everybody's eyes were on me. Everybody was like, "What's up?" and getting at me for not being around. But I feel like if I went there every day, they might not [greet me the same]. I just like staying lowkey. It's been working for me.
Alright, this last one is sort of a classic. You said, "[I'd] rather die on my feet than live on my knees."
Yeah, 100 percent. That's easy. That's self-explanatory. [Laughs].
All right, let's jump back into Good Intentions. The producer Money Musik worked on the album a lot and I know you've been working closely with him to develop his sound and his career path. What's it like for you to have a protegé?
It's kind of crazy. I feel like he's in a way better place than I was at his age, because, shit, he's got me. He's fast-forwarding his whole process. It's enjoyable to see someone go and get success and learn from my mistakes instead of just his own. I like seeing people succeed. It makes me feel good. It's like a drug.
No matter what I do for the kid, if he says, "Thank you," I'm like, "Nah, you did this, bro. You wake up every day and chase this thing. I'm just an element of your universe that helps you move forward."
You've been involved with the production on your albums at different levels. You were very hands-on with Bad Habits, less so with Reckless. What was your role behind the boards with this record?
I found a better way. I feel like, with this album, I found the compass to find my sound by any means. That means I can do it or Pro Logic can come up with a good melody or whatever. I was more hands-on in terms of that. Before, with Reckless, I would just show up to the studio to do a song on a beat and then leave. I just didn't care about music back then. I just cared about the other things that I got with it.
[Now], I'm making the melody and the beat or I'm sitting there and rearranging the beat, and sometimes I don't even take credit for that. I'm really diving into the songs now and opening up the beats, instead of just rapping and saying, "Oh cool, I made a song. I'm out."
Once you stop learning, you're washed. If you're an artist, you can't just be an engineer and not be a producer nowadays. You can't just be a producer and not be an engineer nowadays. You've got to wear multiple hats because things are just moving too fast. 
I feel like you're part of a generation that came out a couple years ago and really took the idea of being multi-hyphenate musicians to heart. 
There's a belief that if you're a musician, you should know how to play at least one instrument. I don't fully agree, but you should at least know what key your song is in and know something about its notation. I feel like people that don't actually care about the music—what makes a song good and how it works, how chord progressions are put together—just won't last that long. You're not gonna progress sonically.
When you were starting off making beats, you made a point of learning actual music theory. How early in your career did you realize that was something you needed to do to progress to where you wanted to be?
In high school, I started making beats, but I didn't really care about them. After high school, I went to a studio school far away from my house. I had to take a bus every day from the hood to Mississauga. I look up to really musical beatmakers, the Scott Storch types who really play something. I started taking piano lessons, and I went from one teacher to another. There was a family friend who [taught me] and she really catered to my beatmaking. After eight or nine lessons, I was out of there and had gotten what I needed. I know enough music theory to make beats, but not so much to where it ruins music for me. If you know too much about music, you're not actually gonna know what to do. 
My teacher showed me a book—I guess I'll put it in this interview because you know I've got to put on for everybody—called The Chord Wheel. It's a book and it has a chord wheel on the front. That shit's really useful for anyone who's trying to learn what chords are in which key. All the producers who are reading this interview, you're welcome. [Laughs].
The Weeknd co-executive produced both Bad Habits and this new album. I'm curious, what does his involvement actually look like?
He's been involved from the day I handed in Bad Habits. I don't like to have my music on my phone anymore because of leaks. This way, if a leak happens, I'm not the one in the blame. So Cash will get a notes file from my engineer and he'll send songs to Abel. Once in a while, Abel will hit me up like, "Yo, that song you did was crazy." And I'll note it in my head. That's how we give each other criticism, it's three concise points. 
With Abel, he's there when I'm still making demos, then he'll try to mess with some songs and jump on features, then he'll be there for the sequencing. Even when me and Cash approved the last Bad Habits tracklist, he's the only one that noticed a typo on there. That shows he's paying attention all the time.
Musically, what you two do is different enough that I imagine his input is valuable.
That's the crazy thing about creativity and a person's creative spirit. If Abel and I are in a room together, he's pretty much like a friend from high school to me. We talk the same, we're just Toronto kids. But what he creates when he goes to create is so different from me.
During your last press cycle, you said you were trying to open up more in the media and be more visible. Do you feel like you did that successfully? How did it go? 
Once I got really secure with myself and we were ready to do interviews, I feel like it's been helping me. Looking at the portrayal of me on social media without any interviews, it's easy to make a narrative or judge it quickly. But, I feel like every time I've looked at my interview comments on YouTube, everyone's like, "Wow, I didn't expect him to be this humble or this cool or this smart." And I'm like, "What did you guys think I was like?"[Laughs]. That's crazy to me. It's definitely helped, and I'm glad they get to see more about me.  When I was a fan as a kid, I would've wanted to see this stuff about artists. I'd want to know what sauce they liked to eat with their food. I'd want to know everything about them. 
It seems like you've grown much more self-aware as your career has progressed.
One of my biggest pet peeves is people who aren't self-aware—the ones who are that guy in the room. I always give my friends advice and say, "No matter if you're at Christmas dinner with your family or at a concert or at the club, you never want to be that guy." That's something I take pride in. 
Last question. How's your dog Louis V holding up in quarantine?
[Laughs]He's so clingy. He's the most affectionate dog. He's literally at my feet right now, chewing on the pillow that I yell at him repeatedly not to chew on. He's good. Before the quarantine started, I put him in doggy school, but we had to cancel that. Right before he was done, he kind of got used to peeing on the pad. He can sleep in the bed with me now because he's a big boy. He walks down the stairs. He's like my son, for real. He's really cute. He keeps me out of a lot of trouble.