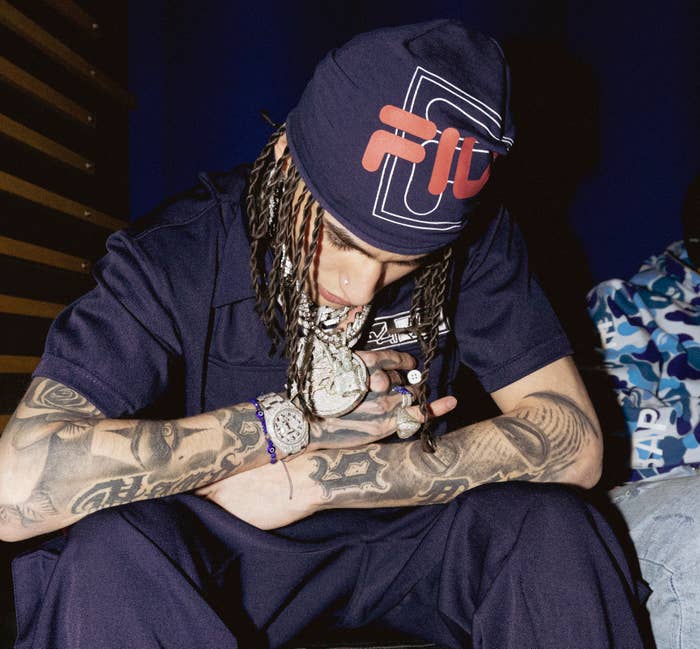 Many have critiqued drill music as a genre that propagates, glorifies, and profits from violence. But the origins of hip-hop and its sub-genres have always been birthed out of a mixture of youth culture, political struggle, and artists with a deep desire for their voices to be heard through the loudly disenfranchised communities/hostile environments they are often from.
From drill's very humble beginnings in Chicago's housing projects in the early 2010s, to UK drill formulating a completely new style since 2015—leaning on the shoulders of grime and trap—to it later finding homes in places such as New York City, Ghana and Australia, drill has become one of the fastest-growing youth movements across the globe, and Rondodasosa is one of the latest acts to imprint his name on the international scene. 
Born in San Siro, Milan, Rondodasosa's rise to notoriety is considered the blueprint for many up-and-coming artists in Italy. Upon the release of his remix to "Exposing Me" from the late Chicago drill artist King Von—titled "Face To Face"—the track quickly became one of his most successful singles, putting him on the map for all attentive ears to hear his artistry. He then released his debut EP, Giovane Rondo, in 2020, and it's been onwards and upwards for him ever since.
A year later, Rondo would pick up features with renowned names, such as Central Cee (their collab, "Movie", peaked at No. 26 in the Italian singles chart and went certified Gold). He would then go on to feature on Tion Wayne and Russ Millions' "Body" remix, before teaming up with Cench for a second time, this time for his own track "Eurovision". 
Having recently released his TRENCHES BABY project, we caught up with 20-year-old Rondo during his stop at a London studio to discuss the Italian music industry, why it's important for him to stay connected with loved ones behind bars, the difference between home love and international love, and much more. 



"It's me vs the Italian music industry... I'm the first Italian rapper to blow up outside of Italy, and I know they're jealous about that."
COMPLEX: Many people associate the suburbs with wealth, but you grew up in the suburbs of Milan, Italy, where it was challenging growing up. How was that experience? 

Rondodasosa: It was different, bro. I come from another country, Italy, and it's basically the same stuff: the same struggle, just a different location. When it comes to poverty and the struggle, it's all the same everywhere, you know?
You got into some legal issues a few years ago, with you almost being sent to juvenile prison. What did you get into trouble for? 

I got in trouble for assault… But I don't really want to go into that case, because I've left that in the past. It's all positive vibes from here.
Fair enough, and great to hear you're onto more positive things—like your music career. The first song you ever released, "Free Samy", was dedicated to your friend in prison. Why do you think brotherhood and staying connected with those incarcerated are important? 

I think brotherhood is super important, and when you make friends, you must hold the people you care about close. I don't want my friend to feel isolated and alone in prison because it can be lonely. That's why I named the song after him—so that he knows he hasn't been forgotten. 
Have any drill artists from the UK or the US helped influence the artist you are today? 

Artists from the States and the UK don't really influence me—I find my own style. But I listen to UK drill a lot and I love the music culture in the UK, especially in London.
Aside from the language barrier, what do you think the big difference is between UK and Italian drill? 

I'm one of the only drill artists in Italy, to be honest. But the drill songs in the UK are too similar; just a few drill rappers in the UK have their own sound. When it comes to Italian drill, it's different because my producer and I always experiment with new sounds when making music. We use samples from electro beats and other genres. It's just different.



"You have to rap about what you live and what's real to you. If people love your story, you'll end up blowing up."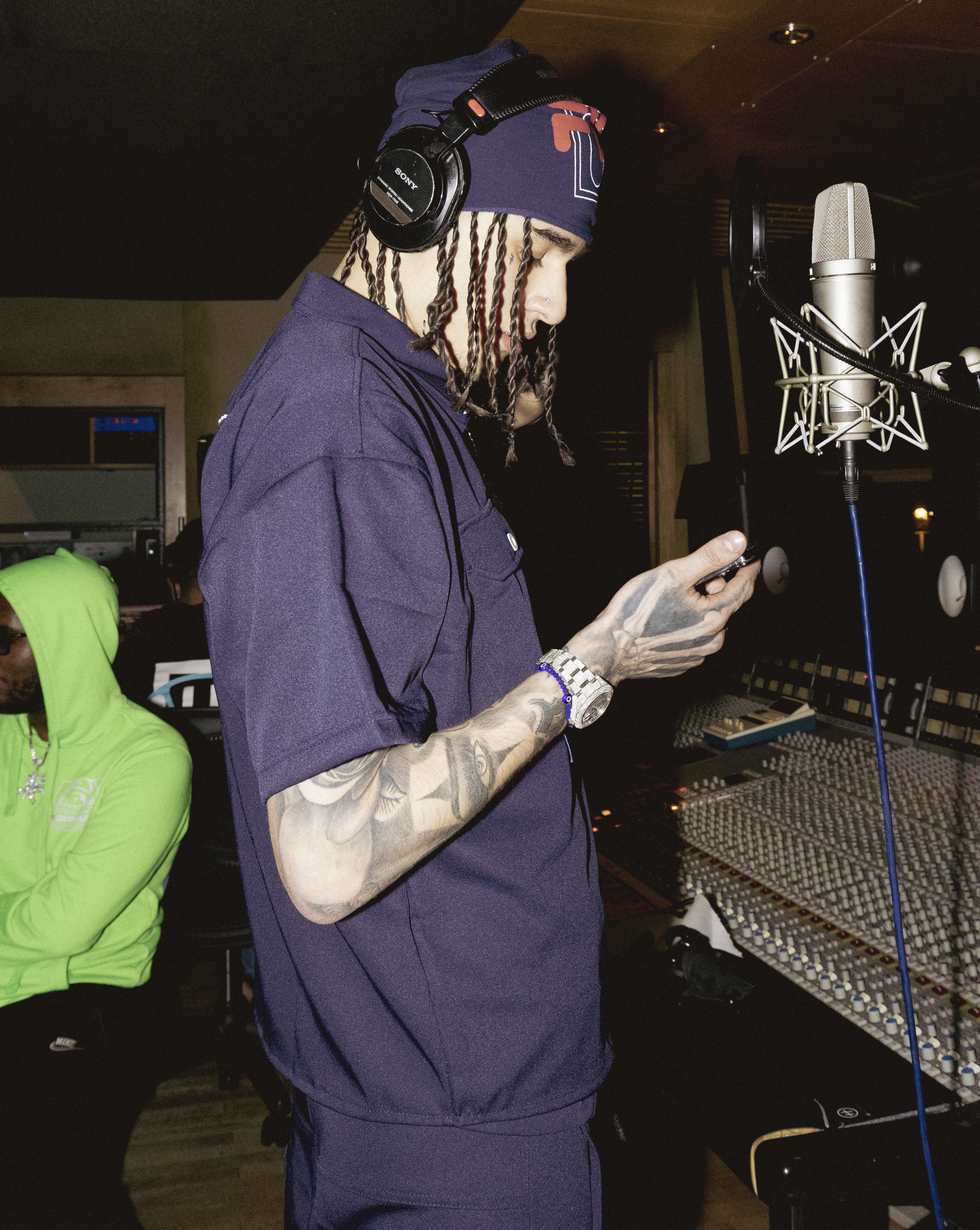 How hard is it for Italian drill artists to thrive in the music industry in Italy? 

It's hard because there are only a few of us, and I'm the only guy trying to bridge the gap in Italy. I make my songs in Italian, but I put some English in my music, too, so that people outside of Italy can understand me. It's hard to make it as an Italian rap artist, in general. 
At the beginning of your song "Sturdy", you take shots at the Italian music industry. Why did you decide to do that? 

I'm against the Italian music industry; it's me vs them. I don't mess with Italian industry people because they're sharks, and they just want to put me down. But I don't care, because I'm the first Italian rapper to blow up outside of Italy and I know they're jealous about that. 
What's the difference between home love and international love?

In my country, people go crazy! They show that they love me, and I can feel it. When it comes to international love, it's calmer, but it's all still love that I feel. It's just that, in my home country, they go crazier for me. 
Do you think you need to have a certain level of "badness" in your past to make it as a drill rapper?

I don't know. You have to rap about what you live and what's real to you. If people love your story, you'll end up blowing up. You have to be honest and true to yourself; the right fans will gravitate towards you anyway. I don't think that you have to have a gangster past to make it as a drill rapper anymore. 
Now that drill has picked up steam across the world with a drill scene in places you wouldn't expect there to be—like Ghana, Australia, and Poland—what do you think the future of drill looks like? 

It's going to go viral everywhere. It's a cultural movement, and everyone worldwide is making drill music, from the United States, the UK and Australia to the rest of the world. It's not something that's going to disappear anytime soon. The genre's only going to get bigger over time. 
Complex UK recently interviewed M1llionz and he said that drill is overpopulated now. What are your thoughts on that? 

It's facts! And everyone sounds the same now. But the thing is: drill has a vibe to it that everybody wants, which is why it's becoming overpopulated. People need to be more creative with their music to keep the sound fresh while it is populated.    
You've been on songs with Central Cree, Tion Wayne and Russ Millions. How was it collaborating with UK artists? 

It was good. The energy was great, and the love they showed me was real, and I thank them for that.  
You come from Milan, which has a rich history of luxury fashion houses, but you wear UK streetwear brands like Trapstar—a lot. Why is that? 

I'm close with Trapstar—that's my family! They show me love out here; they care for, help, and support me with everything that I make. They show me genuine love, so I show them that love back by wearing their clothes.  
Love that. Lastly, how do you plan on growing as an artist in the coming years? 

I've been rapping for two years now; I made two songs and blew up from that. I've only just signed my first deal. I never put in work for mad years, so if I can do all of that in a such short space of time, I can do way more in the coming future. I don't know where I'll be in the coming years, but I'm hopeful for the journey to come.