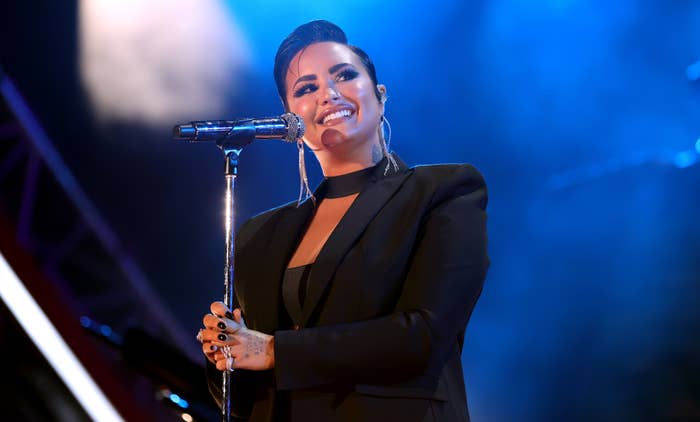 Demi Lovato is back home after completing another stint in rehab. 
Page Six reports the singer, who uses they/them pronouns after coming out as non-binary in May of last year, recently checked into a treatment center in Utah, but is now back home and "doing well."
Lovato's latest stint in rehab arrives nearly a year after they opened up about the details of their personal struggles with mental health and addiction in a four-part YouTube documentary series, Demi Lovato: Dancing with the Devil.
Speaking about their near-fatal overdose in 2018, which left the singer hospitalized for two weeks after taking a mixture of oxycodone and fentanyl, Lovato said: "I had three strokes, I had a heart attack. My doctors said that I had five to 10 more minutes. I was left with brain damage, and I still deal with the effects of that today. I don't drive a car because there are blind spots in my vision. I also for a long time had a really hard time reading."
Lovato continued, "I'm grateful for those reminders, but also I'm so grateful that I was someone who didn't have to do a lot of rehabbing. The rehabbing came on the emotional side and the therapeutic side, internally. I did a lot of work after that—just not physically."
Back in May, Lovato took to Twitter to share that she was coming out as non-binary and will use they/them pronouns.
"I wanna take this moment to share something very personal with you," said Lovato in an emotional video shared to Twitter. "Over the past year and a half I've been doing some healing and self-reflective work, and through this work, I've had the revelation that I identify as non-binary. With that said, I'll officially be changing my pronouns to they/them. I feel that this best represents the fluidity I feel in my gender expression, and allows me to feel most authentic and true to the person I both know I am and still am discovering."