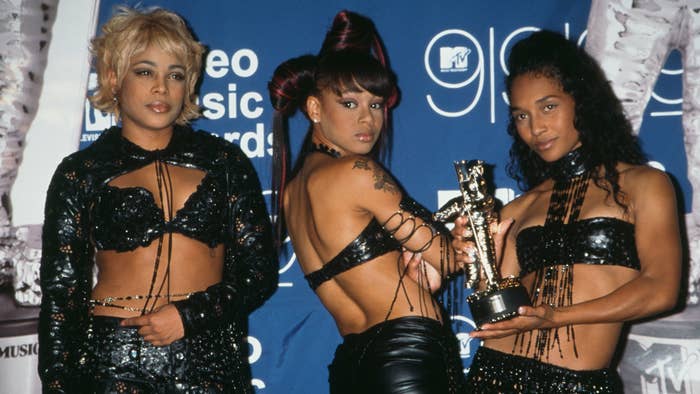 TLC's Rozonda "Chilli" Thomas was the last to join the group, but because of her relationship with producer Dallas Austin she was almost kicked out in the mid-'90s.
In an interview with People magazine, Chilli revealed that TLC's manager Pebbles almost fired her from the group after learning of her relationship with Austin, who served as one of the chief songwriters and producers for the three-piece. "They were holding auditions to replace me but never saw anybody that they liked," she said. "I don't think anybody cared about the Dallas thing but Pebbles."
Chilli and Austin welcomed their first and only son, Tron Austin, in 1997. She previously revealed that she became pregnant by him at age 20, but decided to get an abortion due to her career. She's currently dating Boy Meets World actor Matthew Lawrence, and she recently said she hopes to get married.
Elsewhere in the interview, she opened up about TLC's dispute over their record contracts, which they made public at the 1996 Grammys when Chilli said they were "as broke as broke can be" due to the bad contracts they signed. "We're the reason [LaFace parent company] Arista Records first got security," she said. "We kind of held Clive Davis hostage, like, 'You're the head guy. How do we fix this?'"
She also spoke about the loss of bandmate Lisa "Left Eyes" Lopes, who was killed in a car crash in 2002 at the age of 30. "I miss her every day," said Chilli. "I often wonder what things would have been like if she was still here. ... Boy I'm telling you, people would be so entertained. She was always like, 'All news is good news'—that's how she felt. She would have more followers than Selena Gomez!"
Chilli is set to appear in Lifetime's documentary TLC Forever, which airs on June 3.