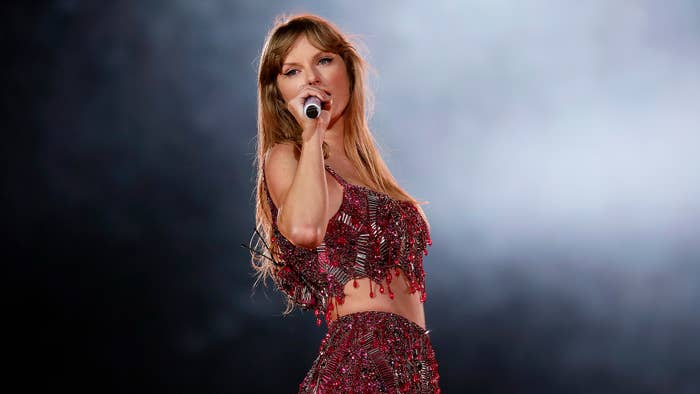 Taylor Swift delivered another "surprise song" during her show in Minneapolis on Saturday, which was accompanied by a polite request that her fans don't harass the presumed subject of the track.
"I'm 33 years old. I don't care about anything that happened to me when I was 19 except the songs I wrote," Swift said before performing "Dear John." "So what I'm trying to tell you that I'm not putting this album out so you should feel the need to defend me on the internet against someone you think I might have written a song about 14 billion years ago."
Per Rolling Stone, Swift performed the Speak Now track for the first time in 11 years. The song, which was released in 2010 and will be rereleased for the re-recorded version of Speak Now next month, has long been suspected to be a ballad about her relationship with ex-boyfriend John Mayer, whom she briefly dated from December 2009 to February 2010. Upon performing the song, Swift praised her fanbase for their "kindness" but asked that that "kindness and gentleness extend into our internet activities."
The last time Swift performed the song was in March 2012.
While Mayer is not directly referenced in "Dear John," the track does make reference to a failed relationship with an older man.
In an interview with Rolling Stone in 2012, Mayer said the song had a big impact on him. "It made me feel terrible," Mayer said. "Because I didn't deserve it. I'm pretty good at taking accountability now, and I never did anything to deserve that. It was a really lousy thing for her to do."
He also suggested "Dear John" was an example of "cheap songwriting," and indicated that he was being kicked when he was already down. "I know she's the biggest thing in the world, and I'm not trying to sink anybody's ship, but I think it's abusing your talent to rub your hands together and go, 'Wait till he gets a load of this!'" he added. "That's bullshit."
Swift meanwhile, has never publicly admitted that the song is indeed about Mayer.