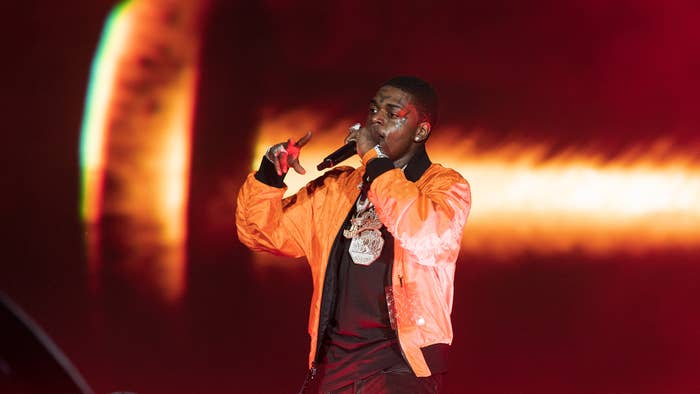 Made In America Festival was forced to cancel Kodak Black's scheduled performance on Saturday (Sept. 3) because he turned up so late, and the rapper is not happy about it.
"Aye, Made In America, I don't know what's going on," said the Florida rapper in a post shared on his Instagram Story over the weekend. "This the first show ever a n***a a 'lil late to, and a n***a can't perform. No money, none of that shit. Jay-Z, whoever running this shit… Roc Nation, Live Nation whatever the fuck. Y'all do better, homie. This the first show a n***a a 'lil few minutes late to, and bitch what the fuck? I got fans out here wanting to see a n***a!"
He went on to threaten to terminate his relationship with Live Nation and Mac Agency over the cancellation. "Whoever the fuck y'all is, I don't even need you to do my shows no more. I'm gonna lock in and work on this album," he said, as seen in the video below. 
He later shared an image with a caption over it, accusing the festival of failing to pay him even though he showed up late. "MADE IN AMERICA SOME BULLSHIT," he said, per HipHopDX. "IF DA ARTIST PULL UP LATE THEY KEEPIN ALL YA MONEY EVEN THO THE PEOPLE PAID FOR THEY TICKETS THEY DONT CARE BOUT FITTING THE ARTIST ON STAGE TO ACCOMODATE FANS!!!" He also called out Mac Agency and Live Nation in the message.
Kodak was originally scheduled to perform at Made In America 2022 on Saturday, 6:45 p.m. at the Liberty Stage. A source close to the festival told XXL Magazine that Kodak turned up just eight minutes before his set was expected to finish, and due to Kodak's tardiness they were unable to accommodate him without compromising the rest of the scheduled performances.