It's Better Together: Celebrating a Historic Moment for Black Women in Music
By collaborating together and lifting each other up, black women in music are pushing music forward. We celebrate historic success.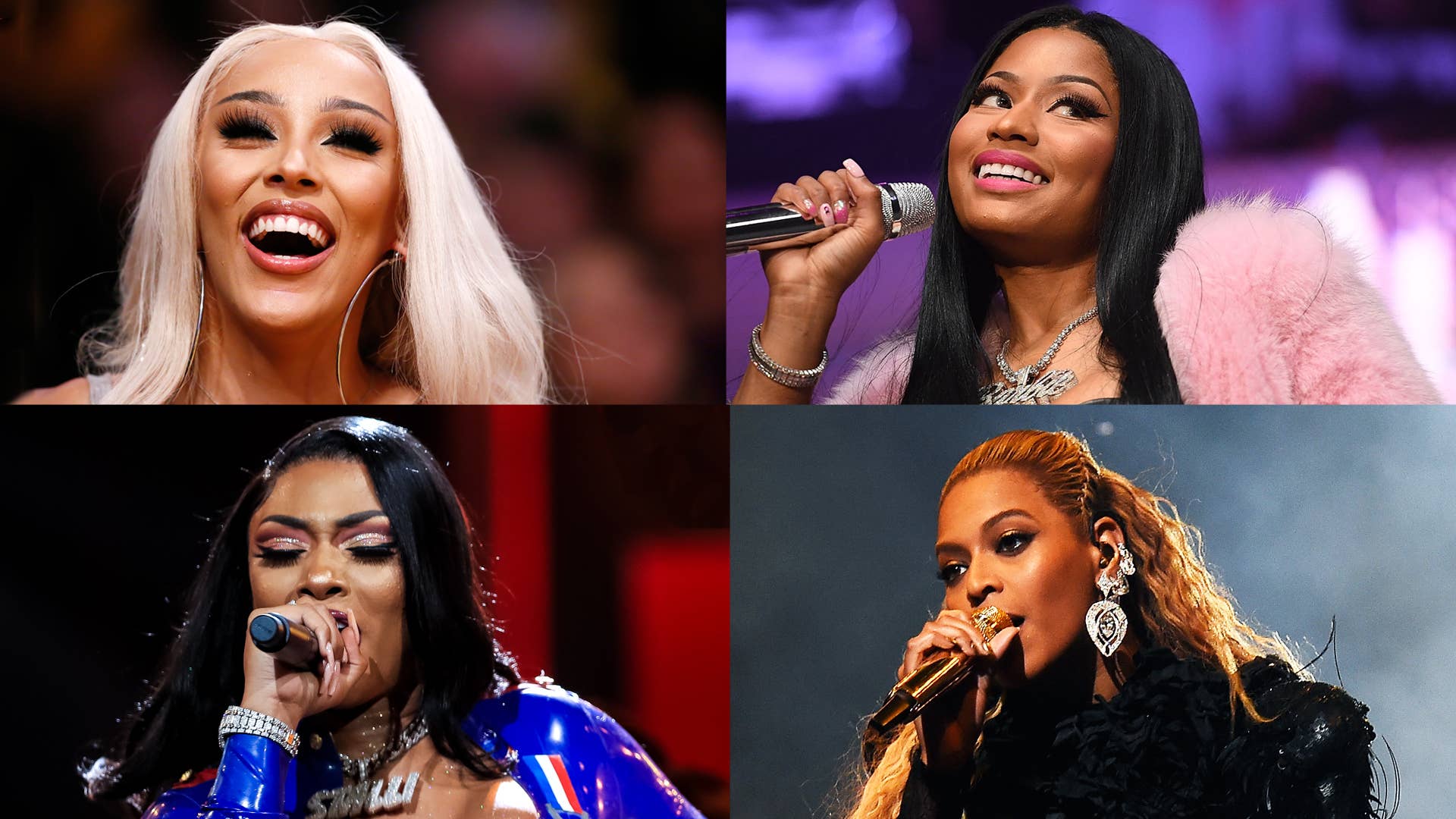 Getty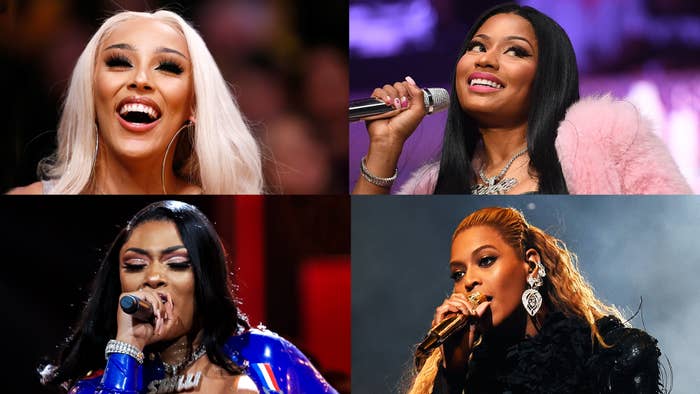 Right now, Doja Cat and Nicki Minaj top the Billboard Hot 100 with the remix for "Say So." One spot below them, Megan Thee Stallion and Beyoncé slid into the second spot with "Savage (Remix)." This is reportedly the first time that four black female solo artists have occupied the top two positions on the chart at the same time.
It's a historic moment for women entertainers—especially black women. Some will argue that something like this should have happened years ago, but for now, let's focus on the fact that we're finally here. Accomplishments like this are pushing music culture in the right direction. 
Of course, it's been a prolonged, tedious road to get here. In particular, Nicki Minaj, who is considered a Billboard veteran at this point, has taken the long route to the top of the Hot 100. Nicki first appeared on the chart in February 2010 for Lil Wayne's "Knockout." Since then, she has tallied a record 109 entries, surpassing Aretha Franklin for the most Hot 100 hits as a female artist. Still, her highest charting single was "Anaconda." Until now. This has been the longest that a charting female artist has had to wait for their first No. 1—even longer than Justin Bieber, who earned his first with "What Do You Mean?" in 2015. 
You might think Nicki lost count of her hits over the years, but even she had to commemorate such a huge step forward on Instagram, saying, "Can't thank you guys enough for going so hard this past week to help us make history… You'll never understand how much you uplift me with the overwhelming love and support you continue to show."
More than one woman can be at the top, and the best way to break through in a male-dominated industry is by working together and helping each other.
Not only is "Say So (Remix)" the first No. 1 hit for both artists, it's also the first single credited to two women to top the Hot 100 in nearly six years. Iggy Azalea and Charli XCX teamed up for "Fancy" back in 2014. And before that, only four other female duos topped the chart. It's worth noting that most collaborations involved the pairing of a hip-hop/R&B artist with a pop artist like Rihanna who recruited Britney Spears for "S&M" in 2011 or  Barbara Streisand and Donna Summer's "No Tears (Enough Is Enough)" in 1979. The only collaboration to hit number one that included two R&B singers was Monica and Brandy's "The Boy Is Mine" in 1998. 
"Savage (Remix)" also deserves some applause. The single is Megan Thee Stallion's first top 10 entry and Beyoncé's nineteenth. It cleaned up on streaming platforms with 42.1 million U.S. streams according to Billboard, and had a massive impact on social media. Within minutes of the single's release on April 29, supporters shared positive reviews and flattering memes on Twitter in celebration of the first collaboration between the two black girls from Houston. The tweets below are just a few of the first-listen reactions that flooded the timeline: 
What's even more powerful than being black women on top of the charts, is to do it together. By working together, they each reached higher and achieved more. The original version of "Say So" entered the Hot 100 in January, debuting at No. 95. While a music video, viral TikTok dance challenge, and a loyal fanbase boosted it to the top 10, Nicki's appearance is what ended up finally pushing it to the top. Beyoncé also helped Megan make the leap from No. 4 to No. 2. 
These collaborations also speak to a shift in how female rap is perceived in the industry. Just two years ago, we were debating the question, "Can more than one female artist be dominant in hip-hop?" At the time, many said, "no." Nicki and Cardi B's infamous feud was perceived by some to be another example that two female rappers couldn't share the spotlight. And the aftermath of "Motor Sport" left a question mark about whether veteran and rookie artists could collaborate. 
Since then, plenty of young female voices have emerged in rap. There's Doja, Megan, Tierra Whack, Rico Nasty, Rapsody, Young MA, City Girls—all of which prove that a bunch of women in rap is better than just one. Some of them have even worked with one another. Doja and Rico released "Tia & Tamera" in 2019; City Girls and Cardi teamed up for "Twerk". So, the girls had already been taking important steps forward for female rap in the past couple of years. But these latest two collaborations took the biggest leap forward yet.
It's a win for women, especially black women in hip-hop, that echoes the sentiments that most of them have been screaming all along. More than one woman can be at the top, and the best way to break through in a male-dominated industry is by working together and helping each other.
"Obviously, women have been pitted against each other, and that fucking so not that," Doja Cat said on Instagram Live on Monday. "We've climbed over that, and that's cool." 
There's still some work to be done, but this accomplishment will open the door to more chart-topping collaborations and moments of empowerment in the future.