Jay Electronica's Train Is Always On Schedule
Thoughts on the Jay Electronica's long-awaited debut album 'A Written Testimony,' from someone who has been anticipating this moment for a decade.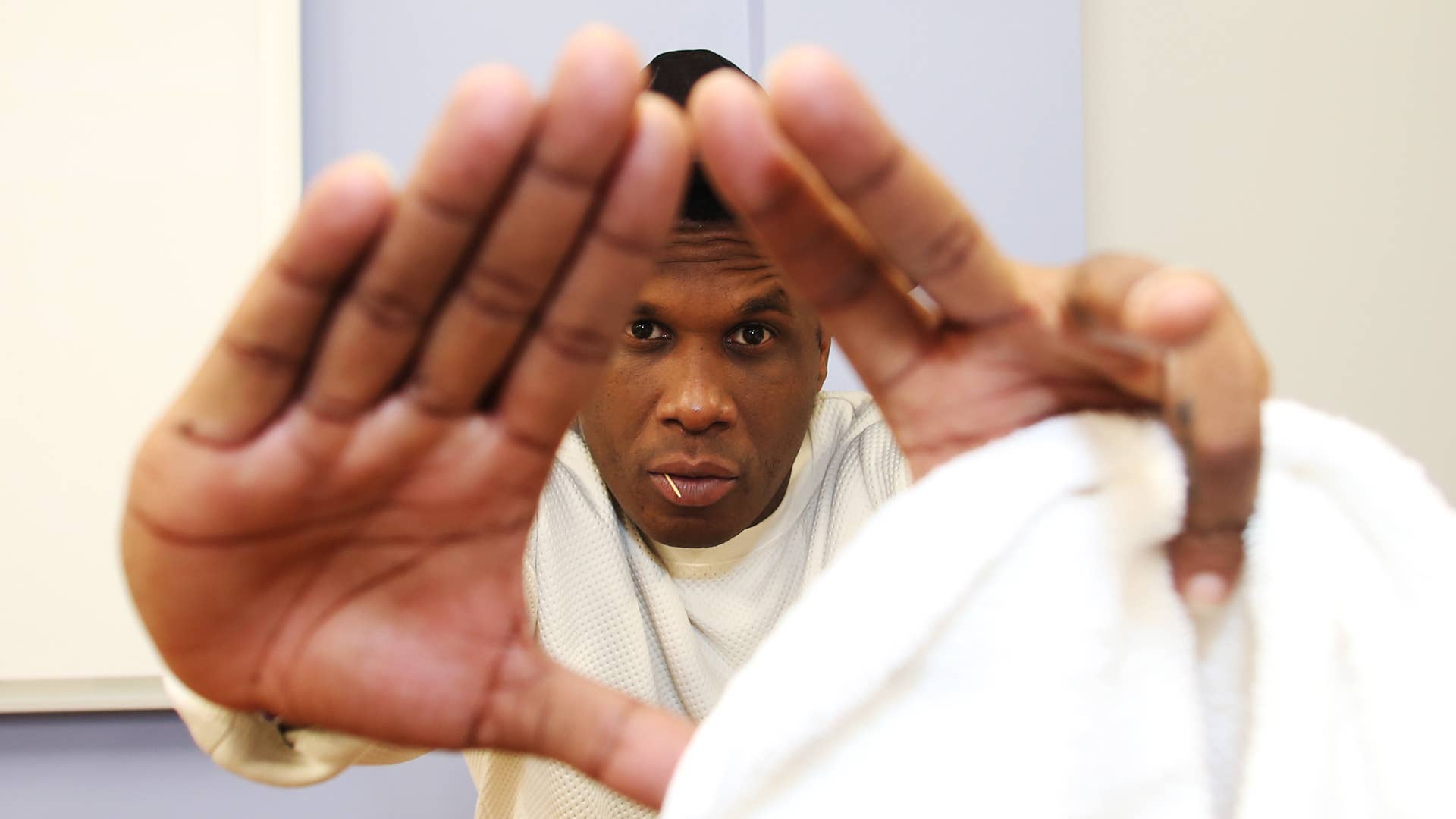 Getty
Image via Getty/Thaddaeus McAdams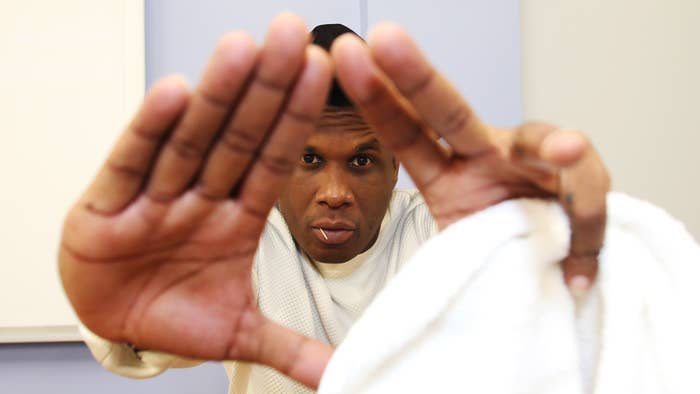 Over a decade ago, I watched Jay Electronica perform twice within a couple days. First, during Mos Def's MLK Day show at the Highline Ballroom in January 2010, he was a surprise guest, introduced by Puffy. Then, he came out again during Phife Dawg's diabetes benefit at the Knitting Factory, which doubled as a reunion for A Tribe Called Quest. 
This was at the height of Jay Electronica's hype. He had just dropped the atomic bomb that was "Exhibit C" a month before. We were at the peak of the blog era, which had an influential role in bridging the gap between what is now an archaic record business and the anarchy we're still trying to get used to today. Jay Elec was a glimmer of hope for all those fiendin' for that "real rap," at a time when fans were taking sides between more traditional rap versus this new sound that was emerging within the mainstream (for better or worse). We wanted those Black Power raps back. We were looking for conspiracy bars and Anunnaki raps. But most of all, we were drawn to the honesty in his lyrics.
Jay Electronica's songs told the story of a mysterious man who spoke Arabic in his raps, dated Erykah Badu before anyone knew who he was, and was supposed to work with J Dilla before he passed. He spoke on tangling with Satan over history in lofty places, while dating banking heiress Kate Rothschild two years after his album was supposed to come out. Crazy, right? But then, just like that, he was gone as fast as he had appeared. So, when he started talking this "40 days and 40 nights" shit in regards to A Written Testimony, a part of me was like, "Man, if you don't get the fuck outta here..." But another part of me thought, "Ahh shit, here we go again." I went into my iTunes, found his name, and hit shuffle so the feeling could be restored.
In times like these, we need rappers like Jay Electronica more than ever. Sometimes we need to be inspired.
His long-awaited debut album comes at the same time as a global pandemic caused by a virus, while billions of locusts consume parts of East Africa. It's like this shit was written by a prophet. Jay Elec once said his microphone is 7,926 miles in diameter on a Dilla beat that he annihilated. I believed him then and I believe him now. He somehow managed to get Jigga to be his tag team partner on a full album, which is a miracle in and of itself. But also maybe not, because you get the feeling this album may not have happened at all if it weren't for the backlash Jigga faced in the wake of the Roc Nation NFL deal. It seems Jay felt some type of way and had to get some shit off his chest to reiterate that he does in fact remember where he comes from, and I enjoyed every last bit of it (even if I have complicated feelings about that deal).
Throughout AWT, Hov touches on some of the same themes as he did on Watch the Throne, as he tries to justify being a billionaire in an age where everyone wants them sent to the Hague or get beheaded by guillotine. "That guilt trip ain't gon' work, don't put your luggage on we/You ain't keep the same energy for the du Ponts and Carnegies/We was in your cotton fields, now we sittin' on Bs," he raps on "Universal Soldier." On the next song, "Flux Capacitor," he mentions the NFL deal directly: "Why would I sell out? I'm already rich, don't make no sense/Got more money than Goodell, a whole NFL bench/Did it one-handed like Odell, handcuffed to a jail/I would've stayed on the sideline if they could've tackled that shit themselves." Of course, this is a challenging point of view, because with all the bread and resources he has to his disposal, he didn't need the NFL to do this type of social work. Standing in solidarity with Colin Kaepernick could have been a better approach in the long run rather than making a deal with the devil, and then trying to justify it. This is difficult for me to admit, because JAY-Z is my favorite rapper (along with the Almighty GFK), and he helped deliver an album I've been waiting for a goddamn decade to arrive, but I digress. We all have disagreements with family.
The first time I saw Jigga perform was at the Brooklyn Hip-Hop Festival in 2014. Flanked by the Fruit of Islam, Jay Electronica brought him out for a quick set. Jigga decided to perform a freestyle over Big Daddy Kane's "Young, Gifted, and Black" as his first song, and the crowd lost their damn minds (I'm still looking for mine). I wrote about the experience on this very website (that headline didn't age well) and it's still special to me. That was six years ago, three or four years after we were supposed to get Jay Elec's debut. 
Now, Jay Electronica brings something similar out of JAY-Z as he did then. The two have an odd chemistry, with one serving as a measuring stick for consistency and the other being notorious for doing the complete opposite. But those who have paid attention to the elder JAY's subject matter, especially in the beginning of his career, shouldn't be surprised. Jigga has been mixing themes of the Illuminati and black empowerment with street tales from the start; he was just more subtle back then. They play off each other well, with both inspiring each other to go hard on whatever music they make. 
Both Jays are rapping at very high levels on AWT. We should all be thankful that Electronica had enough nerves and conquered his anxiety to finally deliver this album. Of all the great lines he delivers on A Written Testimony, one line stuck with me, from my favorite track, "Ezekiel's Wheel." It essentially serves as his thesis: "Sometimes I was held down by the gravity of my pen/Sometimes I was held down by the gravity of my sin/Sometimes, like Santiago, at crucial points of my novel/My only logical option was to transform into the wind." That's the honesty that first drew so many of us to him. The hype, the media speculation, and the constant criticism in today's digital age weighed on him. Let's hope the release of AWT helps him get over whatever anxiety and writer's block he's had over the years. In times like these, we need rappers like Jay Electronica more than ever. Sometimes we need to be inspired.
Jay Electronica raps like an alien. We've heard this since his early songs, like "A Prayer for Michael Vick & T.I.," where he would keep rapping until his signal faded into the ether. Fuck the numbers, it's all about whether the music is timeless or not, and that's what he's been able to accomplish since the beginning. Someone in a comments section about that song said Jay Elec is the Bruce Lee of rap, which is a fitting description. Lee had a calmness to his violence and approached life in a philosophical manner—the same way that Jay Electronica tackles rap. There's a certain energy about him that draws you in. And there's no better proof of that than this release, which surprised many of his fans. Whether you fuck with it or not, you have to admit that you hit play as soon as it dropped, out of pure curiosity. 
As a longtime Jay Electronica fan, I'm digging the tape so far, even if it took 10 years to arrive. Does it live up to all the hype? At this point, it's difficult to say, because I still wish we got this along with Act II: Patents of Nobility (The Turn). And I must admit that I still miss The Prestige and references in the music. However, that doesn't mean that Jay wasn't in his bag of tricks on this one. He produced the majority of the album himself, while baring his soul, and finally got to release art into the world. I respect the strength required to drop this record, after all the ink that's been spilled about how his career panned out to some (I'm guilty). 
At first, I was skeptical when I saw Travis Scott on the tracklist. I assumed it was going to be a radio single grab, but "The Blinding" has one of my favorite Jac Elec verses on the album. It explains his reluctance to release his album over the years, as he mentions missing deadlines and not living up to the hype. He then raps this towards the end of that same verse: "When I lay down in my bed it's like my head in the vice/When I look inside the mirror all I see is flaws/When I look inside the mirror all I see is bars/In the wee hours of night tryna squeeze out bars/Bismillah, just so y'all could pick me apart?" Electronica at his best when he's in his most vulnerable state. I wouldn't have minded him playing with his cadences, flows, and metaphors a little more, a la "Spark It Up," or the aforementioned "So What You Sayin'." But that's just me feeling entitled due to being such a big fan and anticipating this moment for so many years.
These studio sessions must have been incredible to watch, as two lyrical giants went toe-to-toe over some of the best production of this young year. I mean, we finally got JAY-Z over an Alchemist beat on "The Neverending Story" and a mixed and mastered of "Shiny Suit Theory." (That's a top 20 Jay verse!) This has truly been a miraculous occasion, and for that I'm grateful for essentially getting a sequel to Watch the Throne. Like Jay Electronica always says, his train is running on schedule.