Accused Chief Keef Shooter in 6ix9ine Case Released on Bail
Kintea "Kooda B" McKenzie will be out soon despite an "uncommonly strong" case against him.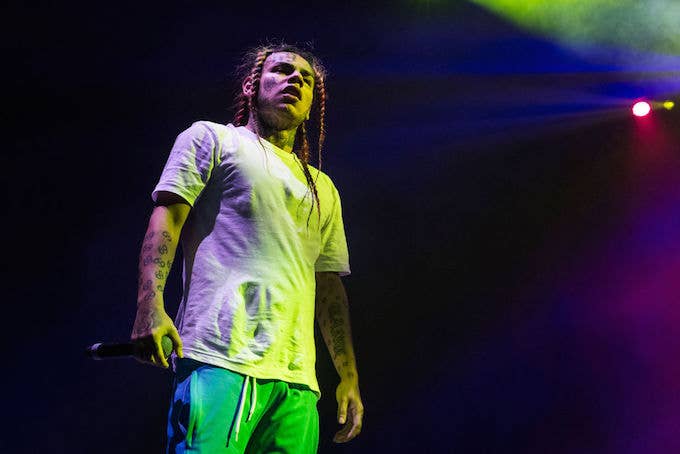 Getty
Tekashi 6ix9ine performs in concert at Hovet on September 19, 2018 in Stockholm, Sweden.
Early this week, Complex obtained legal documents that revealed Daniel "6ix9ine" Hernandez, as part of a guilty plea and cooperation in his racketeering case, had named 21-year-old Kintea "Kooda B" McKenzie as the person he hired to shoot at Chief Keef outside the W Hotel in Manhattan this past June. On Tuesday afternoon, McKenzie, who turned himself in to authorities on February 8, was granted bail.
Tuesday's hearing at the Thurgood Marshall Courthouse in New York City laid out the government's case that McKenzie was the one who fired a shot at Keef (intended only to scare him, not to hit him) in the early morning hours of June 2 of last year. The government shared that their case is built on far more than 6ix9ine's testimony that he paid McKenzie $10,000 (out of an initially-promised $20,000) to shoot at Keef. They also have phone records tracing McKenzie's travels from Brooklyn to Manhattan (and back) on the day of the shooting; video surveilance and photos placing him in the area (including a photo placing him near the site of the shooting that was taken, the government claims, by someone who recognized him and just wanted a picture); and records of phone calls between 6ix9ine and McKenzie just before and just after the shooting. They also have a call from McKenzie to someone at Rikers the day after the shooting—the day that McKenzie got paid, 6ix9ine claims—where McKenzie is heard saying that he was about to "link up" with "Bix" (as many around him called 6ix9ine).
Judge Engelmayer made it clear that the government had "uncommonly strong evidence" linking McKenzie to the shooting. Despite that, the judge agreed to McKenzie and his lawyer Lisa Scolari's request for bail. Unlike most of his other co-defendants, McKenzie is not alleged to be a member of the Nine Trey Gangsta Bloods. There was also the fact that the shot in question was not aimed at anyone, and that a pre-trial services counselor had recommended that bail be granted. 
McKenzie's bail comes with very strict conditions. A $300,000 bond, to be co-signed by eight different people, will be issued. He will be on strict pre-trial supervision, and subject to GPS-monitored home detention. He will, however, be allowed to go to work or school, and to participate in a Brownsville, Brooklyn-based anti-violence project that he has previously been involved with. McKenzie, a "daily" marijuana user according to Scolari, will undergo regular drug testing. Among other conditions, he will also not be allowed to have contact with any of 6ix9ine's friends or family members.
At the end of the hearing, McKenzie remained in custody until the bond could be signed, but he was expected to be out shortly.