Interview: YG on Staying Dangerous in a Deadly Industry
Before his Australia-NZ tour, Bompton's finest talks the music industry, the street life, and Kanye West.
Publicist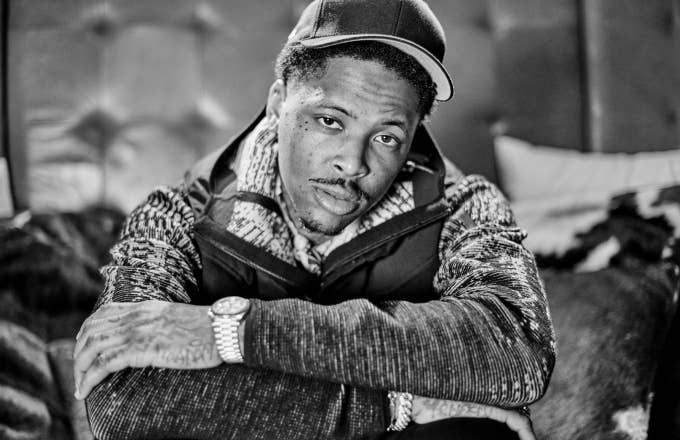 Over the last decade, YG has solidified himself as a staple in west coast rap. He made a name for himself with mixtapes like Just Re'd Up and singles like "Toot It & Boot It", showing his ability to make music that represented the hustle, violence and struggles with gentrification you'd find in Compton California, as well as party jams that had people swaying like the Palm Trees in Long Beach. His debut album My Krazy Life was a detailed exploration into street life, with each track painting pictures like movie scenes; while his sophomore project Still Brazy took more of a hard-knock approach into the paranoia and anxiety that came after being shot at a Los Angeles recording studio in 2015.
This year, YG gave us Stay Dangerous; which serves as a reunion with DJ Mustard, a party album, and commentary on the music industry all in one. It showed YG at his most confident and focused yet, with songs like "Suu Whoop" and "Big Bank" serving as celebrations of his impact on pop culture; opposed to bleak flashbacks on tougher times. YG knows he's big; YG knows he's good; He only had one goal with this album.
"I just wanted to go in the booth, and do my thing," YG states over the phone in an assured manner. "I went to the studio, Mustard played beats, we rapped, I didn't overthink shit." And really, it's hard to want to have it any other way at this point. Whether he's delving into the reams of trap on "Handgun" or exploring themes of braggadocio on bangers like "Too Cocky", it's clear that YG is having a hell of a lot of fun rapping. It's a testament to both YG and DJ Mustard's longevity in hip-hop this far, and their ability to adapt to trends without losing their west coast swagger.
"Mustard and I talked about getting back to our old shit on this album, and the west coast sound is what we grew up with, and what we know. But in the game today there are so many styles; you got trap shit, rappity-rap shit and trippy drug shit. You don't have to be a gangster rapper to be successful, you can do anything."
"You don't have to be a gangster rapper to be successful, you can do anything." 
While for the most part, this album feels like a victory lap, there's one overarching concept that foreshadows a new chapter of YG as we start to head into a new decade; and that concept is staying dangerous. It alludes not only to staying safe in life, but in business, and this is a mindstate that YG has cemented himself into. "Knowledge is dangerous when you're a person of colour," he says, "It makes you a powerful individual, and that's what Stay Dangerous represents".
"I'm in the mindstate of staying dangerous because of the life I've lived, and the way I move because of it, today. I've been shot, I've fallen out with close friends, I've been in the hood dodging bullets. After a while, this type of thinking becomes regular".
In the current political climate that we live in today, it makes sense that YG would look over his shoulder. His 2016 single "F*ck Donald Trump" pointed out the ridicule in the prospect of Trump becoming president, and even resulted in the Secret Service paying him a visit. But now this is the reality he lives in, and it's only become even more bizarre as renowned role models such as Kanye West flock to Trump in support and admiration. But the once politically-charged YG no longer gives a fuck about what anyone else is doing. He's sticking to his business, a trait that sustains his dangerous edge. "Kanye is doing what he wants to do and has his own reasons," YG says, "I, however, do not fuck with Trump, and that's all I can say on the matter".
Part of YG's self-sustained longevity is his work ethic and his ventures into different avenues of creativity, including his 4hunnid clothing label, collaboration with Reebok and his 2014 short film Blame It On The Streets. He also adheres to an extensive touring schedule, which sees him hitting our shores this month, as well as touching down in New Zealand and Europe. With a schedule so consistently packed, the question remains – what comes after rap? Drake recently appeared on Lebron James' HBO show The Shop talking about leaving the rap game gracefully, and how he's "watched people overstay their welcome". You could look at YG's business-savvy schedule and interpret it as preparation for a future retirement. But in reality, he doesn't want to ever leave.
"I'm going to keep making clothes, I'm going to do more movies and I'm always going to rap, he says with solid assurance.
"Knowledge is dangerous when you're a person of colour"
And while it's inevitable that YG will one day hang up the mic, his impact is going to continue to be felt. The future of both conscious rap and party anthems in hip-hop is stained with a red YG tinge, and his influence on the west coast is one that will last forever. YG is not a man of many words, but a man of action. He'd rather show you what he can do, instead of telling you. But if there's one thing he's vocal about, it's about staying dangerous, and always looking over your shoulder; whether it's in the street, or in the industry.
"One of the reasons I know how to handle my business is because I know can't rely on rap," he explains. "I came into this game in a fucked deal, and I didn't get the money I was supposed to get. The kids that are coming up now know a lot more than I did on this business shit, and the times are different. You just need to make sure you don't get taken advantage of."
Catch YG in Australia and New Zealand in November. Click your city for dates and ticketing info; Melbourne, Auckland, Sydney, Brisbane.