Today's Brightest Young Hitmakers Belong to the House That Internet Money Built
Taz Taylor, Nick Mira, and the rest of Internet Money are changing the game for young producers.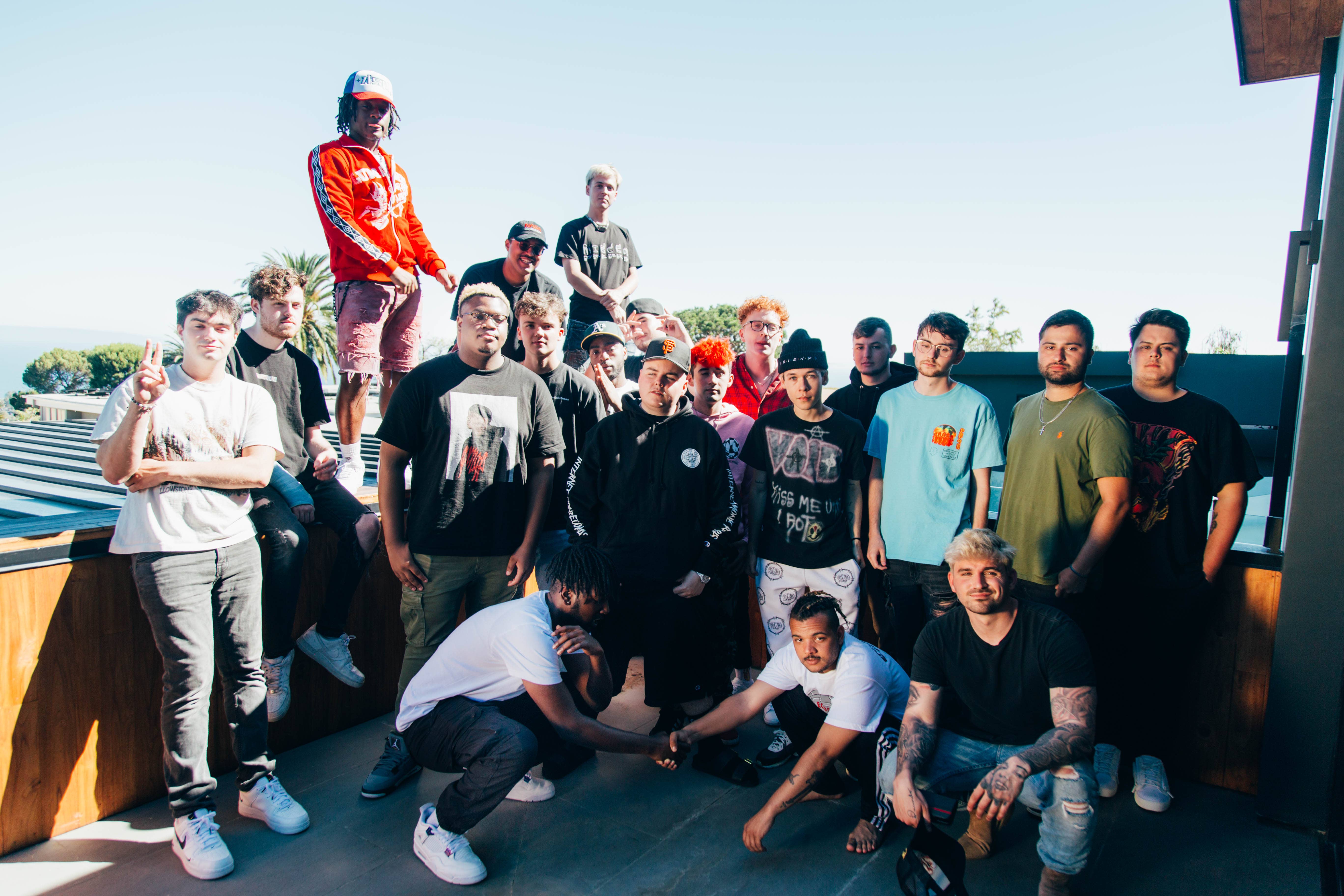 Publicist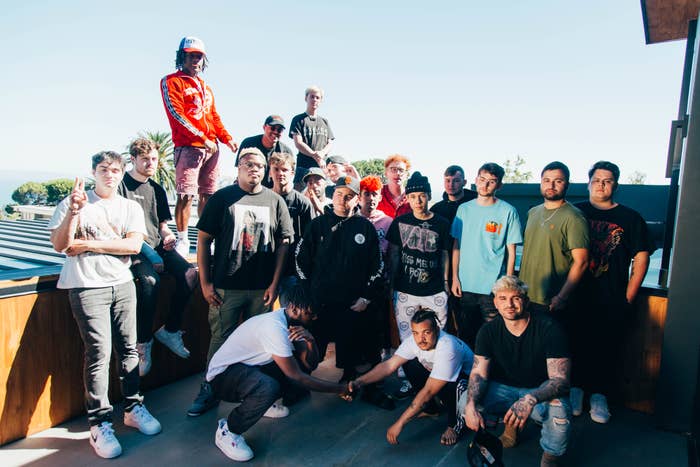 If you visit the Internet Money mansion on any given night, you'll run into a handful of rap's most successful and influential young producers.
Nestled in the hills of Los Angeles, the property is Taz Taylor's latest investment in his growing empire at Internet Money Records. The house serves as a home base for his crew of producers to hang their gold and platinum plaques from records with artists like Juice WRLD, Lil Skies, and XXXTentacion. It also marks the latest step in Taylor's wildly ambitious plan to change the way the music industry operates.
"I was just thinking, what if I did a whole Internet Money house where all the producers have their own rooms and we're just working 24/7 with a big ass studio?" Taylor says. "I'm signed with Alamo and Interscope, so why don't I have Smokepurpp come out here for a week and we do a whole album? Wifisfuneral is actually coming out here in July and he's staying for a whole week. I'm having a spot upstairs for video editors to pull up and edit their videos, too. No one else is doing this."
It's impossible to speak with Taylor for more than a few minutes without hearing him describe grand plans for the future. It would be a mistake to doubt anything he says, though. At the age of 25, he already has a proven track record of materializing those wild ideas into reality.
A seventh grade dropout, Taylor played around with the idea of being a graphic designer as a teenager, but he was forced to try something new when his mother was diagnosed with cancer as he approached his twenties. Pulling from his background as a guitar player in rock bands growing up, Taylor got to work familiarizing himself with FL Studio. After making a couple "trash beats," he ended up selling one for $250 on a graphic design forum in an attempt to help pay medical bills.
"My mom couldn't believe it," he remembers. "I never had a job. I never had shit. So my parents were just like, 'What the fuck? Well, I guess this is the first dollar you actually earned yourself, so keep at it.' I kept at it."
"I was making over $500,000 a year, just off the internet and kits and beats and all that shit."
From the jump, Taylor had a knack for the business side of being a producer. In 2011, he found success contacting artists directly on Twitter before that became standard practice. Then he tapped into a growing market for "type beats" on YouTube. From there, Taylor took advantage of an increasingly popular practice of leasing low-priced, non-exclusive beats to multiple artists at once, and his career took off beyond anyone's expectations.
In no time, Taylor was pulling in $100,000 a year online and had ambitions to cross over from "internet producer" to traditional industry success. "I remember meeting up with an industry producer in Atlanta who I fucked with at the time," he says. "I'm not going to say who he is, but he's cool with Metro Boomin and all these people. I was telling him I was trying to get this industry money or whatever. He was like, 'Industry money? Where's that at? Man, I made like $15,000 last year. I ain't making shit.' I was thinking, 'So I'm making more money on the internet selling $30 leases than most of these fuckin' industry producers?' I had no idea."
"Once I got back home, I just had the mentality of, 'Fuck the industry,'" Taylor adds. "'Fuck all this shit. I'm just going to go hard on the internet.' So I did. I started making like $250,000 a year. Then it went up to $330,000. Then I added other businesses and shit and I was making over $500,000 a year, just off the internet and kits and beats and all that shit."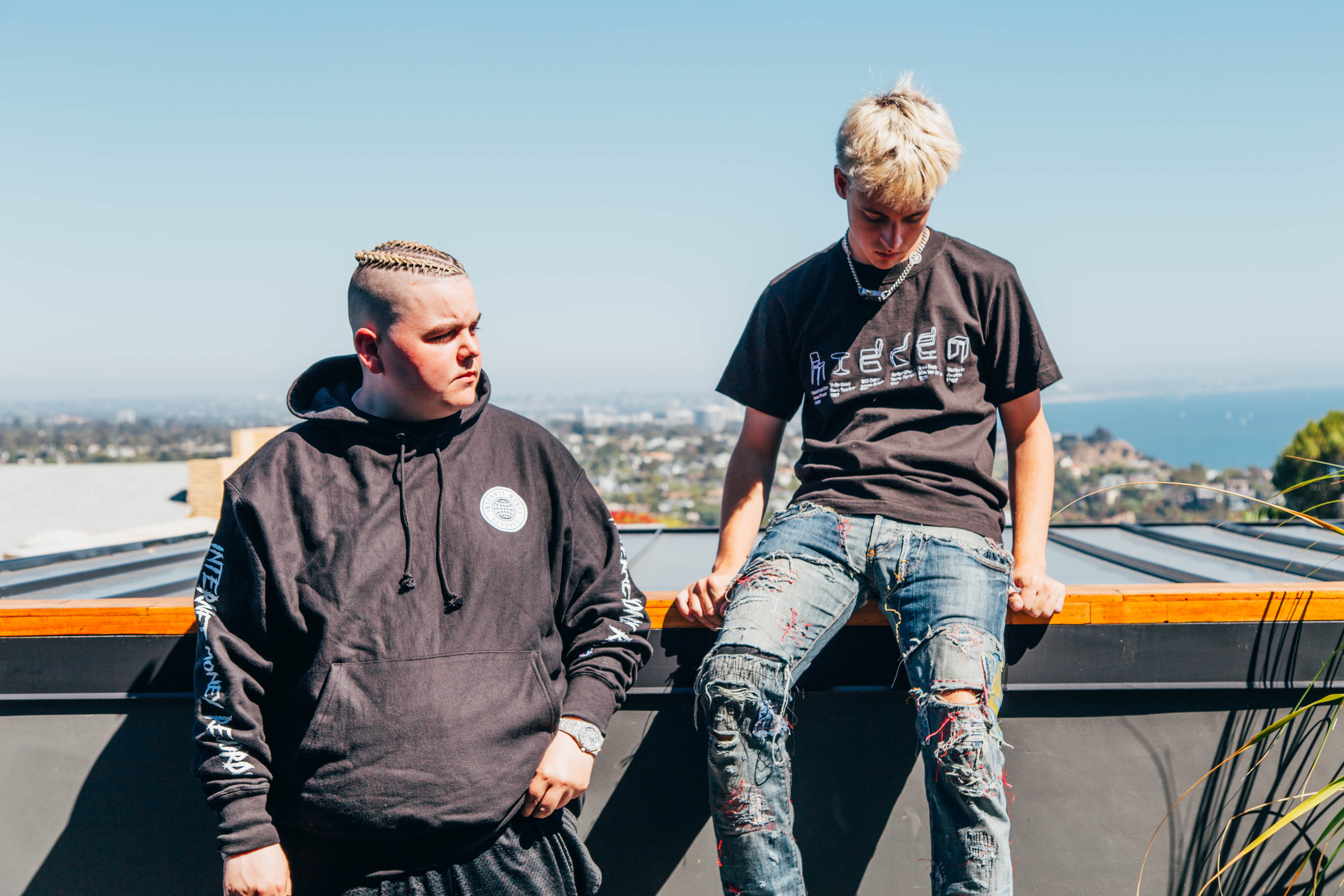 Having built his own lane, Taylor's options started opening up. One day, he got a call from Steven Victor at G.O.O.D. Music, who was asking about a beat he had sent to Desiigner. Taylor didn't remember actually sending anything, so the two traced things back until they figured out Desiigner had actually found one of his "Drake type" beats on YouTube. The song ended up turning into "Liife" featuring Gucci Mane—Taylor's first major placement.
At that point, Taylor felt it was time to take another stab at the traditional side of the industry, but on his own terms this time. "Nothing lasts forever," he says. "So I'm always trying to move on to the next thing. After I made half a million a year online through beats, drum kits, tutorials, and all that shit, I wanted to do something else. I had the Desiigner and Gucci Mane placement and I had labels calling me, so I thought if I was going to take a chance and jump to some industry shit, that was the time for me to actually do it. So I did a publishing deal with APG. I had money from selling beats online, so I was like, if I'm going to do this, I'm going to commit myself to it 100%. I'm not going to half-ass it and do little beats online or whatever. So the day I signed my deal, which was August of last year, I quit uploading beats online."
"I'm fully taking care of Internet Money and I'm making sure they're not getting fucked over on any placements. I'm making sure they're getting their full publishing and royalties and everything like that."
With financial security from his beat-leasing days, Taylor had the luxury to be patient and start building something larger than himself.
Taking a couple promising young producers under his wing—Nick Mira and Sidepce—he began a loosely formed producer collective called Internet Money. "They were like 14 at the time," he recalls. "I was like, fuck it, I'm going to take these two producers and build a team. And we're going to get placements and take over the internet and do everything together. I wanted to change how people feel about internet producers in general."
Whenever Taylor talks about the producers in Internet Money, he refers to them as family. He's still making music himself and landing big placements with artists like XXXTentacion, Trippie Redd, 21 Savage, 6ix9ine, Lil Skies, and Juice WRLD, but as time goes on, Taylor is moving more like an executive and focusing his energy on setting up the rest of his crew for success instead of his solo career.
"When I go to L.A. and I'm in the studio with Yung Pinch and Lil Skies or whoever, I'm not playing them any of my beats," he says. "I'm only playing other Internet Money shit. You don't find that loyalty amongst other people. So I'm putting them on. I'm fully taking care of Internet Money and I'm making sure they're not getting fucked over on any placements. I'm making sure they're getting their full publishing and royalties and everything like that. We're getting paid very highly for everything we do."
Nick Mira, producer of Juice WRLD's recent hits "Lucid Dreams" and "All Girls Are The Same," remembers first meeting Taylor. "I was drawn to his voice," Mira says. "He's really known for speaking up for what he stands for. Other people are attracted to that and they'll listen to him and hear him out. He's not out here just making up stuff and yelling out for attention. People really gravitate to him because of how honest he is to the public. I saw how truthful he was and how willing he was to help out Sidepce and me. I really trusted him."
There has been a lot of talk lately about producers not getting the pay and respect that they deserve, prompting guys like Sonny Digital to call for a producer's union. Taylor doesn't believe a producer's union would work in the current climate, so he's doing everything he can to use Internet Money as a blueprint for the rest of the industry to follow when it comes to fair business practices.
"Internet Money really stands for good business, crazy records, and great friendships."
"I'll tell you why an actual producer union will never work amongst producers," Taylor says. "There's always going to be producers on the bottom who want to be at the top, so they'll undercut and fuck anybody over to try and get to the top. If you establish a pricing structure or a percentage that we're all supposed to get, there will always be producers who will say they'll take less than that, just to get ahead."
"I'm trying to do the best I can to set an example with the shit I can actually control, which is my team," he explains. "I've got 12 producers signed to me. So the hope is that the people who read about Internet Money will understand this is the way business is actually supposed to be done. We show by example, instead of actually going and preaching, 'Everybody better do fair business, blah, blah, blah.' Whenever you go in the industry and you say my name or my manager's name or my lawyer's name or whoever, it's always fair. I'm never fucking anybody over. I'm always making sure my producers get the right notoriety and the credit and the money they deserve."
Internet Money producers like Mira are benefiting in a big way. Despite their youthfulness (Mira is 17 and hasn't even graduated high school yet), they're already getting some of the best deals in the industry.
"With Internet Money, the first big major help has been getting the right paperwork and handling the business side of music in the right way," Mira says. "Without Internet Money, I wouldn't really have the backing to help me get credit and take care of the business side of everything."
The Internet Money ethos is centered around the idea that it's always better to help out a fellow producer than get negatively competitive with them. Mira and the rest of the producers regularly upload tutorials to the Internet Money YouTube channel and engage with followers to build a sense of community. "Internet Money has helped me form my own brand to appeal to other artists and producers," Mira says. "We have a YouTube channel, and it's a whole collective, so all of us in Internet Money make videos for other producers—teaching them things about how to make beats. And that really helped me a lot, growing a certain crowd of people that I can help out, and they listen to me and I listen to them. We all help each other out."
"I screen record myself making beats and just let other people watch me do it," he adds. "So if they want to learn how to make beats or see my techniques or anything, they're always welcome to watch. I just figure, if I'm going to make beats and I'm going to be sitting there for hours and hours making music, I might as well have other people watch me. It doesn't hurt for them to watch. I can talk to fans in the chat. I can interact with them. They can ask questions and I can teach them as I make music."
So far, it's working. In an industry known for a cutthroat competitive nature and occasionally shady dealings, Internet Money is building plenty of goodwill. "I think when I teach other producers, they trust in me more and they can rely on me when they need help," Mira points out. "We really want to teach our fans that they can do this, too. They can become producers and make money on the internet doing this just like we did. We just want to show them how."
In April, Taylor signed a joint venture label deal with Interscope and Alamo Records that opened up even more possibilities for Internet Money. "Interscope and Alamo reached out and we did a crazy ass label deal where I can sign my own artists and make my own records," he explains. "I'm 100% in charge of whatever I want to do and all that shit. So I'm focused on that now. It's not even about making beats and shit any more, really, even though I've got all these records coming out. I'm trying to really build artists with longevity now."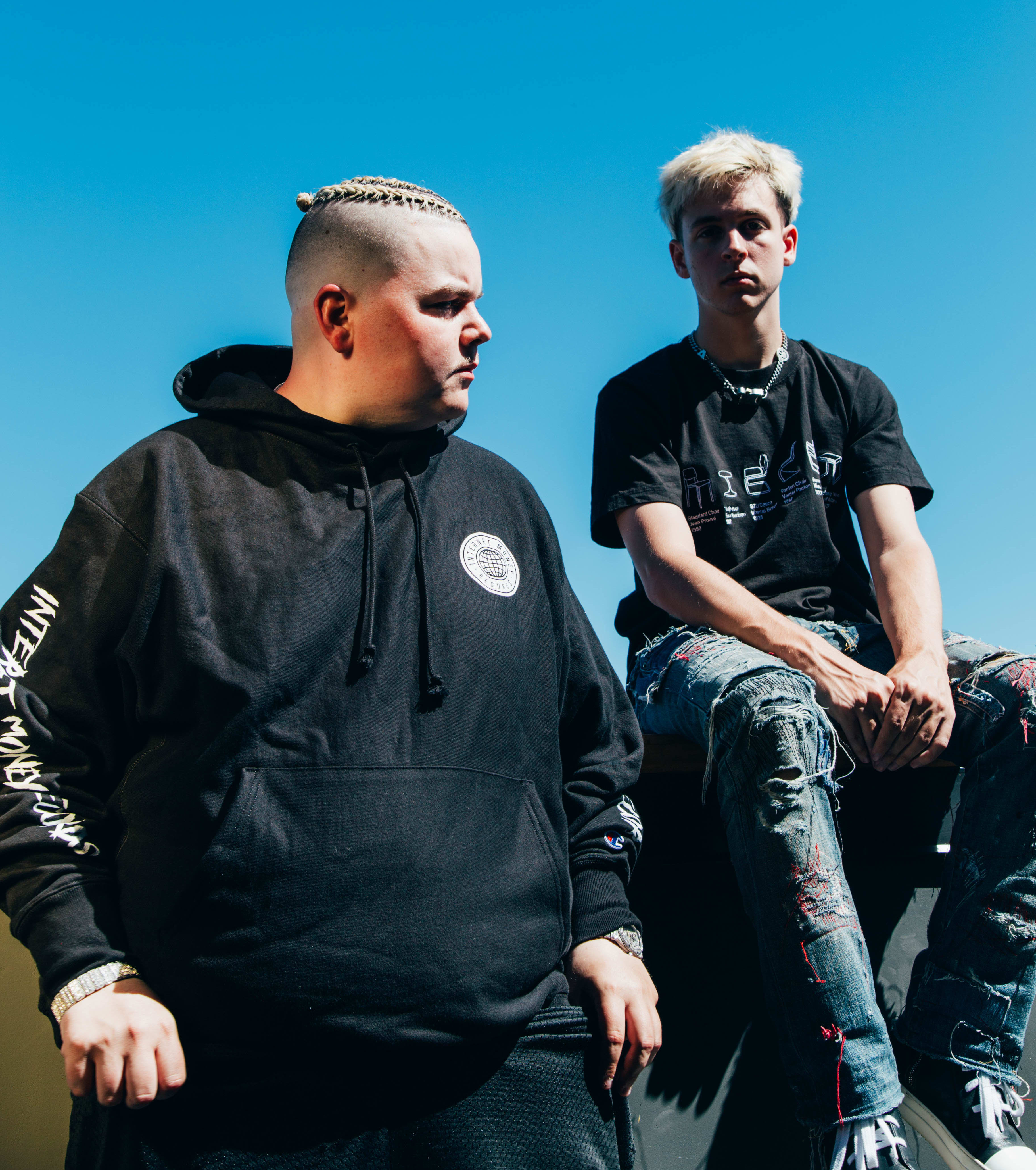 Finding himself with a foot in the internet producer community as well as traditional industry circles, Taylor has taken it upon himself to fight for his peers and earn them respect.
"People used to look at internet producers and think we're just clones trying to be like Metro Boomin or whatever," he says. "Say we make a 'Future type beat.' Whoever is Future's producer, they think we're just trying to clone them and copy them. In reality, we make beats, then we're like, 'Okay, who do we hear on this? I can hear Future on this, so I'm going to title it 'Future type beat.'' We never set out with the intention to copy anybody or show any kind of disrespect." He adds, "We do 16 hour sessions in a day. I'm known for breaking engineers and engineers getting so tired. I'm there every day. We don't go out, we don't go to parties, we don't go to bars, we don't go to fuckin' restaurants, we don't go shopping, we don't really do shit. We're just out here working. That's what people respect about us. That's what it really took to get here, all that sacrificing. I'm just glad it actually paid off."
"We're actually loading up blank Pro Tools sessions, playing live guitars, playing live bass, bringing in songwriters, and doing all that shit."
After spending some time in traditional industry settings, Taylor admits he's learned some things that internet producers could benefit from, as well. "When I came out to LA for my first couple sessions, I was still an internet producer," Taylor says. "I wasn't in the industry. I didn't know about these artists or anything. But my first actual session was with this pop artist. Being in there, you understand that you can't act a certain way around some of these people like you can on the internet. On the internet, you can just hide behind a computer screen and say whatever the fuck you want to say. Here, you have to carry yourself differently."
"When you're alone in your house, you're like, 'Oh, if I could just get this beat to so-and-so, they would fuck with this,'" he adds. "It turns out they really would not fuck with it, bro. [Laughs]. They just really don't like complex beats or anything too advanced. They want something really simple so they can write to it. They're going to figure out all the other shit later in post with structure and all that. Just keep beats simple. That's really the most important thing that even people on my team had to figure out on their own."
They got their start leasing beats online, but Taylor and the rest of Internet Money are quickly adapting and becoming more involved in every step of the creative process. "In terms of making actual records, it's not just making a beat and having an artist record to it," Taylor says. "We're actually loading up blank Pro Tools sessions, playing live guitars, playing live bass, bringing in songwriters, and doing all that shit. Then going into FL Studio later and figuring out how the drums will sound on a guitar lick or a bass pattern. That's actually creating a record, as opposed to just making a beat at home and sending it through email or something. That's actually the most important thing producers can learn from the industry, is how to put together records and be a part of something other than just making a beat."
Anyone who has spent any amount of time around Taz Taylor knows one thing: He doesn't hold his tongue. A scroll through his Twitter page reveals a long list of comments about the state of the industry that many young producers would be afraid to say in public.
"People don't like me talking in general, but I'm going to get my voice heard," he says. "I feel like in general, there's so much hate with labels. They try to go against producers. They treat us like we don't actually matter when it comes to the final product. They treat us like we're disposable or the beats don't matter. They'll have us go remake another producers' beats. They'll get us to try and do favors when the artist just got three million for a fuckin' label deal. Then they'll turn around and be like, 'Can you take a grand for the beat?' Some real disrespectful shit, like we don't matter. So I'm really pushing that forward, to really change how labels look at producers."
Fortunately for Taylor, his gambles are starting to pay off. Internet Money has grown to a strong stable of a dozen producers: KC Supreme, Nick Mira, Sidepce, Platzus, ETrou, Pharaoh Vice, Jol'z, Countach, Touch Of Trent, JRHitMaker, Roy Major, and Josh Petruccio. Now, they're starting to bring on artists as well. Just this month, they rolled out the debut single from an exciting 16-year-old artist named Babyface Kaedo and they have more planned for the future.
With the Nick Mira-produced "Lucid Dreams" charting at No. 4 this week, they just earned their first top 5 song on the Billboard Hot 100, as well. The success is finally attracting the respect from traditional industry figures they've always wanted. During a recent visit to the Internet Money house, Interscope CEO John Janick was overheard saying every label needs a Taz Taylor. "For someone like that to say that, that's crazy, bro," Taylor says later. "That's insane. That's what I want associated with my name, and that's what I want my legacy to be overall."
Of course, Taylor has his ambitious sights set even higher than his current accomplishments. "I'm trying to be the next Jimmy Iovine," he says. "People sit here trying to be Metro Boomin. That's cool, Metro Boomin is amazing, I love his beats. But at the end of the day, you're capping yourself off. You can be as high as you want to be. You don't just have to be a producer, you know what I mean? If you can make beats, you can put records together. If you can put records together, you can be an executive. You can be an A&R. You can find artists. You can sign artists. You can do whatever. There are no limits with this music shit. The people who tell you there are limits are just trying to hold you back."
Taking a moment to reflect on what he's built with Internet Money over the last few years, Taylor pauses and describes it in a sentence: "Internet Money really stands for good business, crazy records, and great friendships."
"My goal is for all these guys to get as big as they can be," he says. "Put together the craziest records, still be family at the end of the day, and not let this shit get in between us. Because what we've got right now is really special."