Pleasure Principle: Carly Rae Jepsen Wants to Make You Feel Good
The singer-songwriter behind "Call Me Maybe" returns with a new lineup of producers who helped her to create her moodiest—and best—album yet.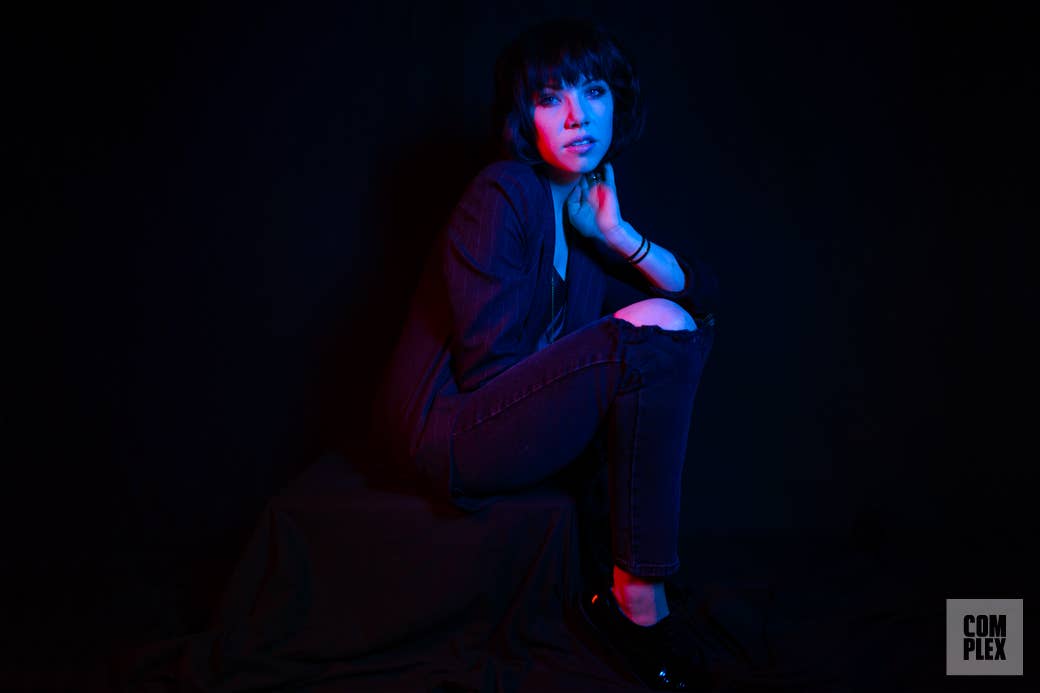 If the average household light bulb measures about 60 watts, the electrical power of Carly Rae Jepsen's ear-to-ear smile right now is about a 120. Were she indoors, you'd probably have to squint, but she's outside at a table at a restaurant in Midtown Manhattan on an overcast afternoon in June.
The location is foreign territory for her, a 29-year-old Canadian now living in Los Angeles, but Jepsen's informal pleasantness makes it feel like I just walked into her house. She is wearing a wide-brimmed black hat, a cream-colored, long-sleeved lace top, and that enormous smile that might be accentuated by her small frame. Her demeanor as we speak about her third album, E•MO•TION (School Boy Records/Interscope), coming Aug. 21, is so pleasant that it seems like she's new to the industry, not someone who's been fighting to be a part of it and writing songs since she was 17.
Jepsen is the singer-songwriter who has made some of the most infectious pop music of the last couple of years, beginning with "Call Me Maybe," the ubiquitous single that launched her career in the United States back in 2012 and led to a thousand parodies on YouTube. It may have caught on without the help of a pair of tweets from Justin Bieber and Selena Gomez, who heard it on Canadian radio earlier that year, but those certainly did not hurt. Nor did the viral video that Bieber and Gomez put together shortly after of them lip-synching the song with a couple of their teen-star friends, like Ashley Tisdale and Moisés Arias. In fact, the cosign led directly to Jepsen getting signed to Bieber's manager and SB Projects founder, Scooter Braun, and his School Boy Records label. "I had signed everything before I'd even met [Braun]," says Jepsen. "I just sort of trusted him on the phone. And I also felt that everything was happening because of him and Justin."
If "Call Me Maybe" began as a guilty pleasure for some, it quickly turned to an out-in-the-open pleasure for many. Billboard named "Call Me Maybe" its 2012 song of the summer that September, citing at the time that it had sold 5.5 million downloads, according to Nielsen SoundScan. Jepsen released her sophomore album, Kiss, that same month, and though it debuted at No. 6 on the Billboard 200, it never moved any higher, falling off the charts entirely after 11 weeks. Compared to the overwhelming success of "Call Me Maybe," the album, though critically praised as one of the best pop releases of the year, was a commercial flop.
Three years later, Jepsen reemerged this March with "I Really Like You." The song was another sugary ear worm similar to "Call Me Maybe," though it was not as commercially effective, peaking at No. 39 on the Billboard Hot 100, despite a brilliant video starring Tom Hanks and free promotion from another Bieber lip-sync video.
And then something strange happened.
Jepsen was the musical guest on Saturday Night Live on April 4, and she performed "I Really Like You" for her first song. When the lights came up on the stage for her second song, Jepsen was flanked by Dev Hynes and Ariel Rechtshaid, two songwriters and producers who have worked with everyone from Sky Ferreira and Solange Knowles to Vampire Weekend and HAIM, "indie" artists who carry a certain cachet. Together with a backing band, Jepsen, Hynes, and Rechtshaid performed "All That," a moody, slow number, drenched in '80s R&B sounds, that featured Jepsen pleading, "Show me if you want me, if I'm all that." The track went up for sale on iTunes the next day, and though it didn't have the numbers of "Call Me Maybe," it started attracting a new crowd. People who turned up their noses at "Call Me Maybe" were playing this song. Pitchfork named it Best New Track. Collectively, the music world scratched its head because suddenly, Carly Rae Jepsen was cool.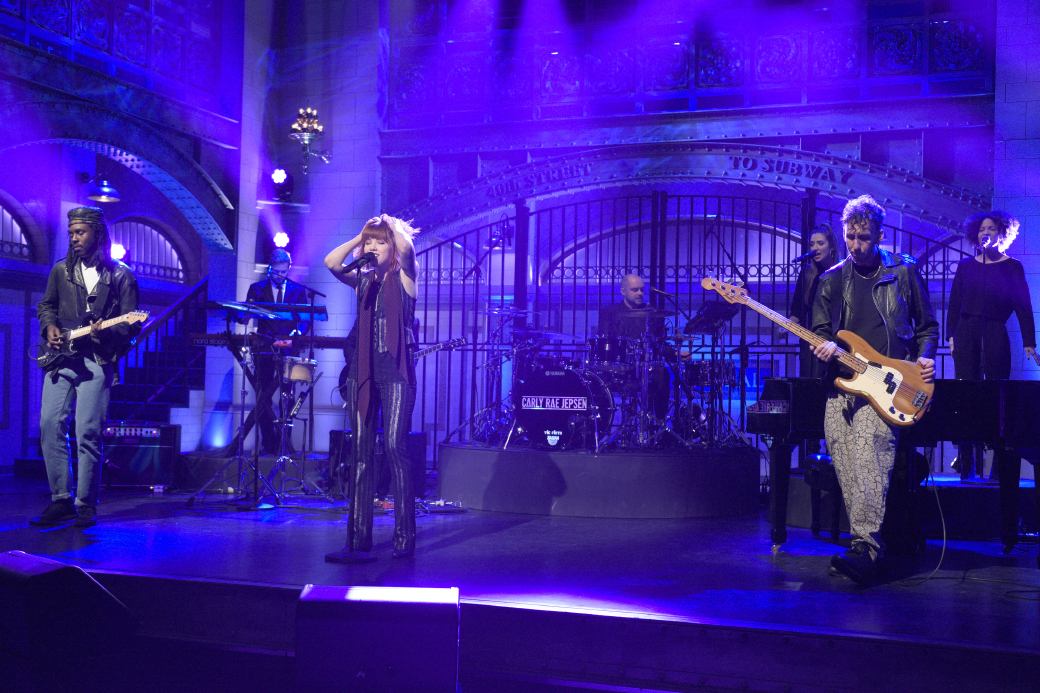 The intrigue rose even more when Jepsen's camp announced that Hynes, Rechtshaid, and Vampire Weekend's Rostam Batmanglij were among the producers and co-writers of E•MO•TION. While the three did not work on every track, the mood created by the songs they collaborated on with Jepsen sets the tone for the project. This album is still coy—"I wanted it to feel sexy," Jepsen says, "but it's maybe a little bit less, 'Come hither,' and a little more like, 'Heeey.'"—but it is also more seductive than either her debut, 2008's pop-folk Tug of War, or Kiss, due in large part to the surrounding production.
"I've always loved pop music," says Batmanglij, "and I felt like [Kiss] has elements of innocence in it and also there's a little bit of mischief that I think often times comes through the production and the mixes on her records."
Batmanglij's collaboration with Jepsen on E•MO•TION started last summer. "I heard she was in town in L.A. writing with various people, and I sent my manager an email about working with her," he says. From July until this past March, Batmanglij and Jepsen worked on a song that would become "Warm Blood," though it began as something different.
"The song's hook was originally 'Warm love feels good,'" Jepsen says. "And I sang it to Rostam, and he was like, 'Did you say "Warm blood feels good"?' And I was like, 'No!' And he's like, 'I love it.'"
Once he got that lyric in his head, Batmanglij couldn't switch back to "Warm love." "There was an interesting image," he says, laughing. "It felt like more physical as a concept than abstract, and I thought that that was something that would be important to try to build a song around." Eight months later, "Warm Blood" landed a place on the album.
Jepsen had nearly 250 songs in the beginning to choose from for E•MO•TION. She whittled that number down to 50 and then had Rechtshaid help her narrow the tracklist to the final 12 songs. The ones that made it all share the same dreamy, 1980s pop vibe, with synthesizers leading the charge. Jepsen credits listening to Prince and Madonna for some of those sound choices, but she cites a Cyndi Lauper performance she saw two years ago in Tokyo as the biggest inspiration. "I was side stage, and I just remember thinking 'Girls Just Wanna Have Fun,' I would put that out right now as is and I wouldn't change any of the production and I'd just put my name on it instead," she says. "And there's not a lot of songs that you feel are that timeless and that anthemic and fun." The trick was to try to get back to that place without releasing an album that sounded too dated.
To find that balance between classic and contemporary, Jepsen called on Hynes. "She was a nice person and liked what I did and wanted to work with me," says Hynes. "That was really what kicked it off. It's funny. You'd be surprised how, especially in the pop world, these things aren't the reason that people collaborate." Hynes sent her what would become "All That," and the two workshopped the song when Jepsen was in New York. "In my original version of that song, the bridge didn't have any vocals and she was like, 'There need to be vocals there,' and she wrote that vocal line. It's one of my favorite bits."
Rechtshaid was also a collaborator on the song, and his immediate suggestion after he heard it for the first time was simple: Speed it up. Jepsen says that the song was originally three or four BPMs slower than the final product. "Ariel was like, 'Guys, I really like what you're doing with this slow jam, but I find myself looking at people in the room to be like, "When's the next beat gonna happen?"' So he helped us to make it appropriately slow."
"The joke between my friends is that all my songs are slow and really long and, like, the vocals don't come until 2 minutes in," Hynes says, taking the blame.
"Dev is the master at laying down sick vibes, but to bring it into Carly's world without losing what was cool about it was the challenge."
—Ariel Rechtshaid
The challenge for Rechtshaid was to pick up the pace without losing the sexiness of the groove. "Me and Dev have worked on a lot of things together, and he's the master at laying down sick vibes," Rechtshaid says, "but to sort of bring it into Carly's world without losing what was cool about it was the challenge, and I think we did it."
Bringing artists into that new territory is a specialty of Rechtshaid's, and what he did for Jepsen with "All That" was not unlike the approach he took with Usher for "Climax." For those sessions, Rechtshaid wanted to come up with a sound that stepped away from the pop-leaning club jams Usher was making at the time. "I realized that if [Usher] wanted more of that he'd call in will.i.am or whoever it was that he made those hits with," he says. "They come to me looking for something different.... With Carly, it was the same thing. The idea of making an upbeat, poppy song for her—she had plenty of those. What's more interesting than that? 'All That' was all that."
The song came from such a collaborative place that when it was time to share it with the world on Saturday Night Live, Jepsen wanted Hynes and Rechtshaid to be with her on the stage. "As soon as I got the call," Jepsen says, "I texted both of them and was like, 'Boys, I'm playing SNL on this day. I want you to come and play with me. Are you guys down? Because this is your baby as much as mine.' And they were like, "We're so in!"
"She is so funny," Hynes says. "She texted me like, 'Hey. If you don't mind, I'm going on SNL and it would be amazing if you and Ariel played. It's cool if not. I totally get it.' I was like, 'What are you talking about? Of course I would do that!'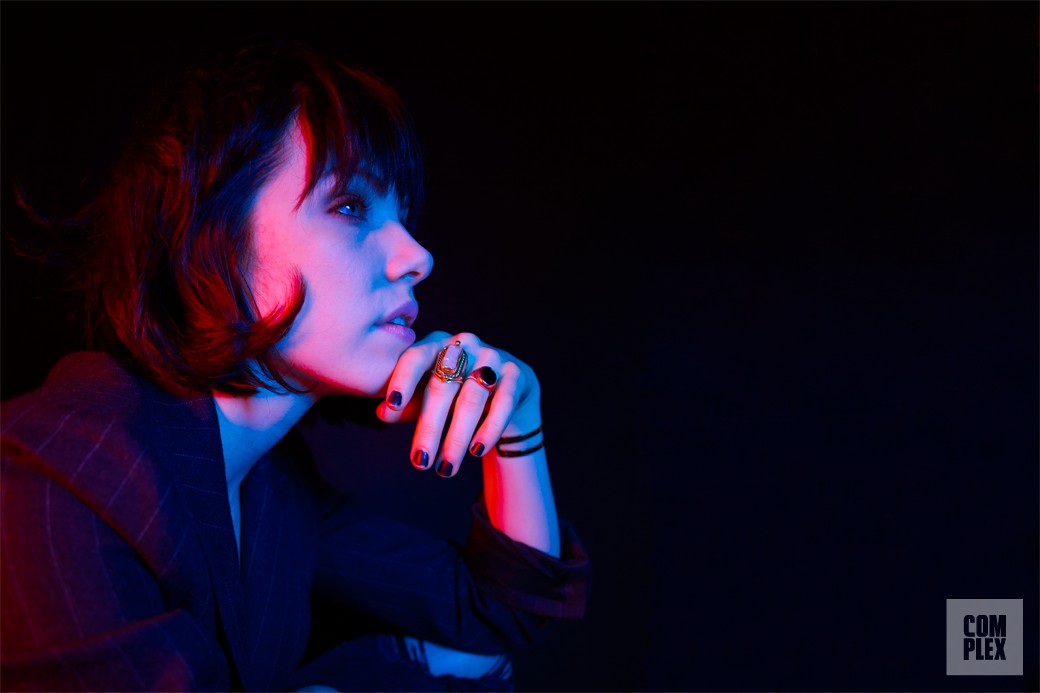 Jepsen was nervous and excited to perform that song, and she knew it would change how people saw her. "I don't think I'd ever gone on television and felt like I was allowed to be so much myself," she says. "I was singing a song that was so heartfelt and so real, and it was for no one but me and what I'm wanting."
The reaction to the performance was enormously positive, leading outlets and fans who had ignored Jepsen in the past to give her their attention. Since then, she's released five other songs from the album, all a little unexpected in their production, yet still distinctly her style. These latest deal with fantasies and dreams, being someone's "sinner in secret," rushing to make the most of one evening, and then being slammed back into the friend zone. Jepsen says "I love you" in some of these songs, but these don't feel like love songs; they feel like like songs, crush songs, the stuff that comes before the ballads. Sometimes that means her music is like the aural equivalent of Tinder: at times light and ephemeral and easy, but also direct. Consider that even at her poppiest moments, she is giving out her number on "Call Me Maybe" and confessing to really liking someone on, what else, "I Really Like You."
"Worrying about if someone thinks I'm too old or too young is just a waste of my time."
—carly rae jepsen
Jepsen's critics have cited songs like these as evidence that her writing is immaturish and that she's too old to be as playful as she is. Yet for someone who has been dealing with this sort of ageism since she was 26, Jepsen doesn't seem too phased. "Worrying about if someone thinks I'm too old or too young is just a waste of my time," she says. "I believe that we all become complete love fools at the beginning of stuff, no matter what our age. I can't believe how much I turn into a teenage girl when I'm really newly into somebody. And I can hear myself, and be like, 'You know better. We've done this before. He's definitely not perfect.' But that feeling, those butterflies, I think that's an ageless sentiment. When you first meet someone, there's that spark and that childishness of wanting to believe in magic."
When a word like "relatable" is used to describe music, it often implies a generic appeal. In the case of Jepsen, her songs are relatable because they're articulating the very specific shared experience of wanting, and of wanting to feel good. Expressing these feelings can be admittedly a little embarrassing, but Jepsen has no shame in putting it all out there. "I found myself in the shower the other day singing 'Hopelessly Devoted to You' from Grease at full volume," she says. "And I feel like I wouldn't normally want to tell people that. But I feel like I have a nerdy part of me that likes musical theater. But I'm not guilty about it. If you love it, you shouldn't feel guilty." The same goes with listening to Jepsen's songs: Forget the idea of guilty pleasure music—pleasure is the only thing to be found here.
Listen to Carly Rae Jepsen's playlist of her favorite songs of the moment on Apple Music.