"I would feel like the biggest creep on the planet," says Joe Budden. He's sitting at the head of his dining room table explaining why he'll never join Tinder, a hookup app that seems perfect for someone like him—a guy who once tweeted a picture of himself going down on his girlfriend, and waxes lyrical on social media about the virtues of rimming. But despite the perception that he's a womanizing freak, his actual love life is much less dramatic. Or so he claims. "I don't fuck anywhere near what people think," says Budden. He brings up his number with the nonchalance of a man revealing how he takes his coffee. "It's under 80. Some people who don't understand volume and numbers think that's a high number. I say that number with so much pride. A 34-year-old rapper who has been fucking since he was 14 years old to have fucked less than 80? That is less than all the men I know. Pussy is so easy to get, especially now."
Budden's filter-less public life has been vital to his brand. It's one of the reasons the virtuoso rapper, Twitter God (he has over 890,000 followers), and reality TV bad boy is something of a star. That quick-witted, over-sharing narcissists happen to flourish in all three mediums is no coincidence.
While he isn't the first rapper to mine his fucked up personal life for material, no one documents their ups and downs as exhaustively as Budden. Nothing is taboo from a life that started in Spanish Harlem, took root in Jersey City, and was recently broadcast on VH1's Love & Hip Hop New York. In passage there was his father's absence, his parents' drug addictions (both are now sober), an addiction to angel dust, a flirtation with pyromania, a spell as a juvenile delinquent with a taste for sticking up gas stations and bodegas and the occasional B&E, rehab, sobriety, a relapse, sobriety again, a destructive relationship with his child's mother (his boy is now 13 years old), more girl trouble than a Kennedy, rhyme ciphers on The Hill where he cut his teeth and let everyone know who Mouse was as a rapper. But where does Joe Budden draw the line?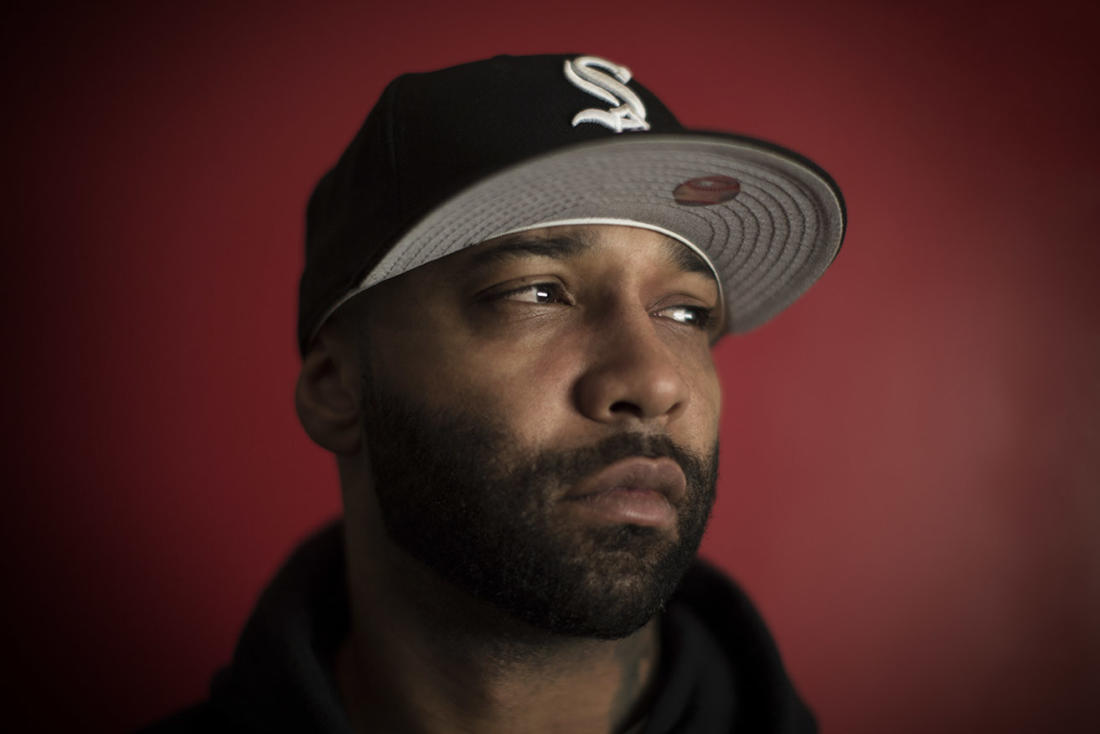 During two visits to his Edgewater, N.J., home last month, Budden deflects questions about his legal issues, the whereabouts of the engagement ring he used to propose to his ex, Tahiry Jose ("I'm not telling you."), and the future of Slaughterhouse, the rap supergroup consisting of Budden, Royce Da 5'9", Joell Ortiz, and Crooked I ("None of your business. We are signed to Shady, and you know we are secretive."). He's even cagey about the hookah spot in Queens where he goes "to be a fake THOT." ("I'm not telling you. I don't need an extra dick over there. It's always at least a 5:1 ratio of women to men.")
There are other things that are private. "You'll never get me to speak religion. You'll never get me to speak politics," Budden says in his pronounced, nasally tone. "I have a few theories and trains of thought that I wouldn't expose because they are not anyone's business. I hold them sacred, it's how I feel, it's my opinion, not up for debate, and not meant to be shared."
"Something," he says, "has to be held sacred."
Joe Budden lives on a verdant block in Edgewater, an affluent borough near the George Washington Bridge. It's a quiet fall day, Ray-Bans and hoodie weather. Newspapers from who knows when litter the front yard near bushels of daisies. Budden answers the door wearing grey sweats, a camouflage skull cap, and black leather slippers with fuzzy insulation. His trademark beard, so full it almost looks painted on, needs a shape-up. "I didn't want to leave the house," Budden says welcoming me in. Incense lit to mask dog shit—Budden owns three mammoth canines—makes the house smell like an outer-borough lime green cab. "You wouldn't have wanted Grumpy Joe."
Grumpy Joe isn't around at the moment. Less than 24 hours ago, the CD-quality version of "Ordinary Love Shit 4 (Running Away)," the latest in a chain of postmortem records about his ex-girlfriends, leaked; whereas Part 1-3 detailed his volatile relationship with video vixen Esther Baxter, here Budden aims at his on-again-off-again ex of nearly a decade, Tahiry Jose. The reception to "OLS4," Budden says, has been amazing. "The people love the series," he says. "It's very relatable for people. I think that's why most people listen to me—it is relatable. Who doesn't have a drama-filled story with an ex? We all do."
"I think that's why most people listen to me—it is relatable. Who doesn't have a drama-filled story with an ex?
We all do." —Joe Budden
Budden's confessions are tailored to the digital age. His songs are emotive like an anonymous teenager's WordPress blog, yet as quirky and weird as a good Tumblr. The content arrives almost in real time, mimicking the behavior of a compulsive tweeter, and contains shocking revelations making for the juiciest click bait.
"I get pretty emo on record because it's therapy," he says. "Music is my therapy."
Budden began expressing himself as a pre-teen, around the time his older brother threatened him with a 9mm. As a result of his brother's anger, the family entered a program that required them to keep a journal. Budden's prose was dark, dotted with suicidal thoughts. Some doctors suggested medication. Others declared him a genius. Joe continued writing in his journal taking personal inventory of whatever was rattling around in his brain. Even today the verses are personal inventory.
Royce Da 5'9", a former rival of Budden's now a close friend and group mate, breaks down what makes Budden exceptional. "I felt like I knew him before I even met him," he says. "Joe is able to express himself in a way where he gets through to the listener without being so cryptic. He can be blunt, abstract, and complex at the same time. He's able to pull from the negative things in his life and use them to his advantage in his music as fuel, motivation, and inspiration. A lot of artists fail to realize that these things matter. He grasped that very early. You have to be very in tune with yourself and with the universe to be able to pull stuff at a very young age. With me, I went through a lot growing up. I didn't want to talk about my dad doing drugs and beating my mom and all these painful things. My brain blocked them out. He drew directly from it like it was nothing. That is a talent."
As far as the fundamentals of rapping, Budden is polished with excellent cadence, breath control, and delivery. He has a gift for intricate rhyme patterns. He also knows where to land on the beat. He treats rap like a job,  preferring afternoon studio hours, and he can be a prodigious writer sometimes churning out over 250 bars in a session if inspired. As a songwriter, Budden is gloriously self-indulgent to a fault at times. Choruses can be an afterthought. The production often takes a backseat to the stanzas. Seven-minute songs are not unprecedented.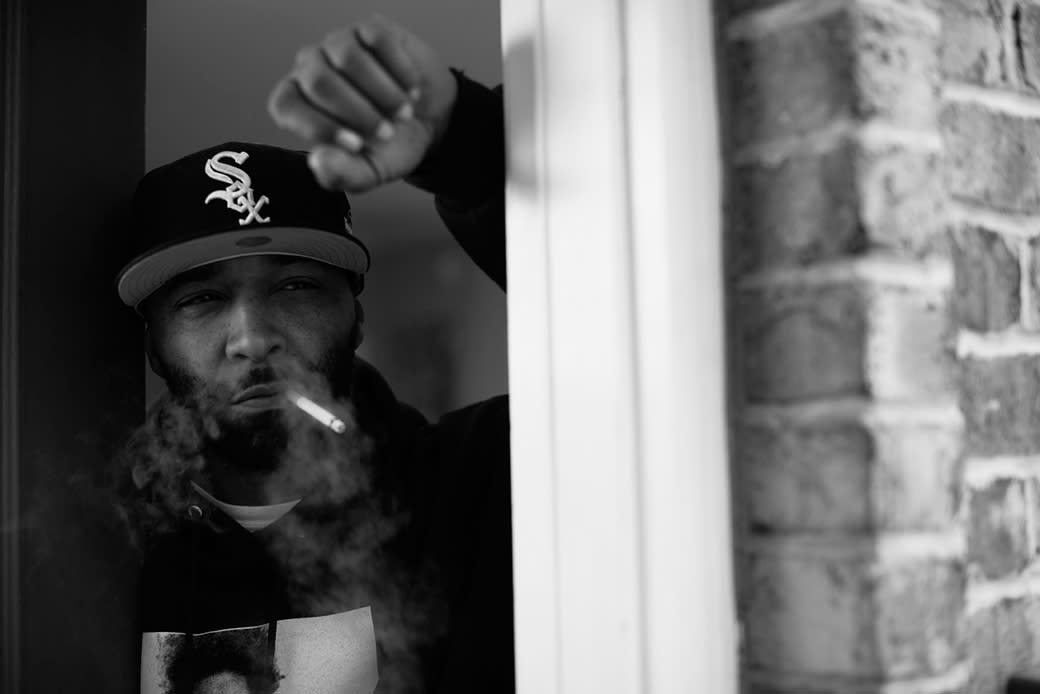 A master raconteur with an eye for detail and peerless creativity, Budden is also one of rap's great storytellers. "Three Sides of a Story," an intricate tale of sex, violence, and revenge told from three perspectives, is his masterpiece. "A top-five storytelling record in hip-hop," he says of the 2005 song. That it's produced by Scott Storch, who was charging around $100,000 a beat back then, makes the record even more audacious. "When you hear a beat you're inspired to do what the beat calls for. You're not thinking of the price."
A black cloud hovers above the work. Cloaked in self-loathing, many of his records are a cry for help. "I'm not a role model, I'm a piece of shit," he rapped on a freestyle over "No Church in the Wild." His ascent dovetailed with the moment when rappers no longer had to inhabit the superhero avatar (think 50 Cent) and it became acceptable to show the world that a fragile human gripped the microphone. He is the bridge between the kind of scary flagellation utilized by Eminem or DMX and the more accessible form of vulnerability and frankness Drake and 808s & Heartbreak-era Kanye West depict.
"I totally agree," Budden says. "I've said many times, maybe in my head, but never out loud, that I think both Drake and Kanye took an idea that I had and maximized it to the biggest possible level it could go."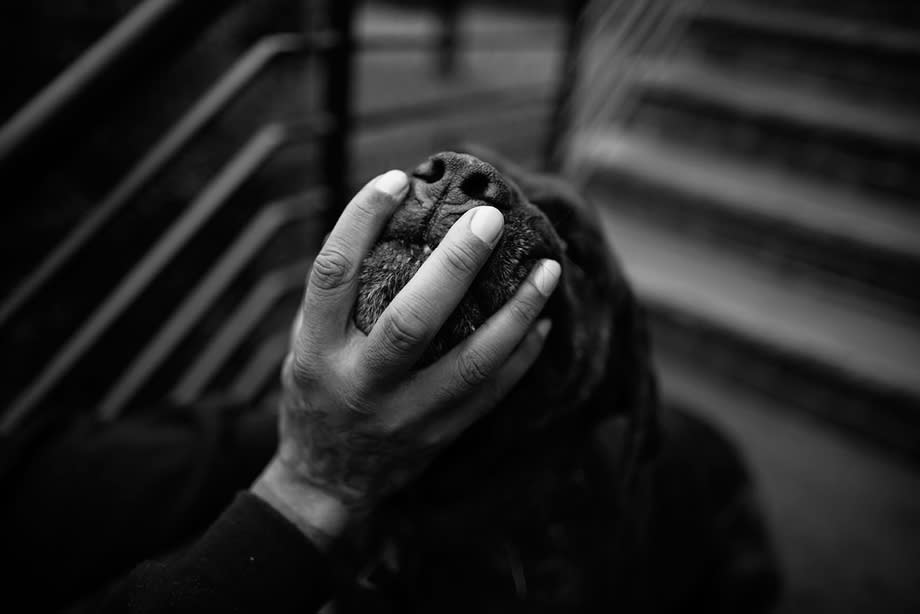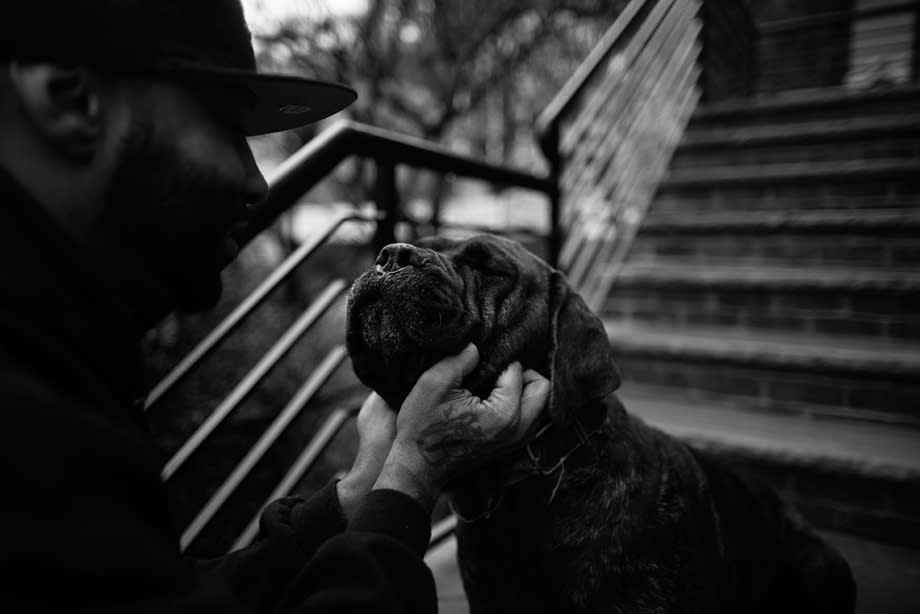 Unlike Drake and Kanye, Budden has struggled to sell records throughout his career. Despite the presence of the massive radio hit "Pump It Up" and the muscle of Def Jam's marketing department, Budden's 2003 self-titled debut album barely went gold. Still label executives supported him. "We were building a foundation and a base," says then-Def Jam president Kevin Liles. Budden was also an early adaptor to the Internet, posting on message boards to remain accessible to his fans. "People attached themselves to his lyrics and his demeanor and not just to his songs," Liles continues. "He enlisted the fans not just as a record-buying consumer. Instead he acted as a travel agent of sorts so they could share in experiences with him. He brought them along through his social media presence."
Budden's career stalled after Liles and Island Def Jam Music Group president Lyor Cohen left the company in 2004. He had no hit singles in the pipeline, no plan, and a new boss, Jay Z, who had dissed him on a freestyle over the "Pump It Up" beat; Budden responded comparing Jay Z to the Washington Wizards version of Michael Jordan. Now shelved, Budden lashed out at the new regime. A decade later, does he think Jay Z was punishing him for the Jordan jab? "I don't think so. I don't know," Budden says. "I hold myself accountable for the part I played. I was very vocal in my disdain regarding the handling of my career." His lips curl into a mischievous smile.
Upon receiving his final release from Def Jam in 2007, Budden focused on the long game cultivating his rabid base of fans. And instead of making records with commercial potential, Budden retreated inward recording odder and more personal music. His Mood Muzik mixtape series remains a standout. He also beefed with a slew of artists (Saigon, G-Unit and Game, Raekwon, Ransom, and Prodigy), and formed Slaughterhouse. "He's kind of like the wild card in the group," says Royce Da 5'9". "Joe is like Bobby Brown in New Edition, and I say that with all respect."
After a quick artistic detour on 2013's No Love Lost, which featured the club hit "N.B.A." and "She Don't Put It Down," Budden's first single to enter the Billboard Hot 100 since "Pump It Up," Budden's latest work, the EP Some Love Lost is his most revealing project to date. Budden raps about his failed relationship with Jose ("OLS4," "Alive"), his dying grandfather ("Poker in the Sky"), and lists recent sexual conquests by name ("Different Love"). The centerpiece of the album, however, is "Only Human" where Budden bares recent suicidal thoughts.

"That was a difficult song for me to listen to," says his mother, Fay Southerland. "He went through a bout where he was feeling terrible, and I forced him to come over, and we had a conversation. He needed to eat, he needed to sleep, and he wasn't doing those things. That is probably the only song he has made that I have a hard time listening to. If you are talking to someone every day and you are asking him, 'What's going on? How are you?' And he's not telling me, then I hear a song that says 'I felt like committing suicide,' I'm like, 'Well, why didn't I know that?' That was troubling."
"I hold myself accountable for the part I played. I was very vocal in my disdain regarding the handling of my career."  
—Joe Budden
Most of Joe Budden's new fans know him from his two seasons on VH1's Love & Hip Hop, the Mona Scott-Young-produced franchise where rappers, their wives, girlfriends, baby mothers, mistresses, and sometimes even their own moms behave badly. In some ways his participation was inevitable. Back in 2007, when Budden was still considered a one-hit wonder, he started Joe Budden TV, a video blog to chronicle his day-to-day, everything from the hilarious to the mundane. The fans—and the Internet—loved it. "I had no idea it would do what it did. It was the talk of 2007-09," Budden says. "But it birthed the Joe and Tahiry Saga for the public."
Tahiry Jose, his girlfriend at the time, was the video blog's breakout star. A fiery Dominican with a sharp wit and killer curves, Jose quickly went from bartending to the cover of men's magazines. The couple broke up around 2009-10.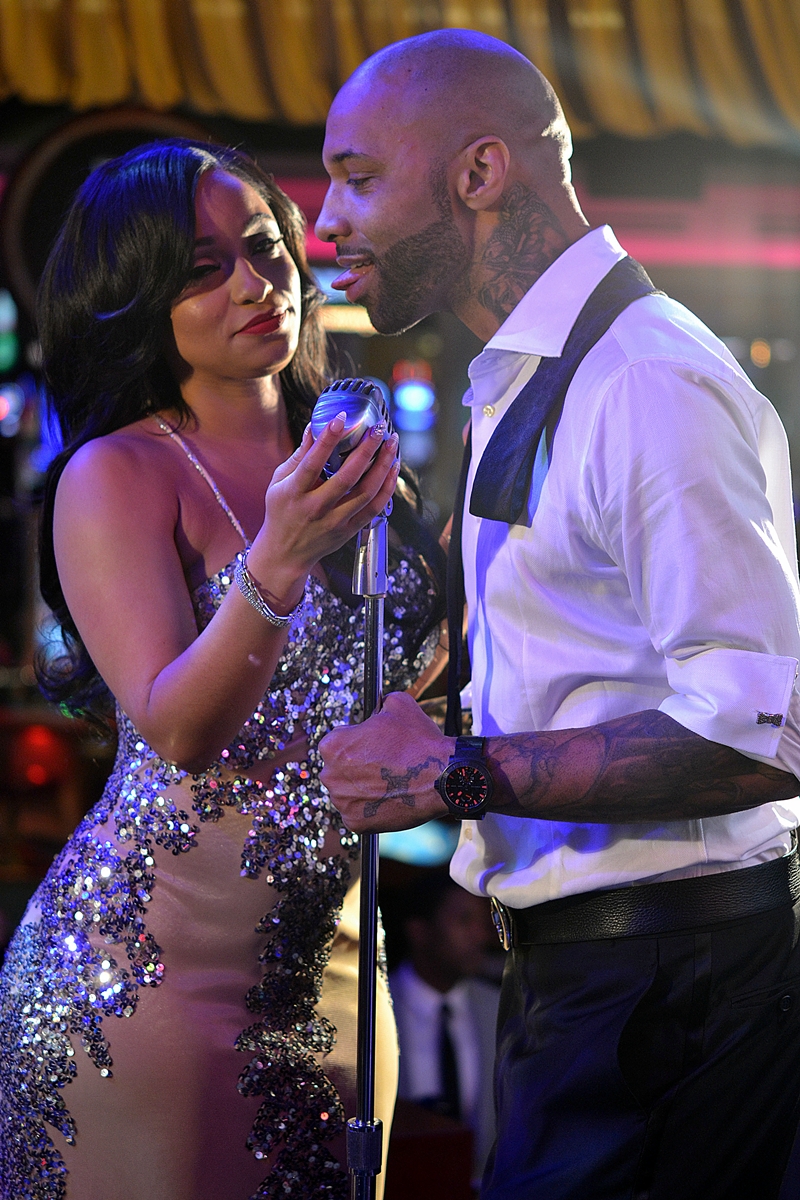 Budden was in a relationship with Kaylin Garcia when VH1 contacted him. Life, at the time, was good. "I loved girls, she loved girls, and we were loving women together," Budden says. Still he recognized the show could be a platform even if it meant his ex was also in the cast. "I wasn't speaking with Tahiry when they approached me," he says. "They said, 'Tahiry is on the show.' 'Oh, so they are going to be following her and whoever she is with? I got a girlfriend. I'm in a relationship, and I want nothing to do with that over there.' 'OK, cool, cool.' But, you know, that was a crock of bullshit. It wasn't cool. It was the Joe and Tahiry reunion tour without letting me know."
Budden's storyline unfolded predictably: Lingering feelings for Tahiry surfaced, he dumped Kaylin for Tahiry, was then dumped following an alleged infidelity (he still denies it), renewed his courtship of Tahiry, proposed marriage, which she declined citing trust issues. Throughout the process Budden was painted as a habitual line-stepper, an agitator who nudges, prods, and pushes buttons, the antihero in a denim vest. "I came off like a fucking total douchebag," Budden says laughing.
But nothing in his act felt contrived, and his honesty earned him adoration. The newfound fame changed his life. "Where I was able to walk through a mall somewhat peacefully, yeah, not today. There are so many people who have never heard a Joe Budden song in their life, and they're like, 'Oh, I want a picture,'" he says. "I always laugh at the people who come up to me like, 'Are you Joe Budden?' I tell them no. If you don't know I'm not telling you."
His run on LAHH has come to an end. The Joe and Tahiry Saga, however, might not be over. "Who knows," he says. "I thought Tahiry and I were finished a million times and God shows me something else. I don't know. We're cordial when we see each other. We're cordial when we speak to each other. There are over 10 years of feelings compiled so who knows." Then, as if anticipating the next question, he blurts out, "I'm not having sex with Tahiry."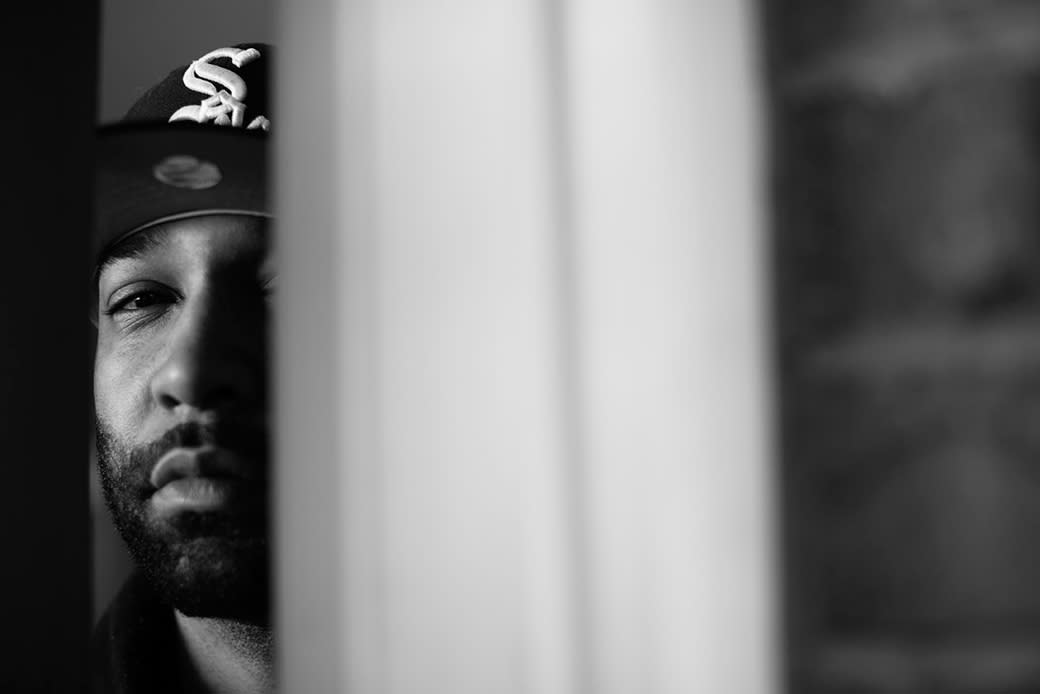 As soon as we're done examining his stint on reality TV, I suggest a tour, which makes sense if we are testing where Joe Budden draws the line. "I'll give you a tour of the floor," he says. "The reason why I'm not giving you a full tour is because I didn't clean." He takes a sip from a large Dunkin Donuts cup, then arises from his chair.
"I'm a feng shui guy," Budden says pointing to the scores of candles around as he leads me down the hall. We wind up in the kitchen since we were in the living room all afternoon, and there's nothing remarkable to report about his bathroom, except for a framed Marilyn Monroe picture. It's an enviable kitchen with tons of natural light and a huge island covered in Bed, Bath and Beyond coupons. A bottle of booze rests on another counter. Budden doesn't drink, but he's a good host. "Women drink, and they come here," he says. "This is not to say women come here, get hammered, and then spread their legs. This is just casual."
He's spent a lot of time in the kitchen lately. Later today he'll hover over the stove preparing chicken, mac and cheese, and collard greens. Budden is learning to cook, he says, in order to "raise his husband profile." On our way back to the living room I notice the big empty freshwater fish tank in Budden's office. He doesn't plan on filling it soon. "I don't want to experience dead fish ever again because I don't deal with death well," he says. "It's a bevy of different shit. It's not a fear of the unknown because I'm weird like that. I have all types of different beliefs. I think the body perishes and the soul doesn't—where it goes I don't know. But it's death here, it's birth somewhere else. It's not a fear of the unknown. You just become overwhelmed with all different types of emotions. It's kind of hard for me to articulate it at the moment." He stops there. He's not about to speak religion.
Joe Budden was arrested in August on robbery, grand larceny, and obstruction of breathing charges. According to reports, after confronting his ex-girlfriend Audely Robles at a Washington Heights restaurant, Budden allegedly grabbed her neck, smashed her head against his car's dashboard, and stole her cell phone. Police then put an advisory on Twitter that Budden was wanted. Sticking true to his brand, Budden, who was home throughout the entire "manhunt," taunted police on Twitter, something he quickly regretted. Budden surrendered to authorities, was charged, and released, but not before tweeting from jail. He tells me about a recent conversation with a cop on Steinway Street near his favorite hookah lounge. The nub: No man should discover that he's a wanted man through social media.
Budden says he can't comment on the case. "I have plenty I want to say," he says. "It's in the court's hands, so there is a time and place for you to say exactly what you want to say." He couldn't help but address the situation on his new EP though. On "Only Human," he raps:
"That whole night just replays in my mind/Your face is fine, this is a big waste of time/Let's get back to that jealousy/Now you got a nigga facing three felonies/All for what?, 'cause we were no longer dealing/You attack me, but I'm the villain, over a fucking iPhone and feelings."
I tell Budden that this isn't the first time a woman, an ex-girlfriend, has accused him of physical abuse. "It's Gone Girl," he says. "It is what it is. All of the groups that were oppressed at one point have all of the power today. And here we go getting into my unique perspective on things, which is none of your business, so we're not going to talk about it too much. But gays, women, like, men don't have very many rights for some reason. So it enables the way that our justice system works. My next door neighbor can go up the street to the precinct and say, '[John Doe]' beat my fucking ass, and '[John Doe]' will get arrested. That's just how it works. Unfortunately some people manipulate that—period, end statement. I shouldn't have even given that statement, but that's what it is."
"The resolution will be in court," he continues. "I can never get back the slander that has been done to my name and my reputation. That will never be restored. You have plenty of people out there that will say, 'Oh, Joe Budden beats bitches up,' because they read that. They will skip over the word 'allegedly.' That word means nothing. That word might as well not be there. Once you allegedly did anything you did that shit. But that's fine. That's cool. You just go to court, put it in the hands of the justice system and hope justice is served. That's how I'm handling it."
I remind him again this isn't his first time fit with these horns. I decide to press on, asking him if he's a serial abuser. But in using his own words, the question comes out phrased in a most awful way: Does Joe Budden beat bitches up? "I won't even dignify that," he says. "That is ignorance at its finest."
"Joe is like Bobby Brown in New Edition, and I say that with all respect."
— Royce da 5'9"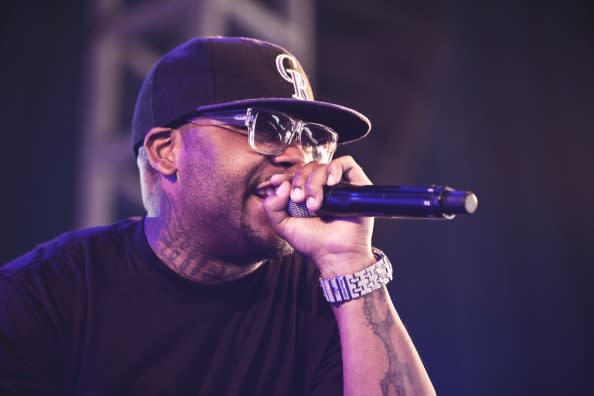 Budden stands on his front stoop smoking a menthol cigarette, tension stemming from my clumsy interrogation lingering in the crisp fall air. To change the mood we move on to more inconsequential subjects—'90s rap, teenage rappers in the '90s vs. today, Illmatic vs. It Was Written (he's an IWW guy). Soon enough we hit another landmine: society's attitude toward depression. "Yeah, that's more shit I don't talk about. I guess it's your job to get me to talk about things I don't talk about, but whatever," he begins. "People hear the word therapy and immediately think something is wrong and automatically are alarmed by it. I hear 'therapy' and think 'help,' 'assistance.' Who doesn't want help? I do."
"My whole life has been filled with therapists, psychiatrists, psychologists, hospitals, jails, youth houses, drugs, fucking life coaches, all of this shit. It's all been just help since a very young age—help, get help, get help, get help, get help, get help. People don't get help, or they wait until they are in some fucking life and death emergency rock bottom type of situation before they ask for help or realize they need help. A lot of people lack self-awareness in that way. I am very aware of exactly who I am."
Despite the bad month or two every once in a while, Budden isn't currently seeing a therapist. He doesn't struggle with depression, he says, depression struggles with him. Besides, he feels fulfilled. "I'm proud to still be here," he says. "I'm proud that God has fucking lent me his grace and mercy to still be alive at 34 when they fucking told me I'd be dead at 18. All this other materialistic bullshit, whatever. I take pride in my life, my livelihood, my talent, my family—the important shit." He sometimes thinks back to a celebration dinner his label held last year for No Love Lost. His father, a musician, a flawed man, a talented man, who wasn't present until Joe turned 14, told him that night he was proud of him for succeeding in music. "I damn near cried," Budden says. "I probably did cry. I'm so emo."
We're back inside now looking for a cab service number. He shows me a TV script he's reading. He wants to act, do more television, perhaps something similar to First Take. He even wants to write a spec script for the kind of crime procedural he often binge watches like Law & Order or The Blacklist. "I want to live life," he says. "I want to do it all—maybe that's what people don't know about Joe Budden."
Twenty minutes later the taxi arrives. The driver, who is already outside his vehicle, stares at Budden as we walk down the driveway.
"What's your name?" asks the cabbie, a stocky white guy covered in tattoos, with dreadlocks that fall mid-shoulder.
"Derek," Budden says, the same name as the character from the first verse of "Three Sides To A Story."
"Oh, I'm sorry, I thought you were somebody else."
"No, no, no, no."
"I thought you were somebody famous."
"No," Budden says, squinting into the sun. "I'm not."