Police officers Wenjian Liu and Rafael Ramos were killed Saturday afternoon in Bed-Stuy, Brooklyn. Liu, 32, was a newlywed, and Ramos, 40, was a father of two. Both lived in Brooklyn. A Chinese-American and a Puerto Rican-American, they represented the multi-ethnic professional elite that is the backbone of modern New York City. You can read more about their lives here and here.
Liu and Ramos died on Tompkins Avenue, just north of Myrtle Avenue, in front of a clean red-brick wall that supports a building housing apartments and small businesses. Mike's Pizza is on the corner of Tompkins and Myrtle; its entrance is literally around the corner, 20 feet from where the officers were shot. In the other direction is a small vacant lot where an out-of-commission boat sits on risers. There are three churches in the immediate vicinity: the New Testament Church of God on Myrtle, visible from the spot where Liu and Ramos were ambushed; the Greater Free Gift Baptist Church beyond the boat and around the corner on Stockton Street; and the Greater Cross Road Baptist Church, past Mike's and across Myrtle to the south.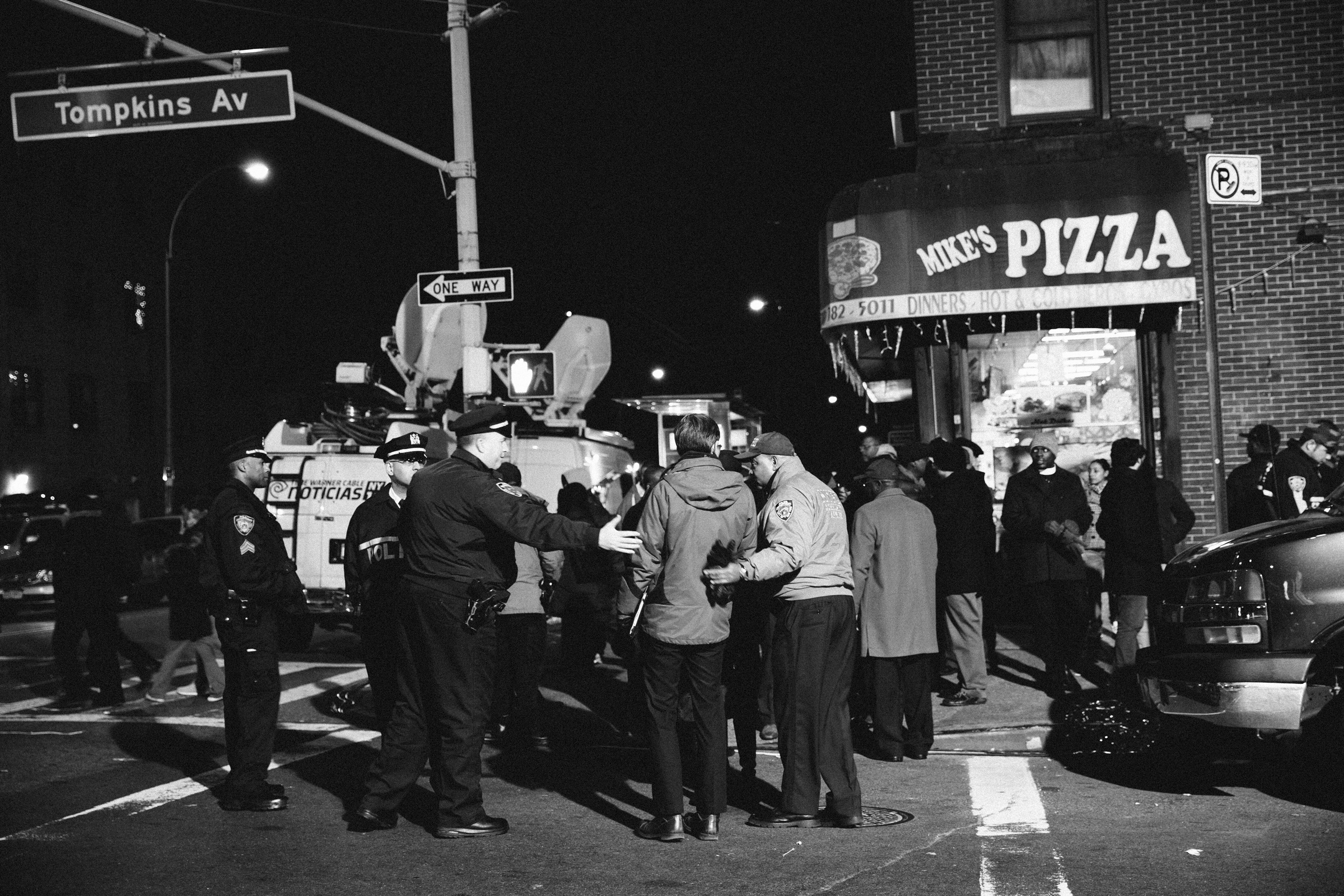 The Tompkins Houses are across Tompkins Avenue from the spot where officers Liu and Ramos sat on duty in their patrol car. They were built in 1964 and are comprised of eight buildings that are home to upwards of 3,200 residents. Despite reports that officers Liu and Ramos died "in the shadow" of the Tompkins Houses, the apartments are only eight stories tall at the corner of Myrtle and Tompkins; no shadows would've been overhead when the officers were shot on Saturday afternoon. It's not some looming tower, but a set of apartment buildings where real people live. Through no actions of their own, their neighborhood is now the focus of a nationwide discussion on race and police-community relations.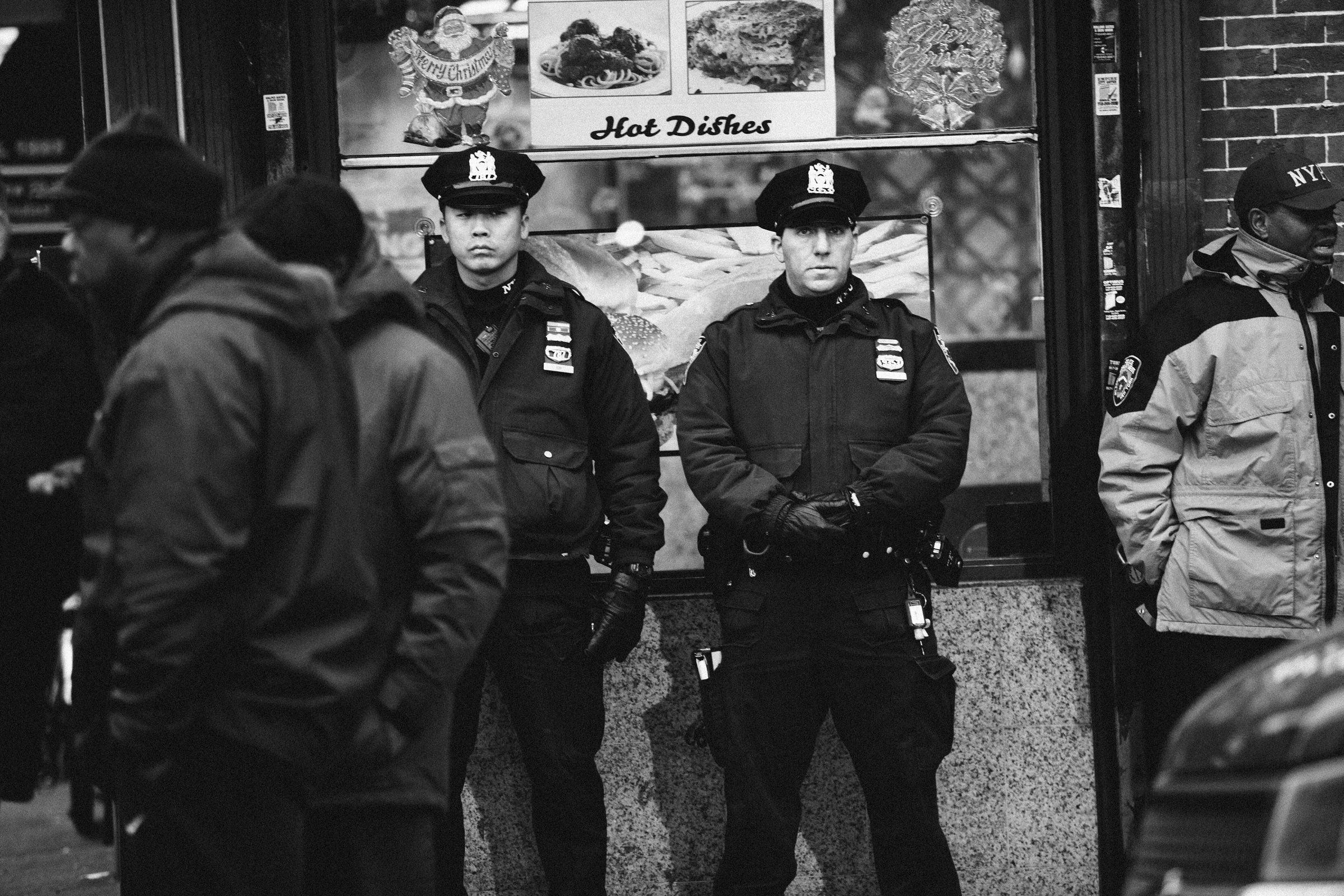 Yesterday we spent time with some of those people on the block where Liu and Ramos were gunned down. There was a makeshift memorial: an American flag taped to the brick wall, candles and flowers and handwritten notes underneath. It grew as the afternoon went on, with police officers and children and parents and churchgoers and locals and out-of-the-hood visitors paying tribute to the fallen officers. We spoke to a few of the people on the scene, and this is what they said.
"No one wanted that here. no one knows [the shooter]. he wasn't endorsed" —Duane Ambrose, 49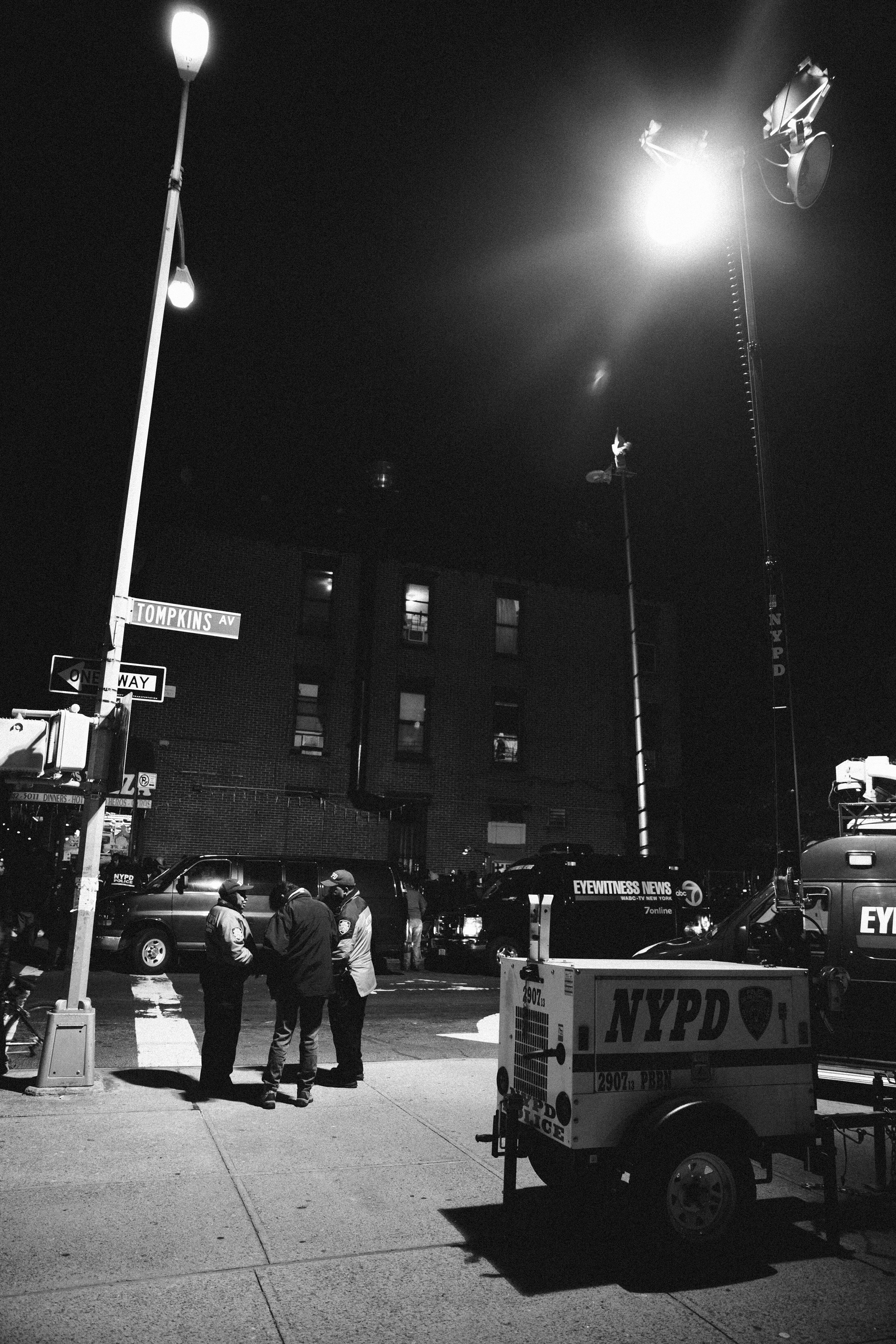 "The police was in pandemonium, it was just… We've seen a lot of violence; we never seen anything like that. He wasn't from here. No one wanted that here. No one knows him. He wasn't endorsed. He didn't talk to anyone. You see these lights? [Points to light stanchions in Tompkins Houses walkways.] We want to get rid of this violence. The difference is with their [the police] presence, it takes that away. We don't have a problem with that. People here are not criminals; there's churches here. Once the police are here, you don't have that violence. This gives the neighborhood a horrible reputation. I've lived here since 1970. I grew up here. It's our development. We got so many good people here. We thought we'd turned a corner. We feel we're moving forward. People are not happy about this. People are smart enough, they know that not all cops are bad. But the perception of us makes the cops more aggressive. That's what bothers us. White people think police treat us like they treat them. This is apt to make them more aggressive. White people think police treat us the way they treat you. The police see us as more violent. The overwhelming majority of us are not violent. But they treat us differently. It's a big, big problem. They've always treated us differently. We don't want them to be more aggressive. We fear retaliation, and there will be. That guy is not from here, but we'll feel consequences of that." —Duane Ambrose, 49
"Before this happened, every day I walk past here and the police were always friendly. 'How you doing? Good morning?'" —parishioner at Cathedral of the Greater Free Gift Baptist Church
"​I heard the gun shots. I laid in my bed. But shootings are normal. Never thinking it would be cops. 51 years I lived here. Never experienced nothing like this before, never. Honestly, it's normal. Maybe not for a cop; but it's normal.
"It's hard to say how this will affect the neighborhood. I don't know. Just keep praying. That's all I been doing. At the end of the year. It's horrible. Before this happened, every day I walk past here and the police were always friendly. 'How you doing? Good morning?'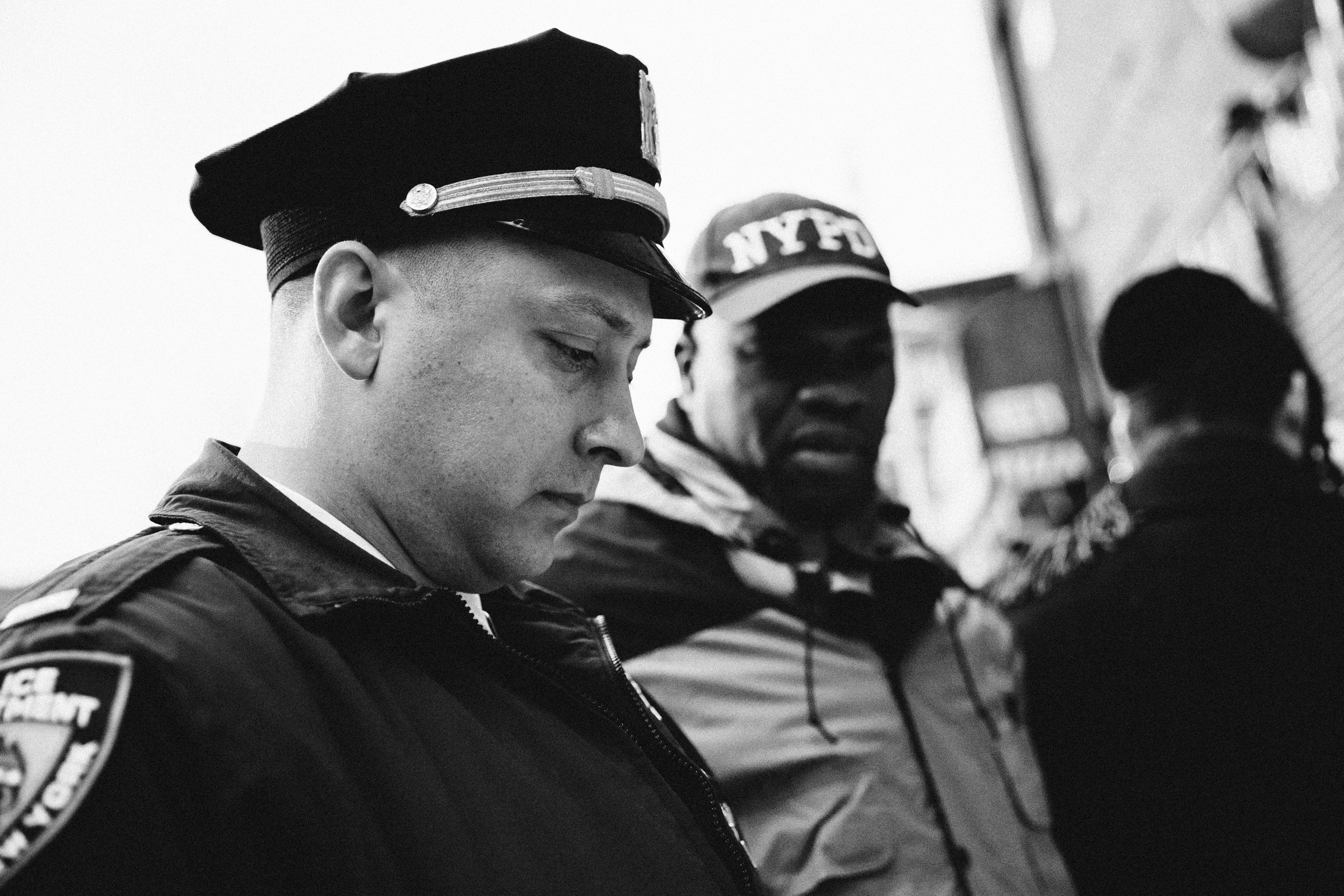 "I don't know if the police made a difference, honestly, because they still was doing things. It never stopped; it never ends. You hear about this stuff way out, but it's getting closer and closer to home. Not ever thinking this close now. I won't say it was better with the cops being around. 'Cause, you know, honestly, people gon' do what they want to do. And, you know, it's the society that we live in. Only thing we can do is just ask God to help us. Man will never be able to fix this. 51 years and I haven't seen it gotten better. We tried this thing where you do a year, with the guns, if you get caught with it, and it seems like there's more guns now. I never leave my house without praying, and neither does my daughter. And I have a young son. I thank God that he works at night, but then again, what's the difference because this happened in broad daylight. This is some place we always walking past, because you got the pizza shop, the Chinese restaurant, the store over here. But this can happen anywhere." —Parishioner at Cathedral of the Greater Free Gift Baptist Church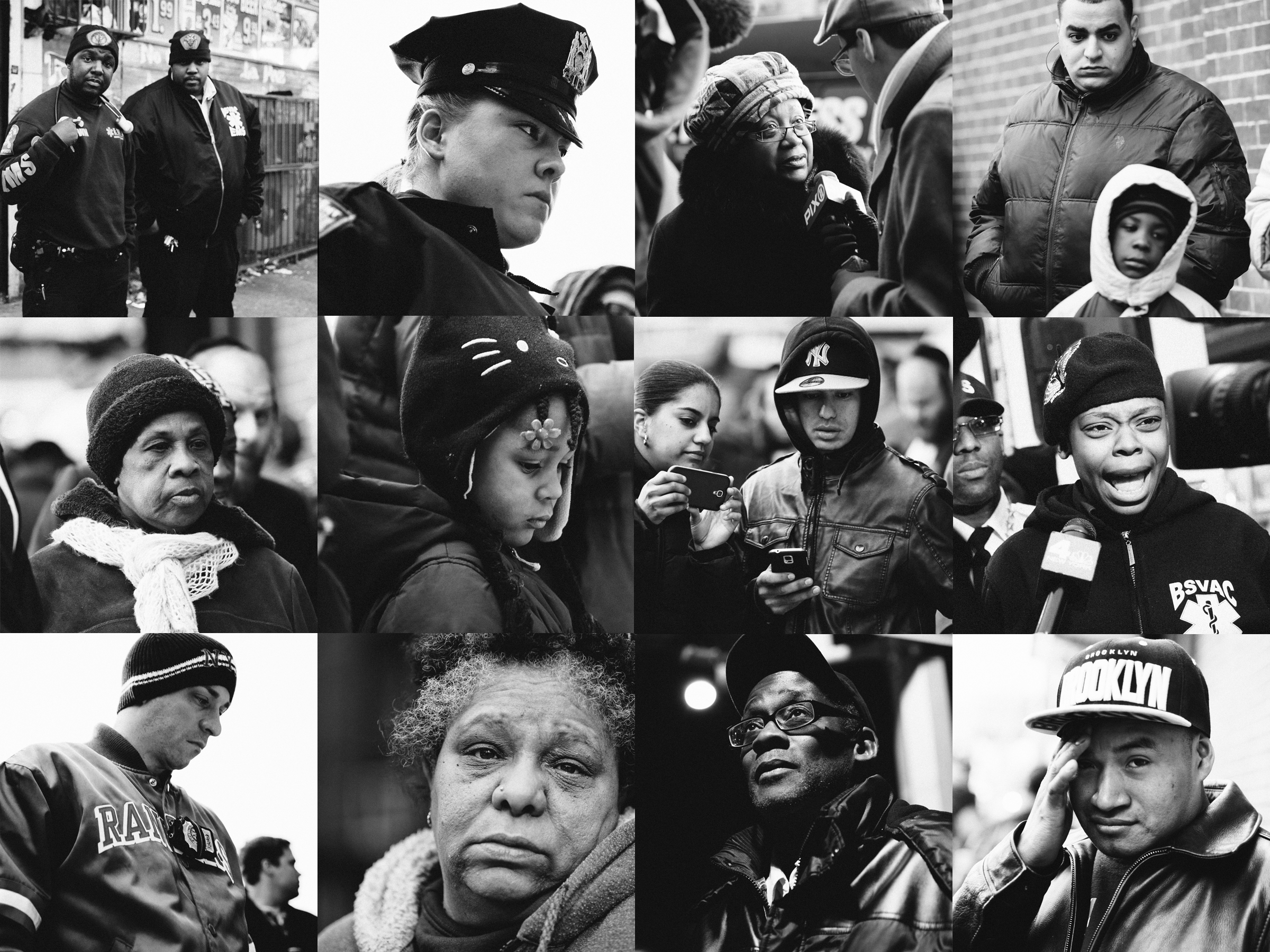 "I just pray for they—the police—family. I don't know what was on the shooter's mind. I pray for his family, too." —Keenan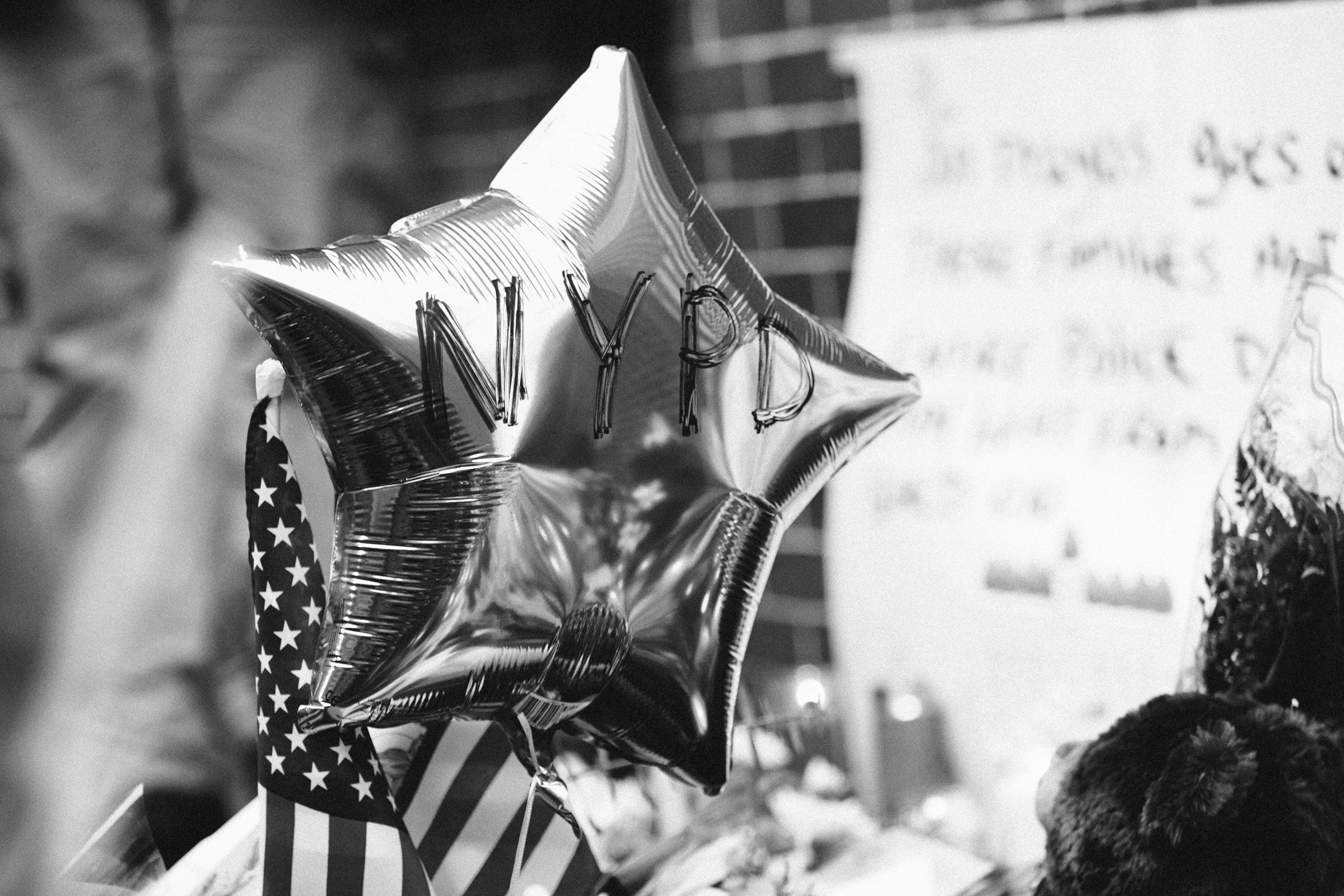 "It's gonna be even worse for how the police gonna treat us. I hope that it don't happen, but nine times out of 10 that's what's gonna happen. I'm not used to seeing a bunch of news vans. It's so sad that it took this here to happen to some police officer that didn't have anything to do with what's going on in reality as far as the police and all these other things going on. I just pray for they—the police—family. I don't know what was on the shooter's mind. I pray for his family, too. I was hoping they could resolve the problem without more violence and killing. Just communicate with each other. They need to put police officers that live in the community, keep them in the community, 'cause they know each other. Everybody don't know who's who and how to handle people. So I just think if everybody would communicate the police officers would stop disrespecting people. Police officers got authority, they think they can disrespect people." —Keenan, Tompkins Houses resident
"WE DON'T WANT NO MISUNDERSTANDING HERE. WE DON'T WANT NO KIND OF TROUBLE." —CRISAINT, 34
"I'm glad they caught the guy that did it. Most definitely. Because, you know what, we don't want no misunderstanding here. We don't want no kind of trouble. Even if I live in this neighborhood for a short time or a long time—boom, I'm here, and it might be a hostile environment. Some people might don't feel the way I feel, but I'm saying stop the violence.
"Normally the cops are looking for someone who fits the description, light-skinned black guys, Latinos, blacks, looking for suspicious characters. That individual just ruined it for about a hundred other blacks who happen to just be born in the African race. A lot of people scared to come out their house. Scared of getting shot like in Ferguson. Scared of getting yoked up like Garner. Because there's gonna be more racial profiling now. More problems, more suffering." —Crisaint, 34
"THE RELATIONSHIP BETWEEN THE NEIGHBORHOOD AND THE COPS, IT'S NOT GOOD, NOT GOOD AT ALL." —DEBORAH CRUMP
"I've lived in this neighborhood over 50 years and this is the first time that anything like this ever happened. I don't remember anything like this happening here. I don't know if the person is connected to this neighborhood. I've never seen him here. I don't remember anything like this ever happening here.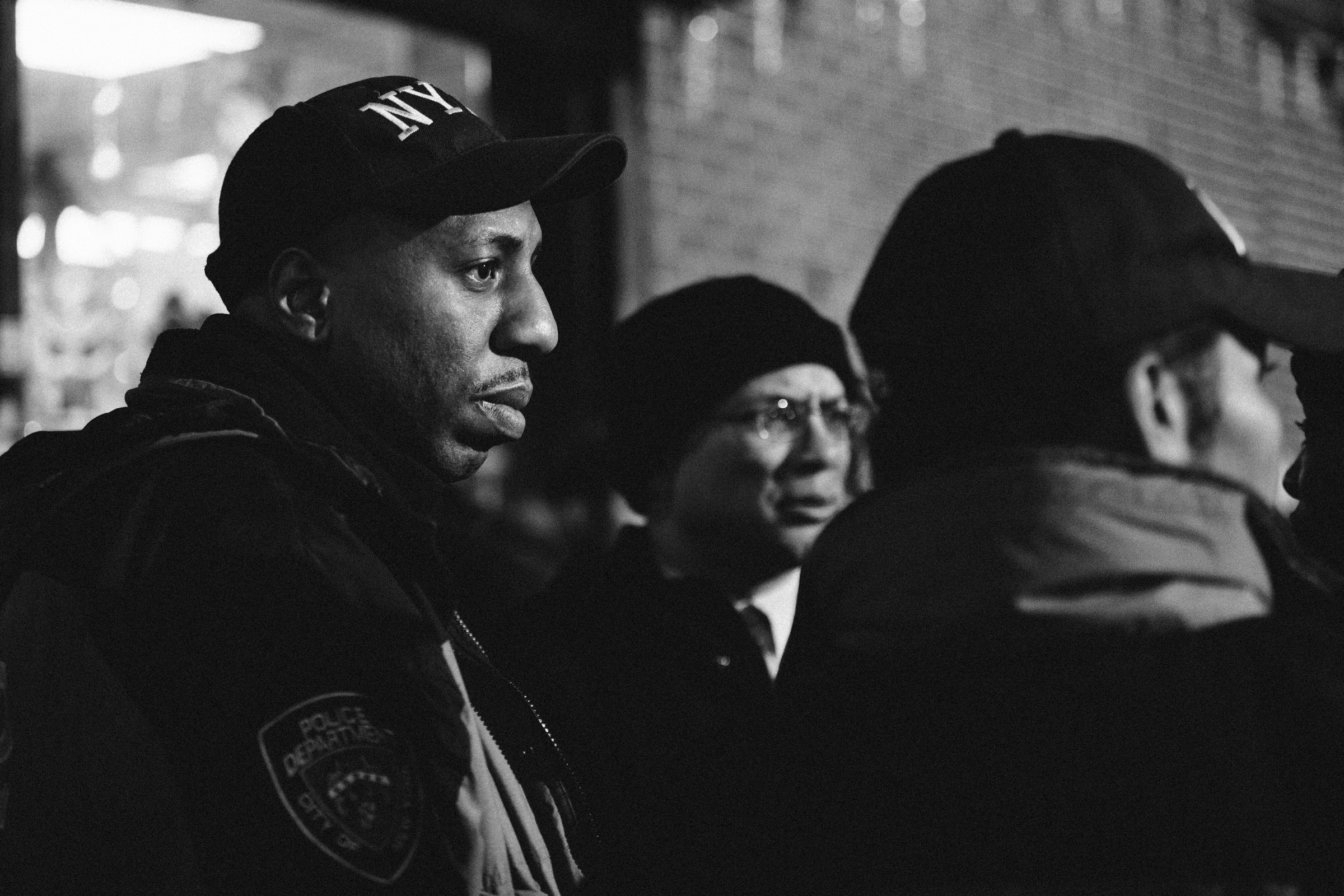 "The relationship between the neighborhood and the cops, it's not good. Not good at all. The people more or less respect the cops, but in light of all the other stuff that's been happening, the trust just kind of went out the window. Not saying it's an eye for an eye, tooth for a tooth. A life was taken, and you've turned around and taken a life, but you know, in the system, because not everybody is guilty or has done anything, but as far as this system for our people, for us, African-American people, it's not.
"It goes way back to my father. My father had a legitimate job, he drives a Cadillac, he gets pulled over. It goes way back. You have a family whose father's a bus driver, he drives a nice car, he gets pulled over. He shouldn't have a nice car. It goes way back. We've come a long way, but in light of what's been happening, some people, the frame of mind they're in, they're liable to do anything. So the thing about it is that we just gotta try and just come together. These police haven't done anything. They're just standing here on the corner. They're here every day. My brother even said he was having a conversation with them. And their lives was taken. Innocent lives.
"So our concern in the neighborhood is what's gonna happen. How are we going to be treated in this neighborhood? We just hope there's peace so we don't have no protests and stuff. We just hope nothing happens in the neighborhood because of this here. All those in the neighborhood just want peace, that's all.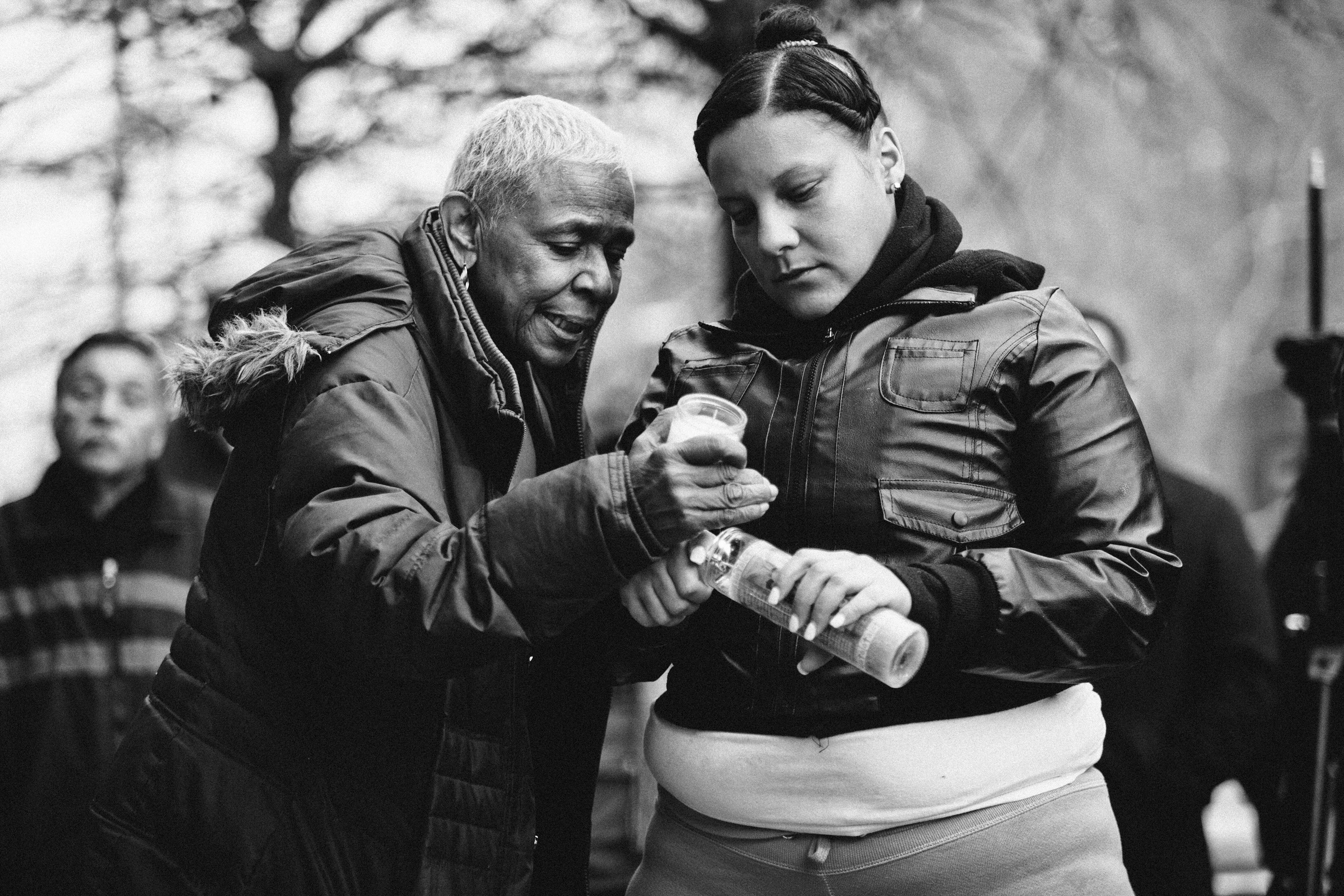 "It's possible that the relationship between police and citizens can be repaired. Anything is possible. I believe through coming together, and through the prayers of the people, it can happen. It's just that it's not gonna be easy because you're dealing with different age groups and a lot of people who are angry because they've been innocent victims. Just to walk the street, you know, you get stopped-and-frisked and all that. People have to face up that it's real, and it hurts. Bring people together in a forum and let people voice their opinion and everybody respecting each other, but say what you have to say. Because I think that's the way relationships will repair between police, neighborhoods, individuals. But it's not going to be easy.
"Because we hurt. Even if it doesn't happen to you, it hurts. When your child is walking the street and you find out he got, you know [stopped-and-frisked], it hurts. When you're getting stopped, it doesn't change. I think that it can be repaired, but it's gonna be a lot, because it's been broken for a long time. So it's gonna take a long time to fix it. But anything's possible." —Deborah Crump
"Whenever I need something, I go to the police. And I talk to them and I tell them what I need, and they get me what I need." —Reverend S. Jordan
"It's time to stop. We have to come together. We have to talk about this. We have to reason about this because, what are we going to do? What are we going to do? The children are witnessing us kill one another. They're uncertain as it is. This has become normal for them now.
"We have got to put faces on these young men that are getting shot down. We need to put faces on these officers because some people don't know who these officers are. We need to put faces to this. When blood is shed, we need to put faces to it. Let's talk about it. Let's sit down. Let's open up these buildings and let's talk about this. Let's talk about how we're gonna be at our best.
"The young people that I know, they're afraid of the police. Small children have dislike for the police. I can understand this, if their uncle has been shot down, or their father has been shot down, I can understand how they would be afraid of the police, OK? So now I would say the general mood out here would be that people don't want to go to the police. They don't want to talk to the police. They're afraid of the police, because look at the things that they're doing. They have done things. They have beat people up. They have disrespected people. Not all of them. They have done some real thug-type of things. And the community—we pay attention.
"When people witness this, they don't feel safe.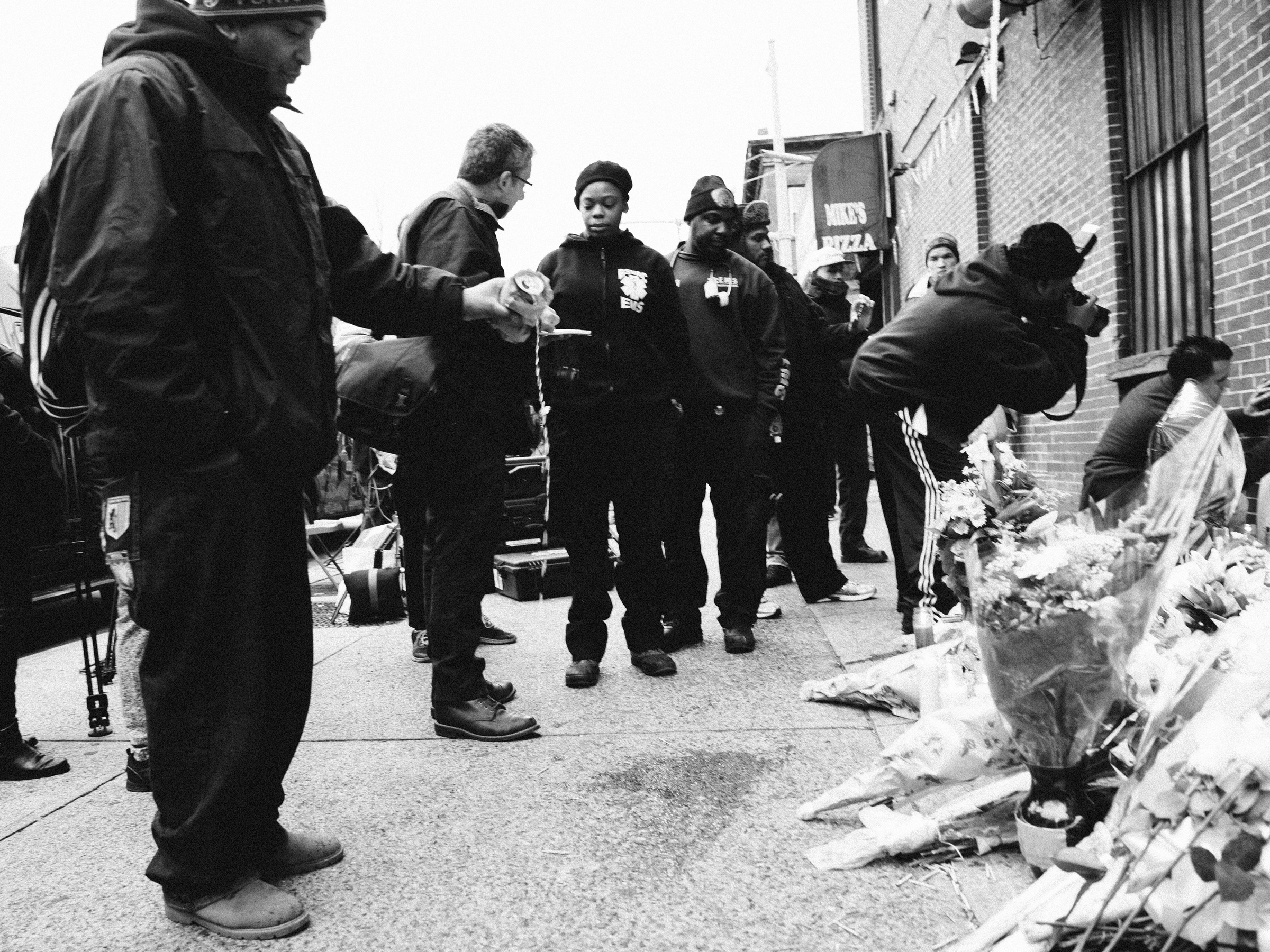 "A young teenager knows a boy who got shot down, how do you feel safe? How do you talk to the police? How do you feel when the police comes to you, as a young person just because you don't have a belt on or just because you have a hoodie on—and now the police wants to harass you? Or say things to you, or talk to you like you're nobody's child? How do you respond to this? How do these young people respond?
"I can tell you how they respond: They're angry. They're upset. They may become belligerent. But maybe the police is doing their job. Maybe the police just needs to know where you're going. So now it turns into something. We need to socialize about what the issues are in the community. We need to let it be known a lot of the good things that the police are doing in the community.
"Let me say this to you as a regional police chaplain—the police, every year, they provide toys for the kids that I work with. I work with kids in different communities. When I need turkeys to feed people, we go to the police. Whenever I need something, I go to the police. And I talk to them and I tell them what I need, and they get me what I need.
"What this is saying to me, is that we can work together with the police. We can come together as a community. Yes, we've had a bad spill here. And we've had some bad things that's happened, and I think that we can come together on this. We have got to sit down to talk." —Rev. S. Jordan, 53, New York Regional Police Chaplain