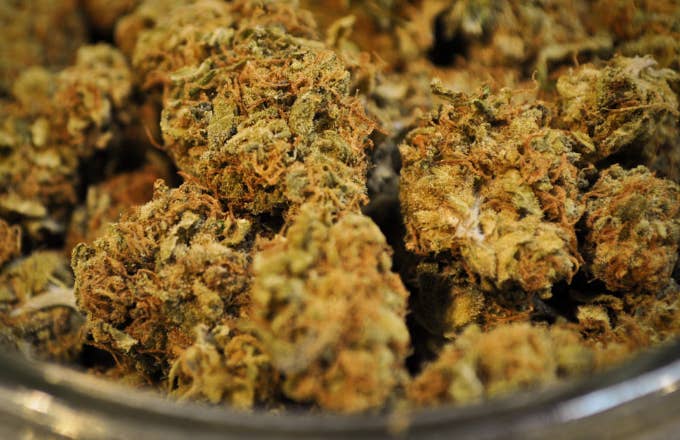 As if this year hadn't already delivered on its promise of unrelenting, post-truth absurdity, we also have the peskiest of holidays—Valentine's Day—coming up fast. For those whose relationships have tasked them with selecting the perfect gift that says "I really care about you but my one true love is weed," why not just buy a bunch of weed?
Better yet, why not a fucking BOUQUET of weed?
That's a real thing that you can actually purchase, as the kind pleasure seekers over at Urban Daddyreported Tuesday:
The bouquet from Lowell Herb Co. consists of a "nicely bundled ounce" of responsibly farmed, organic weed for the very Valentine's price of $400. Preorders kicked off Wednesday, though procrastination is not recommended due to the limited stock (500). Also, the bouquets can only be delivered within Los Angeles area. Don't live there? Move there, squidbrains. 'Tis a cool place, likely cooler than wherever you happen to live now.
If your Valentine's Day budget somehow exceeds $400 and you're looking for just the right thing to pair with this enviable bouquet of the official plant of love, perhaps you should consider this glow-in-the-dark oral sex snorkel and/or this Gwyneth Paltrow-approved gold dildo priced at just $15,000. Hell, get 'em both and show your respective significant other that money is no object when it comes to the mutual feel-goods.