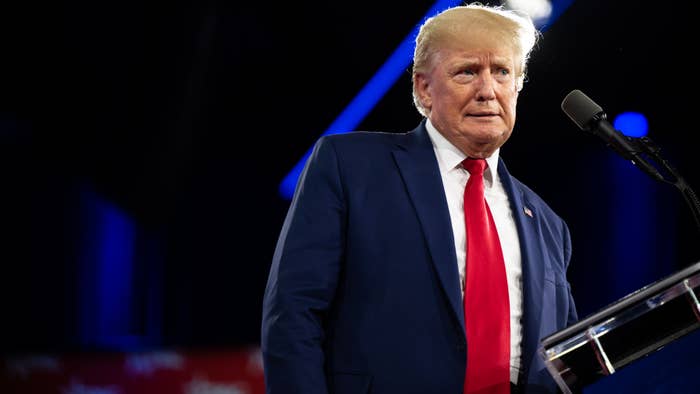 A newly released book excerpt reveals history certainly isn't former POTUS Donald Trump's strong suit.
Pulling from the upcoming The Divider: Trump in the White House by Peter Baker and Susan Glasser, the New Yorker-shared excerpt includes mention of an alleged instance in which Trump criticized "fucking generals" in remarks to John Kelly, who served as the former president's chief of staff from 2017-2019.
"You fucking generals, why can't you be like the German generals?" Trump is alleged to have asked Kelly, to which he responded by asking him to clarify "which" generals he was intending to evoke. When Trump noted he was indeed referring to "the German generals in World War II," per the New Yorker, Kelly is said to have attempted to explain that these generals were nearly successful in killing Nazi party leader Adolf Hitler.
Trump, however, (allegedly) wasn't having it.
"No, no, no, they were totally loyal to him," he's claimed to have said, with the "him" in question being Hitler.
The full book is billed as giving readers a breakdown of the "four years when Donald Trump went to war with Washington," complete with insight from former cabinet officers and advisers, among others. It's due Sept. 20.
In late 2018, reports were stacking up about the status of filling Kelly's position, with the Associated Press and other outlets stating at the time that Trump was struggling to find someone for the role. Trump, of course, disputed this characterization of the process, saying in a tweet that "many" individuals were contending for the spot, which he called "one of the truly great and meaningful jobs" in D.C. Trump would later be suspended from the Twitter platform in connection with the fatal Capitol riot.
As for the latter, a slew of alleged revelations have been shared in varying forms in subsequent months, particularly ramping up amid coverage of hearings led by the House Select Committee. Most recently, Chairman Bennie Thompson and Vice Chair Liz Cheney shared a joint statement on the contempt-based conviction of Steve Bannon, a Trump-era White House strategist.
"The conviction of Steve Bannon is a victory for the rule of law and an important affirmation of the Select Committee's work," Thompson and Cheney said in July. "As the prosecutor stated, Steve Bannon 'chose allegiance to Donald Trump over compliance with the law.' Just as there must be accountability for all those responsible for the events of January 6th, anyone who obstructs our investigation into these matters should face consequences. No one is above the law."