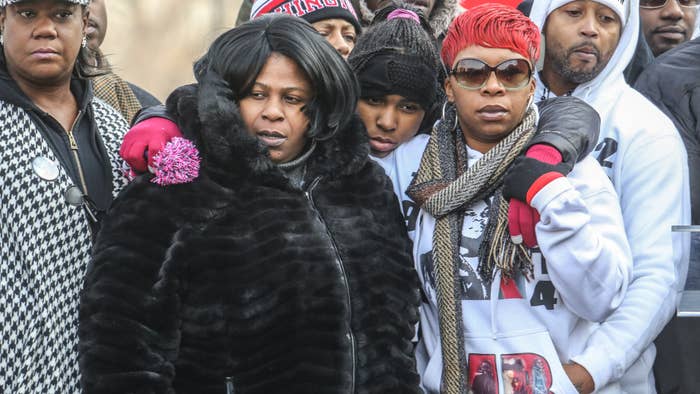 UPDATED 6/24 at 6:30 p.m. ET: Shaun King has responded to the recent criticism from Samaria Rice, the mother of slain Cleveland boy Tamir Rice. ⁣
On Thursday, the author/activist shared screenshots of tweets that defended him against Rice's accusatory attack. The posts, written by user @2164eva, referred to a recent Zoom conversation between King, Rice, and their respective teams. "Something very dirty is happening to [King] right now," the first tweet read in part. "I saw the whole video of his Zoom meeting with Samaria Rice, staff of the Tamir Rice Foundation, and Shaun's staff. Shaun was sweet from start to finish."
King captioned the screenshots with his side of the story. He insisted the meeting, which took place less than a week ago, was "honest, thoughtful, calm, low key, introspective, and more." But just several days later, "it all imploded." King said Rice had not expressed any animosity toward him until three months ago, when he defended his good friend Tamika Mallory, whom Rice previously referred to as a "clout chaser."
"At that time, Samaria was throwing a lot of people under the bus, and naming names, but she wasn't saying my name," King wrote. "Until I respectfully defended Tamika – who is my dear friend and a civil rights hero. ⁣⁣ Samaria then moved to dissing me.⁣ ⁣I was hurt – because I had always gone out of my way to help her however I could over the years."
King claimed Rice—or someone from her team—had "stopped" the collaborative work between their camps
"[Rice] said the meeting was toxic. Said I was clout chasing. Said I was a white man and an impostor," King continued. "Like what? Why?⁣ ⁣Thankfully somebody saw the whole thing."
See the original story below.
Samaria Rice, the mother of Tamir Rice, said this week that she never gave Shaun King "permission to raise nothing" and criticized the Real Justice PAC co-founder for having "robbed me for the death of my son."
In an Instagram post shared Tuesday, seemingly in response to a recently released (and no longer available) episode of King's podcast, Samaria said she was given a "cop and donut conversation" full of lies.
"Why do you think it's so important to tell folks we had a conversation?" Samaria asked in her post. "Well we talked and everything that was said was very toxic and uncomfortable for me to hear that you raised additional money and then say you did not want to bother me. Personally I don't understand how you sleep at night."
Samaria also urged King to "stop thinking" they are on the same page.
"As a white man acting Black you are a imposter that can not be trusted," she said, adding that King was a "selfish self-centered person" who had made her son's death about himself. "God will deal with you, white man," she also said.
According to screenshots that have since circulated, the King podcast episode in question—billed as episode 469 of The Breakdown—was originally released under the title "I spoke to Samaria Rice this past week." In the episode description, King claimed he and Samaria had a "much-needed conversation" during which he "learned a lot."
At the time of this writing, episode 469 of King's podcast appeared to have been swapped out for a new episode focused on elections in New York.
Last month, journalist Ernest Owens reported that King and his Real Justice PAC were named in a 312-page lawsuit in which it was alleged that defendants had "funneled significant funds donated by unwitting citizens of Philadelphia to line the pockets of defendant Shaun King, his Real Justice PAC, and the [Larry Krasner] campaign."
And earlier this year, Samaria Rice criticized Lil Baby's Grammys performance of "The Bigger Picture," which featured activist Tamika Mallory. In a joint statement with Lisa Simpson—the mother of Richard Risher—Mallory, King, and others were criticized for "parading in the streets accumulating donations, platforms, movie deals, etc. off the death of our loved ones."