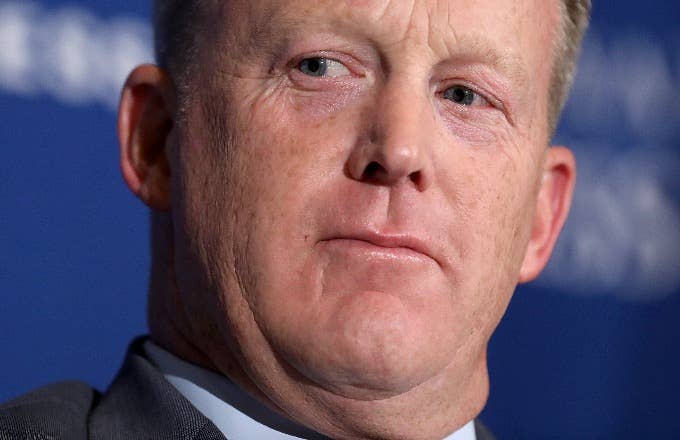 Hopefully, last night's attempted State of the Union address from a guy who likes to talk about his daughter's infant breasts was not watched by anyone reading this article. After all, you can probably guess with striking accuracy how the shitshow went down, including the aimless commentary of current and former Trump inner circle clods.
One such clod is former White House press secretary and noted lie promoter Sean Spicer, who's still managing to get free press for whatever it is he's doing now simply by showing up. Apparently, Tuesday night's agenda saw Spicer stop by a Blaze TV show that appears to be hosted by a vaguely sentient wax figure.
There's basically nothing to speak of in terms of what the two actually said to each other. Those following the SOTU via Twitter, however, quickly noted that Spicer does indeed appear to be a bit drunk:
As you'll recall, Spicer resigned from his role as White House bullshitter way back in 2017, a year that somehow feels like it went down eons ago. The role was then handed over to Sarah Huckabee Sanders, the daughter of Mike "Baked Beans" Huckabee and brother to David Huckabee, perhaps most known for killing a dog.
In related news, this week we also learned—by way of a CNN poll—that there are indeed some people who are presumably so annoyed by the current administration that they've kicked purported VP Mike Pence out of their minds altogether. I would suggest using that approach for Spicer, who certainly doesn't deserve any more jovial headlines.