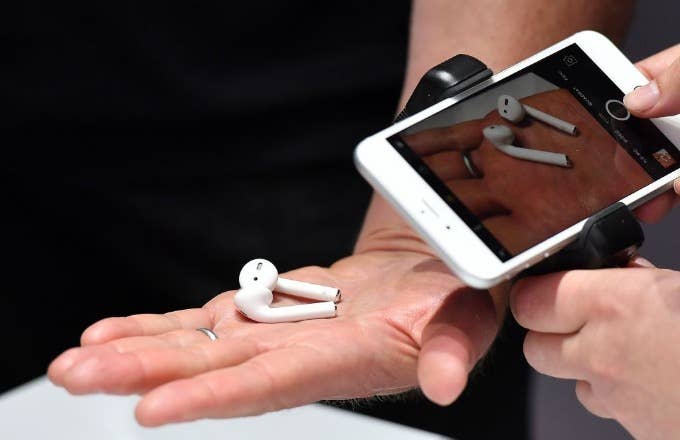 Apple's increasingly memeable AirPods are set to get quite an update soon.
The tentatively named AirPods 2 are reportedly slated for release within the next six months, per a Digitimes report spotted by TechRadar and others Wednesday. As previously speculated, Apple's cordless in-ears are also still expected to be updated with discreet "health monitoring functions." This is in line with previous rumors of the AirPods 2 packing biometric sensors for fitness tracking and whatnot. A toothbrush function, however, is not expected to be added.
Apple, of course, hasn't commented on any of this. Not even the glorious memes. However, it's already been confirmed that Tim Cook and company secured a patent in July 2018 for those aforementioned sensors.  A few weeks before that patent filing was discovered, a report from Bloomberg added a few more potential features to the new AirPod experience including—reportedly, at least—water resistance and noise cancelation.
That June 2018 report also pointed to rumors of Apple launching some fairly inarguably way better (for your hearing, your music, and your general aesthetic) over-the-ear headphones. "Apple to have own-brand, high-end over-ear headphones with all-new design; to be as convenient as AirPods with better sound quality; shipments to begin [fourth quarter 2018] at earliest," Ming-Chi Kuo, an analyst at KGI Securities, said way back in February 2018 of the rumored over-ear devices. Alleged development issues, however, are said to have forced Apple to move the headphones to this year.
Most recently, Apple dropped the iPhone XS, XS Max, and budget-friendlier XR. In a letter to investors earlier this month, however, CEO Tim Cook revealed the company had revised its guidance for the first quarter of fiscal 2019 after some sales hiccups. "Lower than anticipated iPhone revenue, primarily in Greater China, accounts for all of our revenue shortfall to our guidance and for much more than our entire year-over-year revenue decline," Cook said.