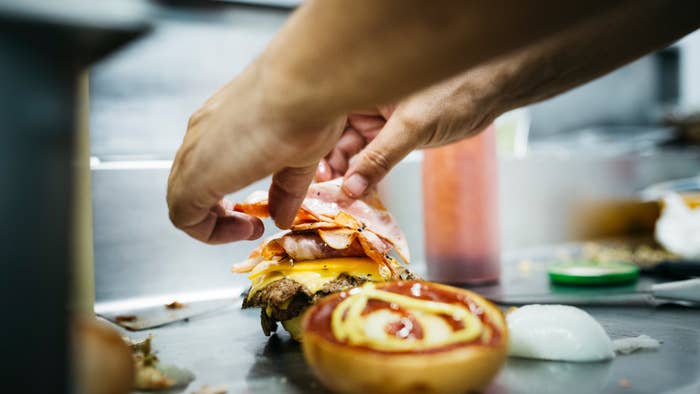 For anyone reading this who's had the soul-rattling misfortunate of experiencing food poisoning, you can likely do without any in-depth breakdowns of what, exactly, this can do to the human body over a period of 24 hours or more. In short, it's fucking awful—often debilitatingly so—and the less said about it the better.
Now, thanks to some stats from the CDC, we have further confirmation on what is frequently the cause of such misfortunate. Per the agency's latest report on food borne illness outbreaks, data for which was pulled from cases between 2017 and 2019, "approximately 40 percent of outbreaks with identified contributing factors had at least one reported factor associated with food contamination by an ill or infectious food worker."
As for how the agency arrived at that number, here's a quick rundown on how it obtains info on such sicknesses: Health departments across the country annually report "foodborne illness outbreaks associated with retail food establishments." On a voluntary basis, these departments also share results of lab-related data on these outbreaks.
For the 2017-2019 cases (totaling an estimated 800 reported outbreaks from 875 different establishments), the most common sicknesses found were those of the norovirus and salmonella variety.
As should be expected, what with capitalism making us all feel like we should go to work even when we feel like absolute shit, the recommendation moving forward is for establishments to consider overhauling their sick policies. While most managers interviewed as part of the CDC report noted they had a sick policy in place, these policies typically fall short in addressing the breadth of the issue.
Furthermore, and this is something everyone in every industry deserves, it's noted deeper into the CDC report that adequate paid sick leave would most likely (obviously!) result in a better level of "food safety outcomes."