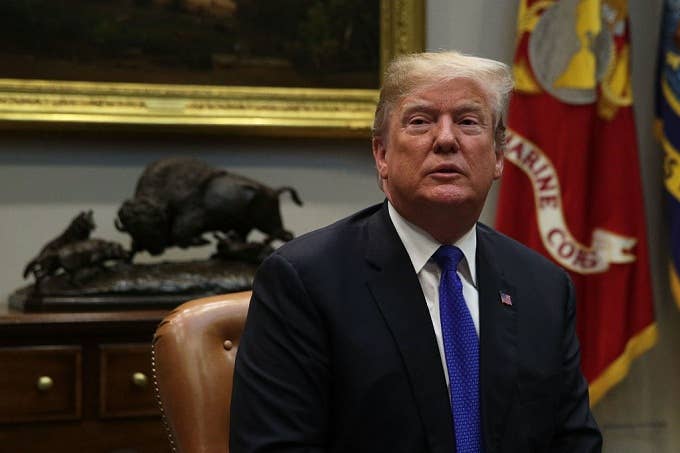 Earlier this week, the internet exploded with incriminating articles about Donald Trump and his administration, thanks to Fire and Fury: Inside the Trump White House by Michael Wolff. For the new book, Wolff went inside the White House as a journalist, recording conversations with Trump and some of his top staff. The tidbits shared include Steve Bannon calling a Trump Tower meeting with a Russian lawyer "treasonous," "unpatriotic," and "bad shit," Ivanka Trump plotting to snag the presidency for herself, and Rupert Murdoch calling Trump a "fucking idiot."
Trump was so displeased with the book, his lawyer sent publisher Henry Holt and Co. a cease-and-desist letter in attempt to block its publication. No such luck for the President. Like his other threats against people who have given him bad press, this one was empty. Instead of being held up, the book is being published early, the Los Angeles Times reports. Previously scheduled for a Jan. 9 release, it goes on sale today. It's already reached No. 1 for Kindle and print presales on Amazon. 
Predictably, Trump is pleading fake news, tweeting, "I authorized Zero access to White House (actually turned him down many times) for author of phony book!"
He fired off another tweet condemning the "Fake News Media" and "this phony new book" today. 
Bannon borrowed Trump's famous phrase himself, writing in his own tweet, "This is total Fake News and taken out of context, don't believe the liberal propaganda Machine!"
In response to accusations that there's false information in the book, Wolff said on the Today show, "I absolutely spoke to the president. Whether he realized it was an interview or not, I don't know, but it certainly was not off the record. ... I have recordings, I have notes, I am certainly and absolutely in every way comfortable with everything I have reported."
He added, "My credibility is being questioned by a man who has less credibility than, perhaps, anyone who has ever walked on earth at this point."