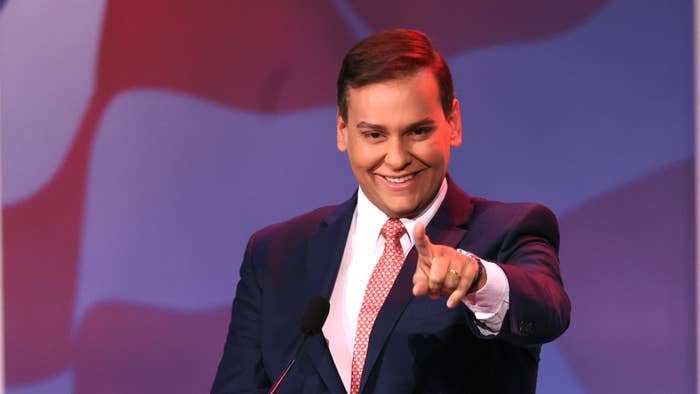 UPDATED 5/10 11:15 a.m. ET: New York Congressman George Santos is in custody after being charged with seven counts of wire fraud, three counts of money laundering, one count of theft of public funds, and two counts of making materially false statements to the House of Representatives, The New York Times reports. He was arrested at 9 a.m. on Wednesday and will be arraigned at the Central Islip federal courthouse later in the day. 
Santos has been charged for his alleged involvement in a fraudulent political contribution solicitation scheme, in which he's accused of using political donations to pay for personal expenses, as well as an unemployment insurance fraud scheme during the earlier days of the COVID-19 pandemic. He has also been accused of lying to the House of Representatives about his finances.
His arrest comes alongside growing calls for Santos' resignation, with Republican New York representative Mike Lawler, recently saying "Santos needs to go." Texas representative Tony Gonzales, meanwhile, said Santos should be "immediately expelled from Congress" and a special election should be initiated as soon as possible. It is likely Santos will remain in Congress amid his legal battle against the charges. If convicted, he's facing up to 20 years in prison.
See original story below.
New York Congressman George Santos is facing federal charges. His name has been associated with "mockery over a litany of fabrications about his heritage, education, and professional pedigree," per the Associated Press. 
Santos is expected to appear in court "as soon as Wednesday."
The Department of Justice's charges against the Republican NY rep have not been made public since being filed under the Eastern District of New York. 
In a brief interview with the AP, Santos said, "This is news to me. You're the first to call me about this."
George Santos has confessed to lying about numerous identification background specs, such as having a Jewish heritage, Wall Street background, college degree, and experience as an all-star volleyball player. Major questions surrounding his finances have surfaced, including a quickly accumulated fortune despite having evictions and owing thousands in debt. 
Prominent democrats have called Santos to resign from his position. House Speaker Kevin McCarthy stated he would educate himself on the accusations before officially removing Santos from his seat. "I'll look at the charges," McCarthy told CNN on Tuesday.
The outlet adds that since being elected in 2022, allegations against George Santos have included "breaking campaign finance laws, violating federal conflict of interest laws, stealing cash meant for an Iraq War veteran's dying dog, [and] masterminding a credit card fraud."
The former Trump supporter denies all serious allegations except deceptive statements regarding his financial and educational status.