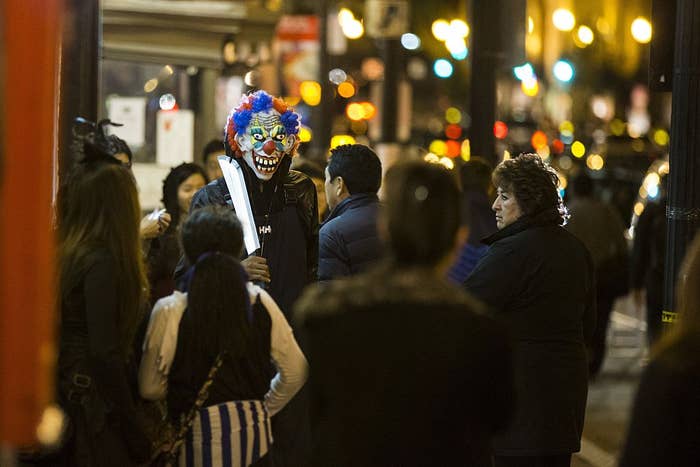 What started in August as reports of storybook clowns "luring children into the woods" has grown into a national ouroboros of clown-induced mania. Both real and fake clowns of increasing creepiness have been making headlines—and headlines have been making more clowns.
"The number of people searching for 'clown sightings' on Google has spiked in the past several weeks, from no searches in late August to dozens each day by the start of October," Mashable reports. As clown panic grips the country, it becomes difficult to distinguish terrorizing clowns from professional ones. In a viral marketing campaign for the short horror film Gags, a clown spent nights in Green Bay, Wisconsin, standing alone, holding black balloons and waving silently and menacingly at passersby. In a video viewed more than 175,000 times (and largely decried as fake), a clown chases joggers through the woods. Culprits behind recent national headlines include criminals harassing communities in clownface, professional actors paid to capitalize on clown fear, and shit-stirring pranksters.
This ambiguity between joy/terror and pleasure/pain is as old as time, and this blend of opposites manifests today through modern clowns influenced by Joseph Grimaldi. "The first recognizable ancestor of the modern clown," according to Smithsonian, Grimaldi died alone, a penniless alcoholic in 1837. A young Charles Dickens was charged with editing the clown's memoirs—which were anything but comedic—and he made the already grim narrative even more Dickensian: "For every laugh he wrought from his audiences, Grimaldi suffered commensurate pain."
For every laugh he wrought from his audiences, Grimaldi suffered commensurate pain.
Clowns have long possessed a sinister undertone; as Smithsonian notes, "These were characters who reflected a funhouse mirror back on society; academics note that their comedy was often derived from their voracious appetites for food, sex, and drink, and their manic behavior." David Kiser, director of talent for Ringling Bros. and Barnum & Bailey Circus, told the magazine, "The clown has always been an impish spirit… as he's kind of grown up, he's always been about fun, but part of that fun has been a bit of mischief."
Mischief can function as freedom when suspended by questions: Is this act joyful or harmful? Are we laughing at the clown, or at ourselves?
Criminals have capitalized on this confusion: "Killer Clown" John Wayne Gacy worked under the name Pogo while sexually assaulting and killing more than 35 young men in the Chicago area between 1972 and 1978. "You know… clowns can get away with murder," he told investigating officers before his arrest, according to Smithsonian.
The modern clown-villain archetype birthed from an exaggerated Grimaldian clown has pushed boundaries and blurred lines between pain and performance for centuries. In the 1892 Italian opera Pagliacci (Clowns), the main character is a cuckolded clown who murders his cheating wife on stage during a performance. This narrative continues today, most notably with American Horror Story character Twisty the clown: Although he is terrifying, audience members and victims let Twisty approach them out of morbid curiosity.
I'm so done with these clowns bc every time someone brings them up all I can think of is Twisty the Clown and I just can't do it man

pic.twitter.com/IQwEgIv1Ti
Today's headlining clown incidents are similarly muddy and prove that humans desire fear and excitement, and reify the power of their unnamable combination.
Is this act joyful or harmful? Are we laughing at the clown, or at ourselves?
Mashable reported that in Kentucky, 20-year-old Jonathan Martin was arrested and charged with disorderly conduct for dressing like a clown and hiding in the woods. In Virginia, two teenagers were arrested after wearing clown masks and chasing children. In Alabama, four teens were charged with making "terroristic threats" from social media accounts under clown pseudonyms. In response to growing reports of criminal clowns, there have been "clown-hunting" events, and one Texas police officer even urged people to "pop a cap in the first clown you see."
While the nation is gripped by multiplying accounts of real and fake clown terror, audiences hate clowns but love succumbing to the fear-machine. This culminated in Pennsylvania, when a 16-year-old wearing a clown mask was stabbed to death by a 29-year-old man.
Caught in the crossfire of criminals and trouble-makers are career clowns, who love their craft and are trying to make a living by giving audiences what they want (and fear).
Jordan Jones, a 22-year-old from Pennsylvania who works as Snuggles the Clown at Screamland Farms in Frederick, Maryland​, tells Complex that he's had a passion for theatricality and clown-related characters since he was 13. "My daily job is to entertain people, to scare people," he says. "It's what I'm paid to do, and I'm very dedicated to it." 
Snuggles the Clown "really took off about three or four years ago," Jones says. He used to work at a local "haunted mill" in Pennsylvania, but has moved on to "bigger things" at Screamland Farms, one of Maryland's "biggest haunts." 
"When it's time to act, I'm a scary clown but also I'm a funny clown. I entertain people when they come through the hay ride," he says. "I'm not one of those 'I'll kill you' clowns, I'm more of an 'I laugh with you, you laugh with me' clowns. And I'm also a silly clown and I have fun with it. When I'm not acting, I'm still a clown. I love laughing and I love having fun."
Jones says he created the #ClownLivesMatter hashtag and "movement" a few months ago after he first saw threats against clowns, but it's only recently gained popularity.
"This has nothing to do at all with Black Lives Matter because I respect their protests and they have a good meaning," he explains. "I'm in my own category, standing up for professional actors all around the world so we don't get profiled. So I thought: Let me start something."
People really want to kill clowns. They threaten me all the time.
While he may not understand that the "X lives matter" phrase doesn't exist in a political vacuum, he invoked the words in an attempt to make his cause more serious. Jones is frustrated that pranksters are making clown mania worse by trying to make it funny. He says he encountered a group of teenagers posing as Snuggles the Clown on Facebook, but decided to reach out to them rather than report the page. Jones warned the teens that posing as a clown may put them in danger, and discouraged them from posting anything that "wasn't positive."
"They think it's a joke, but it's not a joke. People want to hurt them," Jones says, adding, "People really want to kill [clowns]. They threaten me all the time."
Increasing reports of clown-panic and clown-hater-panic have left Jones and other professional clowns vulnerable—but is that the way we want it? Clowns were created to reflect and make light of pain and danger; like Grimaldi before him, Jones is isolated by the people while we cheer for more. "My family fears for my life," he says. On the other hand, business is booming.
"It's going to be packed at work this weekend," Jones says. "I'm not going to stop this, I'm going to continue entertaining people. This is what I do, I love it."