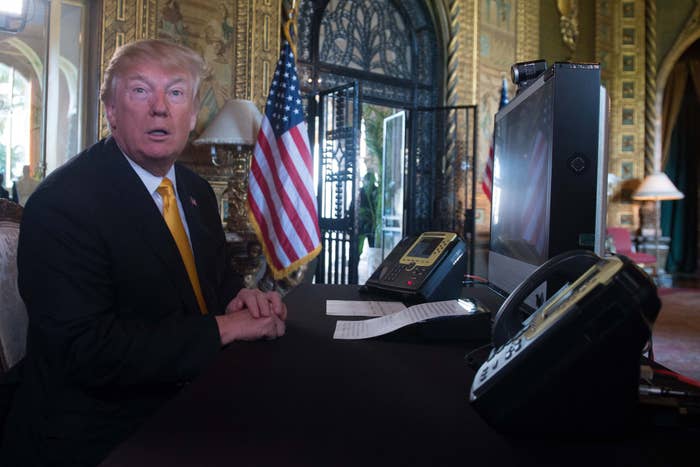 In a not at all shocking turn of events, President Donald Trump has pulled a complete reversal. This time, the change has come in the form of Trump allegedly claiming the 2005 Access Hollywood tape of him bragging about being able to kiss random women and "grab them by the pussy" without permission is a fake. 
The news comes from a New York Times report by Jonathan Martin, Maggie Haberman and Alexander Burnsnov chronicling the friction between Trump and Republican Senate Majority Leader Mitch McConnell about the Roy Moore scandal.
"Trump sees the calls for Mr. Moore to step aside as a version of the response to the now-famous 'Access Hollywood' tape, in which he boasted about grabbing women's genitalia, and the flood of groping accusations against him that followed soon after," the Times report said. "He suggested to a senator earlier this year that it was not authentic, and repeated that claim to an adviser more recently. (In the hours after it was revealed in October 2016, Mr. Trump acknowledged that the voice was his, and he apologized.)"
Trump not only acknowledged the voice on the tape was his, but he shrugged off boasting about groping women as mere "locker room talk."
Judge Roy Moore and Trump also face multiple, unrelated sexual assault allegations from various women, which they have both denied. Moore's allegations stem from several women claiming he had inappropriate sexual relationships with them while they were minors and his subsequent remarks in the aftermath of the allegations. 
And that's 2017 in a nutshell. The President who freely admitted to forcibly fondling women while on a hot mic continues to endorse the state judge who told reporters verbatim "homosexual conduct should be illegal." 
You can read the full report, including Trump's reaction to his daughter Ivanka saying, there was "a special place in hell for people who prey on children," via the New York Times.