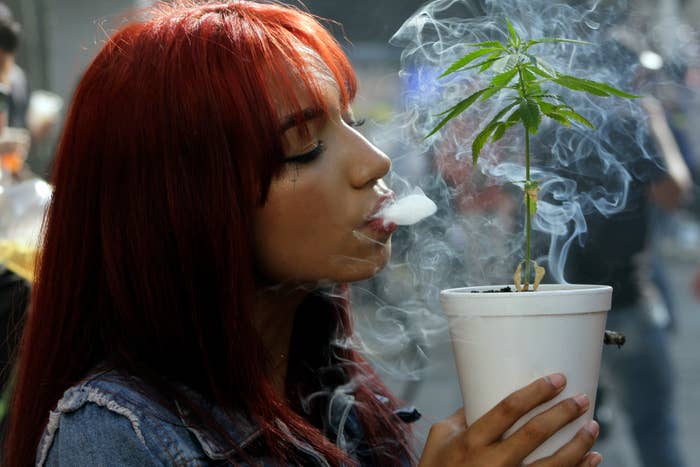 According to the eighth edition of the ​​​​​​​ Annual Marijuana Business Factbook, American marijuana businesses are projected to have an economic impact of between $106 billion and $130 billion by 2024. By economic impact, we're not just talking simple sales but rather the overall effect that legalized marijuana and its tax revenues have on real estate, construction, tourism, infrastructure, education, and healthcare. Such an infusion of cash would be a real game-changer for Black and brown communities. The problem is that as the "Green Rush" has helped launch lucrative pot businesses in the 37 states where it is now legal, those businesses are overwhelmingly owned by whites.
Already disproportionately harmed by the decades long war on drugs and its legacy, Blacks and Latinx are hindered in cannabusiness engagement by systemically unfair regulations, heavy marketplace entry costs, and a lack of information on how to launch successful businesses. However, in the last five years several organizations have been formed to counter all of these obstacles. The following seven organizations have been especially successful in helping POC gain a strong foothold in the legal pot industry.
Location: New York, New York
Delivering cannabusiness conversations to particularly criminalized and underserved communities of color, such as Queens and the Bronx, The Mary Jane Consulting Group provides national and international information on the opportunities in the ganja market. Promoting inclusion and wealth generation, the consultative group features a team of attorneys who provide guidance on all things in pursuing marijuana-related professions including business plan creation, business formation development, licensing, and regulatory compliance.
Location: Orlando, Florida
Boasting 27 state directors throughout the nation, this inclusion and advocacy-focused nonprofit organization features several national programs targeted at promoting fairness and equity within the cannabis industry. They provide education on the health benefits of CBD and MMJ, keep communities updated on public policy and legalization, and work to overturn and expunge marijuana-related convictions. They also provide internship opportunities in hemp farming and technology.
Location: Oakland, California
This 501c3 has spent the last five years spearheading campaigns and initiatives to boost Black and brown women's entry and ongoing participation in the cannabis industry. They formed and launched America's inaugural cannabis social equity program which specifically provides those most impacted by the war on drugs with a chance to launch their own legal pot business. Remaining in constant motion throughout the States, the all-girl group provides numerous workshops, panel discussions, and opportunities for women of color to network and thrive in all aspects of ganjapreneurship.
Location: Portland, Oregon
With a keen interest in helping POC already participating in the underground marijuana trade to convert their business network to a legal pot operation, Dasheeda Dawson authored the book How to Succeed in the Cannabis Industry before launching this global cannabis advocacy in 2016. In addition to being intent on dispelling myths, misconceptions, and stereotypes about cannabis, Dawson's organization specializes in strategic planning, go-to market strategy, advertising, trend forecasting, and product development for green entrepreneurs. 
Location: Brooklyn, New York
Founded by three Black women in 2017, this digital platform and educational portal was created specifically for multicultural women interested in the cannabis business and lifestyle. Highlighting all things pot from cuisine, health and wellness, culture, and beyond, the media company functions with a goal of highlighting women of color in the pot world and growing POC business ownership. EstroHaze also provides free initial consultations for folks in need of cannabis industry guidance.
Location: Philadelphia, Pennsylvania
Featuring chapters in Georgia, Texas, and Louisiana, this Black woman-led marijuana consulting agency and advocacy organization provides education, holistic and mental health initiatives, and citizen restorative services as well as cannabis wellness and self-care events. Dedicated to ensure minorities have a seat at the pot industry table, the company also offers business development guidance and patient care training.
Location: United States
This 501(c)(6) not for profit business league works throughout the U.S. to shape policy and laws and promote equality and diversity in the cannabis industry. Its membership of minority-owned marijuana businesses benefit from business launch and development information, data outlining the North American cannabis marketplace, and insights on how cannabis addresses illnesses disproportionately affecting communities of color. The association also provides scores of networking events and opportunities for cannabis patients, enthusiasts, and businesses alike.