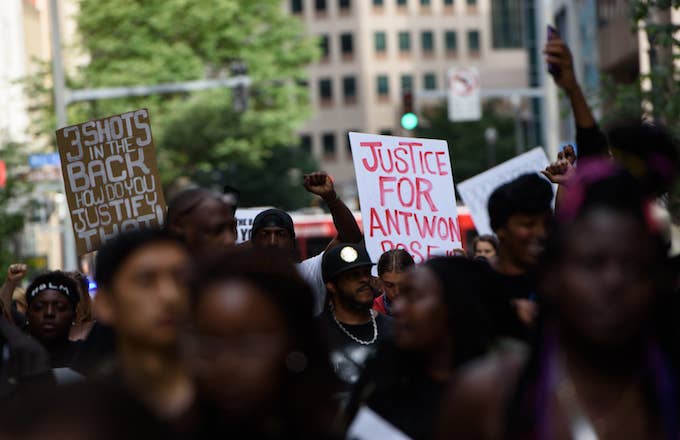 The East Pittsburgh police officer who fatally shot 17-year-old Antwon Rose II last week has been charged with criminal homicide, CNN reports. 
Court records also reveal troubling new details about just how the officer, named Michael Rosfeld, killed Rose. Rosfeld is white. The teenager was shot in his face, right arm, and middle of his back. Additionally, Rosfeld made inconsistent statements as to whether he believed Rose was armed when he shot him. 
The initial story from the police was that Rose was in a car with two other passengers, one of which was the driver. The car was pulled over because it matched the description of a car that had been involved in a shooting on the same night. However, court documents show that even though Rose was in that car, he did not appear to be the shooter. 
Rosfeld was arraigned on Wednesday morning, with a preliminary hearing set for July 6. His bail is currently set at $250,000. 
"This is a small stride toward justice but we have a very long road ahead," Rose's family attorney Lee Merritt tweeted.
The District Attorney of Allegheny County, Pennsylvania said that neither Rose nor the driver had anything to do with the earlier shooting. "If he had survived there would have been nothing to charge him with," he said.
From DA Zappala: "Antwon Rose had nothing to do with the earlier shooting. Neither he nor the driver were involved. If he had survived there would have been nothing to charge him with."
It is unclear what the criminal homicide charge will mean for Rosfeld. According to Pennsylvania state code, criminal homicide is when someone "intentionally, knowingly, recklessly or negligently causes the death of another human being." Accordingly, homicide variations include murder, voluntary manslaughter, and involuntary manslaughter. The latter is often a misdemeanor, as CNN notes.