Trump Reportedly Bragged About His Popularity During Tour of African American History Museum
Because, of course, he did.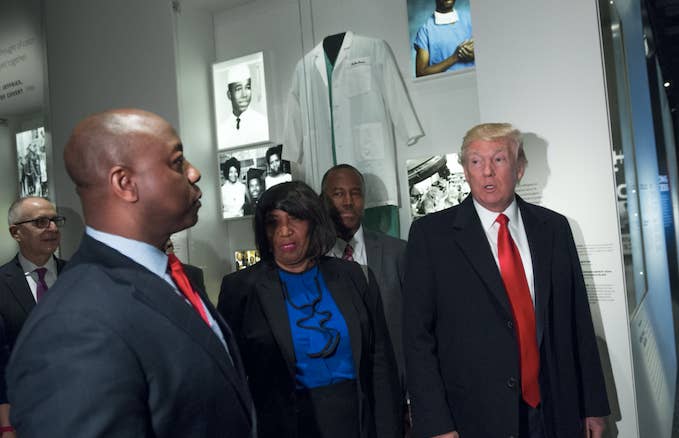 Getty
Image via Getty/Saul Loeb/AFP
Donald Trump's visit to the African American History museum was apparently a little awkward. Shocking, right?
According to the museum's founding director Lonnie G. Bunch III., Trump had tried to schedule a private tour for Martin Luther King Jr. Day 2017—a request that Bunch ultimately denied.
"The notion that we could shut out visitors on the first King holiday since the opening of the museum was not something I could accept," he wrote in his upcoming memoir, A Fool's Errand: Creating the National Museum of African American History and Culture in the Age of Bush, Obama and Trump. Despite Bunch's refusal, POTUS ended up touring the building about a month after his desired date.
Excerpts of Bunch's book, published in the Washington Post, describe Trump's time at the African American History Museum, where he reportedly made a number of deaf tone comments. Bunch, who is now the secretary of the Smithsonian, said that prior to the Trump's arrival, White House aides had informed him that the president "was in a foul mood and that he did not want to see anything 'difficult.'"
Bunch wrote that he did not change the way he conducted the tour due to Trump's purported mood: "It was not my job to make the rough edges of history smooth, even for the president."
After Bunch began guiding Trump and his team through the museum, they came to an exhibit that centered on the Dutch slave trade. The director said Trump looked as though he was contemplating the subject and was about to offer a meaningful response. Nope.
"As he pondered the label I felt that maybe he was paying attention to the work of the museum. He quickly proved me wrong," Bunch wrote. "As he turned from the display he said to me, 'You know, they love me in the Netherlands.' All I could say was let's continue walking.
"There is little I remember about the rest of the hour we spent together. I was so disappointed in his response to one of the greatest crimes against humanity in history," he continued. "Here was a chance to broaden the views and the understanding of the incoming president and I had been less successful than I had expected."
Following the tour, Trump took to Twitter to praise the museum and the team behind it.
"I will take what victories I can get," Bunch wrote.
A Fool's Errand will be released Sept. 24.