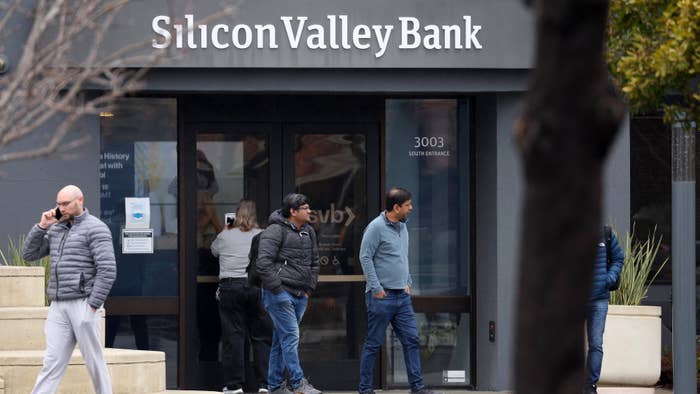 Uncertainty swept through the tech and financial worlds following the swift collapse of Silicon Valley Bank.
According to Reuters, the institution was forced to shut down on Friday after it failed to avoid a run by depositors. The Federal Deposit Insurance Corporation announced the news in a press release, confirming the California Department of Financial Protection and Innovation closed the bank and appointed the FDIC as its receiver.
The move came after SVB announced it had lost about $2 billion in U.S. treasuries and mortgage-backed securities due to increasing interest rates. The bank said it would try to recover the losses with a $1.75 billion stock sale, which ultimately failed. Depositors began fearing their money was no longer safe and began pulling their funds from SBV, prompting the biggest bank collapse since the 2008 financial crisis. Shares of SVB's parent company plummeted by 60 percent Thursday, and plunged another 66 percent in premarket trading Friday.
SVB, a prominent lender among tech startups, had 17 branches in California and Massachusetts. The FDIC said insured depositors will have access to their funds as soon as Monday morning, when the main SVB office and branches are expected to reopen. Uninsured depositors will get receivership certificates for their balances as well as an advanced dividend sometime next week.
At the time of its closure, the bank reportedly had $209 billion in assets and around $175.4 billion in total deposits. There's no word on how many of those deposits exceeded the FDIC's $250,000 insurance limit; however, regulatory reports indicate that a large number of SVB deposits exceeded that amount.