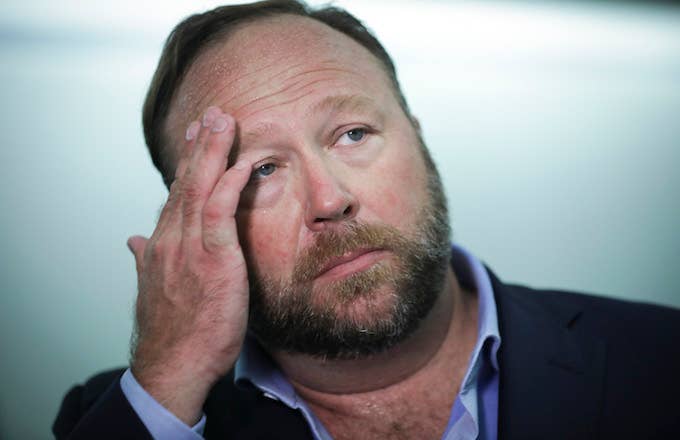 Lawyers for the victims and their families from the Sandy Hook Elementary School shooting claim they were sent child pornographic images in electronic files submitted by InfoWars host Alex Jones, ABC News reports.
The law firm representing the victims and families of the Sandy Hook tragedy notified the FBI of the child porn discovered in files that Jones' attorneys were asked to turn over as part of the discovery process of a defamation lawsuit over claims made on InfoWars that the 2012 shooting was a hoax. 
Jones has fiercely denied the child porn allegations on his show, claiming that he was being set up by Sandy Hook family lawyer Chris Mattei. He also put up $1 million for anyone who can provide information that could help lead to finding out who sent those emails.
"You're trying to set me up with child porn, I'll get your ass," he said. "One million dollars, you little gang members. One million dollars to put your head on a pike... I'm not into kids like your Democratic party, you cocksuckers. I don't like having sex with children, I would never have sex with children." 
Mattei and his law firm responded to Jones by asking the court to take immediate action against Jones for his remarks, stating, "This court has an obligation to protect the attorneys, parties and the judicial process." 
Jones' attorney Norman Pattis also denied ever opening the emails that were sent containing the child pornography. Pattis is also refuting Mattei's claim that the InfoWars host was threatening him on his show.  
A hearing has been set for Tuesday, June 18.