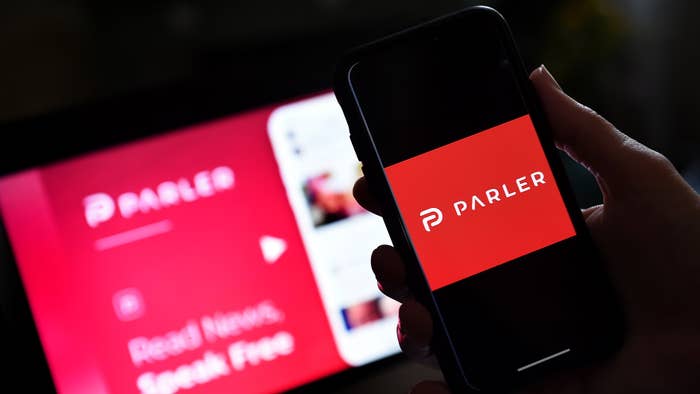 UPDATED 1/11, 9:40 a.m. ET: Following Amazon's decision to stop providing web hosting for right-wing cesspit Parler, the social media service has gone offline as of Monday. In response to the service being taken offline, CNBC reports Parler's  CEO says the app will be down "longer than expected."
Founder John Matze wrote, "This is not due to software restrictions—we have our software and everyone's data ready to go. Rather it's that Amazon's, Google's and Apple's statements to the press about dropping our access has caused most of our other vendors to drop their support for us as well."
Since Parler was utilized for planning of the failed insurrection from MAGA terrorists on Jan. 6, Google, Apple, and Amazon have all stopped provided access to their respective services. That means the app cannot be downloaded, or at least easily so on Android, and it cannot be accessed via web browser, either. 
"Most people with enough servers to host us have shut their doors to us. We will update everyone and update the press when we are back online," added Matze. Amazon Web Services informed the company on Saturday that it had flagged at least 98 examples of Parler posts that "clearly encourage and incite violence." Matze has openly criticized the three companies for distancing themselves from Parler, which has prided itself as the "free speech" alternative to Twitter, although the site has previously banned numerous notable left-wing accounts. Matze has previously called for a ban on "antifa supporters," claimed Will Duffield of the Cato Institute.
Matze has denied any responsibility in Parler users' incitement of violence.
UPDATED 1/9, 8:10 p.m. ET: Apple has followed Google's lead and suspended access to Parler, a social media app that has become increasingly popular among Trump supporters. The move comes just a day after the tech giant issued an ultimatum to Parler, warning it had 24 hours to remove users' content that violated Apple's policies against violent threats and crime.
"We have always supported diverse points of view being represented on the App Store, but there is no place on our platform for threats of violence and illegal activity," Apple said in a statement to The New York Times. "Parler has not taken adequate measures to address the proliferation of these threats to people's safety."
The Times points out Parler had become the No. 1 free app on the App Store by Saturday morning, hours after Twitter announced it had permanently suspended Trump from its platform. Reporter Jack Nicas confirmed the ban will not remove the app from devices that already had it, but will prevent new downloads.
"It also stops Parler from updating its app" Nicas tweeted, "which means that the versions already on iPhones will soon be obsolete as Apple updates iOS."
But that wasn't the only hit Parler suffered on Saturday. According to BuzzFeed News, Amazon informed Parler executives it will no longer provide web hosting services for the platform, meaning it'll go offline unless it finds another host before midnight Sunday.
BuzzFeed obtained Amazon's email informing Parler's chief policy officer of the company's decision. 
"Recently, we've seen a steady increase in this violent content on your website, all of which violates our terms. It's clear that Parler does not have an effective process to comply with the AWS terms of service," the email read. "[W]e cannot provide services to a customer that is unable to effectively identify and remove content that encourages or incites violence against others," the email reads. "Because Parler cannot comply with our terms of service and poses a very real risk to public safety, we plan to suspend Parler's account effective Sunday, January 10th, at 11:59PM PST."
See original story below.
Following the events that occurred on Wednesday at the Capitol building with radical Trump supporters and the former president finally being suspended from Twitter, it looks as though Google and Apple are taking steps to remove Parler– a hotspot for far-right extremists and Trump's followers– from its app store.
Apple has issued a warning to the app that it must implement a full moderation plan to its platform within the next 24 hours or be removed from the App store for good, as cited by Buzzfeed News. 
"We have received numerous complaints regarding objectionable content in your Parler service, accusations that the Parler app was used to plan, coordinate, and facilitate the illegal activities in Washington D.C. on January 6, 2021 that led (among other things) to loss of life, numerous injuries, and the destruction of property," Apple wrote to Parler in an email obtained by Buzzfeed this morning. "The app also appears to continue to be used to plan and facilitate yet further illegal and dangerous activities.
Google has already made the decision to nix the app, however, according to CNBC News. The company reportedly issued a statement explaining the move, reminding that their guidelines require social media apps to have content moderation policies that remove posts inciting violence. They've found that Parler was being used as a grounds to encourage and even facilitate some of the Capitol Hill violence, and thus, removed it. 
In response, Parler CEO John Matze wrote in the app that they will not "cave to pressure from anti-competitive actors."
"We will not cave to pressure from anti-competitive actors! We will and always have enforced our rules against violence and illegal activity. But we WONT cave to politically motivated companies and those authoritarians who hate free speech!" he wrote in a message. 
Matze went on to say that: "Anyone who buys an Apple phone is apparently a user. Apperently they know what is best for you by telling you which apps you may and may not use."
It is still unclear whether Parler will go through with the changes, but based on the moves Twitter has been making following Wednesday's events, it wouldn't be surprising if Apple followed suit here.