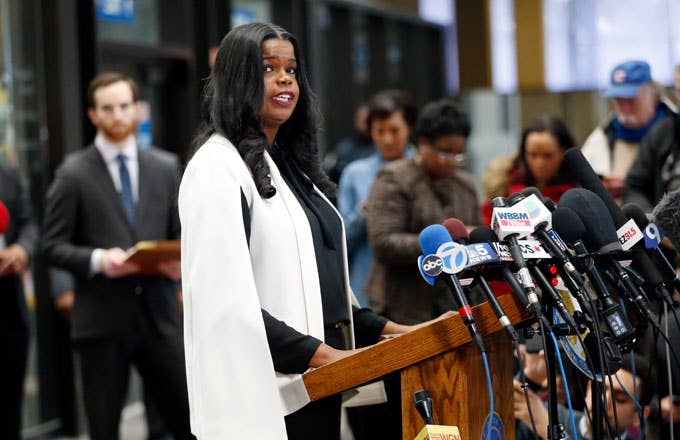 Top Chicago prosecutor Kim Foxx has been hit with a subpoena over her handling of the Jussie Smollett case.
According to The Chicago Sun-Times, that subpoena was issued by a retired appellate judge, Sheila O'Brien, who is looking to get a special prosecutor appointed to investigate Foxx's handling of the matter. In addition to Foxx, O'Brien has also subpoenaed Joseph Magats, who is Foxx's top deputy, and filed a "notice to appear" requesting that Smollett show up to the Thursday court hearing as well.
Foxx has come under fire, both locally and nationally, when her office abruptly dropped 16 felony counts of disorderly conduct against Smollett, who you no doubt know has been accused of faking a hate-crime against himself back in January.
O'Brien says that the top prosecutor's office's handling of the case is "plagued with irregularity." She is reportedly requesting that Foxx's office produce all original documents from the case as evidence "that they have not been altered or destroyed."
"Foxx's conflict in this matter is beyond dispute," O'Brien wrote, while saying Foxx should have appointed a special prosecutor. "Instead, Foxx misled the public into believing that Smollett's case was handled like any other prosecution and without influence."
At the moment Foxx's office is already under investigation by an independent inspector-general. Also her chief ethics officer, chief spokesman, and one other member of her team have left the office following the backlash over the Smollett fallout.
Previously, while defending her decision to drop the charges, Foxx had said that she welcomes an independent investigation.