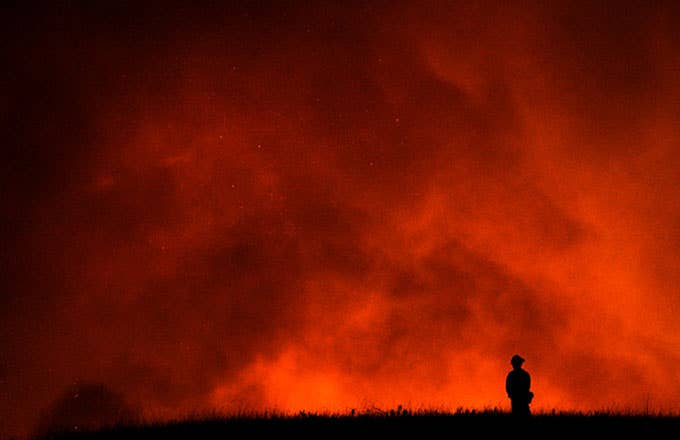 On Sunday, the Santa Barbara County Sheriff's office gave out new evacuation orders for Southern California residents that could be in the path of the quintet of wildfires that are currently burning through the region. According to NBC News, those orders are for:
[T]he area spanning Buena Vista Dr. to Toro Canyon Road from SR-192 north to Camino Cielo. Evacuation warnings for parts of Montecito, Carpinteria and Summerland were also expanded on Sunday.
As of now, 9,000-plus firefighters are attempting to combat the active infernos, which have destroyed more than 800 buildings and forced nearly 100,000 evacuations:
Though mandatory evacuations were halted in the unincorporated areas that are north and east of the Ventura County city of Santa Paula, the fires still continue to rage due to the very poorly timed "moderate Santa Ana winds." Those winds are expected to subside later on this week, though rain is (unfortunately) not currently in the upcoming forecast.
One official death has been blamed on the largest of those fires (the Thomas Fire) after the body of 70-year-old Virginia Pesola was found at the site of a car crash that took place in an evacuation route on Wednesday evening.
Additionally several celebrities have had to evacuate their homes due to the potential path of the flames:
While losing life, pets, and property sucks enough for everyone touched by it, even if it's just an out of the blue fluke no one could've foreseen, firefighters and California governor Jerry Brown painted a grim picture of the state's future by saying that the burning hellscape that resides in parts of the area are part of a "new normal" due to climate change.
"It's December, and it's amazing to be able to say we aren't out of fire season," said Cal Fire Director Ken Pimlott on Saturday. "And this is the challenge that we face in California and certainly here in Southern California, that it is a year-round challenge that we are all in."
Brown added to that at a news conference by saying, "We're facing a new reality in this state, where fires threaten people's lives, their property, their neighborhoods, and of course billions and billions of dollars." He went on to call the state a "very wonderful place," but also acknowledged that it's "getting hotter."
Just two months ago, Northern California was hit by wildfires that claimed over 40 lives and 8,900 homes/buildings.