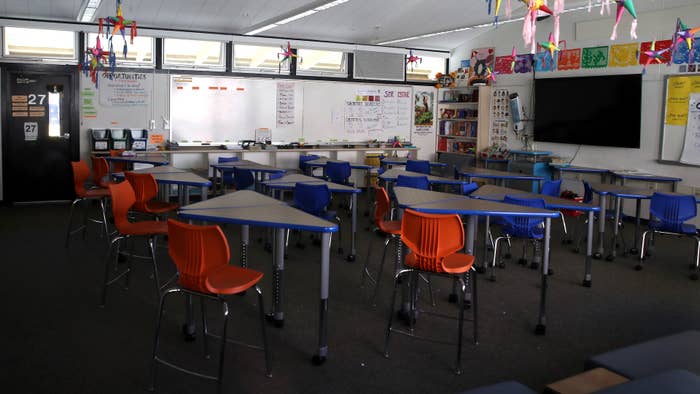 An Indiana teacher has been arrested for battery after video shows him slapping a student across the face.
NBC News reports that the teacher, 61-year-old Michael Hosinski attacked the student on Feb. 25 in the hallway at Jimtown High School in Elkhart. He was taken into custody on a preliminary charge of battery, which is a level six felony in Indiana. 
Footage of the incident shows Hosinski following the kid down the hallway and running to catch up to the student. In another angle from the camera, the teacher grabs the kid's backpack and pushes him towards a wall. It appears that Hosinski scolds the kid for something before slapping the student and grabbing him. That's when the student falls to the ground and at least one other school staff member walks up to them both as Hosinski walks away.
The student's identity isn't known. According to the school district, Baugo Community Schools, Hosinski attacked the student with "an open-handed slap" and that the student "suffered visible injuries." The district also verified that the incident did occur, and that Hosinski accosted the kid over a hoodie.
Formal charges against Hosinski have been requested. Hosinski was let go from his job, isn't allowed on school grounds, and the Indiana Department of Education has been informed of the incident.
According to WNDU, if Hosinski is convicted, then he could face a prison sentence of six months to two-and-a-half years and a fine of up to $10,000.
Hosinski has received early retirement from the district and a full pension.