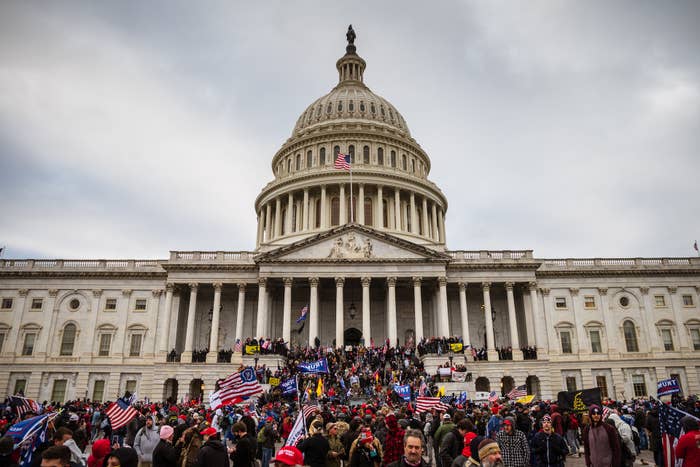 A Washington D.C. police lieutenant was indicted on Friday for his involvement with the Proud Boys during the Jan. 6 riot.
The Huffington Post reports a grand jury indicted the high-ranking officer, Lieutenant Shane Lamond, with obstructing justice and making false statements regarding his relationship with the chairman of the far-right group, Enrique Tarrio.
According to court documents, Lamond is accused of providing information about the police's investigation into the Proud Boys to Tarrio via text message, specifically during the Jan. 6 insurrection at the Capitol in D.C.
"We understand this matter sparks a range of emotions, and believe the allegations of this member's actions are not consistent of our values and our commitment to the community," a statement from the Metropolitan Police Department of the District of Columbia said. "This is only part of the process, and upon conclusion of the criminal proceedings, our agency will complete an internal investigation into this incident."
Among the hundreds of text messages that Lamond exchanged with Tarrio, the officer showed his approval of the Proud Boys.
On Jan. 8, he allegedly texted Tarrio, "Of course I can't say it officially, but personally I support you all and don't want to see your group's name or reputation dragged through the mud."
One of Lamond's main roles with MPD was supervising intelligence gathering linked to protest activity in D.C. The indictment says that for almost two years, starting in July 2019, Lamond and Tarrio were talking regularly, with their correspondence totaling at least 500 messages via phone and encrypted platforms.
Lamond kept Tarrio up-to-date on whether anyone from his group would be arrested for going into the Capitol. According to the indictment, Lamond used his sources to see if the FBI had pinpointed any suspects.
Lamond is also accused of lying about his relationship with Tarrio. In June 2021, when asked by federal authorities if he had given information to Tarrio, Lamond said, "It was more, you know, one-sided with just him telling me, you know, what their plans were."
Lamond was put on administrative leave in February 2022. Tarrio, and three other leaders of his group, were convicted this month of seditious conspiracy, as well as other charges, for their participation in the Capitol insurrection.