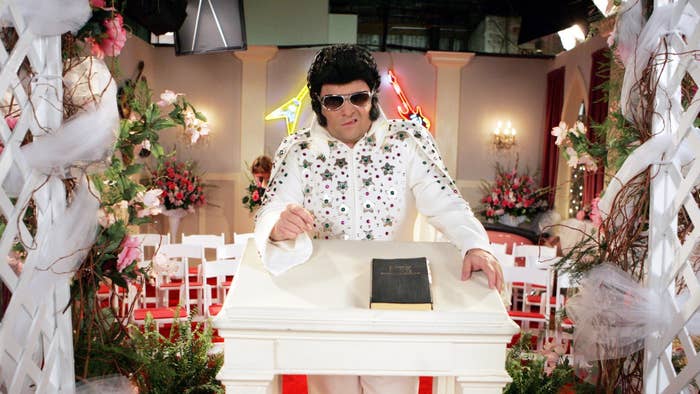 Sin City could soon say goodbye to Elvis-themed weddings.
According to the Las Vegas Review-Journal, a handful of wedding chapels have received cease-and-desist letters demanding they stop using the King's name and likeness for unauthorized events. Authentic Brands Group (ABG), which owns the majority stake in Elvis Presley Enterprises, reportedly issued the letters back in May. The licensing company told the venues they were infringing on intellectual property rights by using Elvis' image and voice without permission.
"As the guardians of the Elvis Presley estate, it is our responsibility to safeguard his legacy," ABG said in a statement to CNN. "This includes ensuring that all products, services, and advertisements utilizing Elvis' name, image, or likeness are officially licensed by Elvis Presley Enterprises... The estate has strong relationships with official Elvis tribute artists, fan clubs, and festivals, as well as a robust global network of licensed merchandise partners. There is no intention to shut down chapels that offer Elvis packages in Las Vegas."
ABG said it was seeking licensing agreements with the "infringing chapels," which include Elvis Chapel, Viva Las Vegas/Vegas Weddings, the and Las Vegas Elvis Chapel. The cease-and-desist letters warned establishments that if they failed to comply with their demands within a week, they would likely take legal action. According to the Review-Journal, the documents were issued on May 20, meaning the venues had until May 27 to halt any unauthorized use of Elvis' name and image. The affect chapels told the publication they had not heard from ABG since.
"This could be very damaging to our industry," said Melody Willis-Williams, president of Vegas Weddings and Viva Las Vegas Weddings. "Most of us are small businesses, and we're up against a superpower with a lot of money. It could kill us in lawyer fees to fight this. Elvis weddings are synonymous with Las Vegas. We keep Elvis alive."
A number of local politicians slammed ABG over the cease-and-desist letters.
"Our wedding industry has been struggling through the pandemic and the economic devastation it has caused," Las Vegas Mayor Carolyn Goodman told CNN. "These obviously are not people or a company that give a hoot about this community or its people."