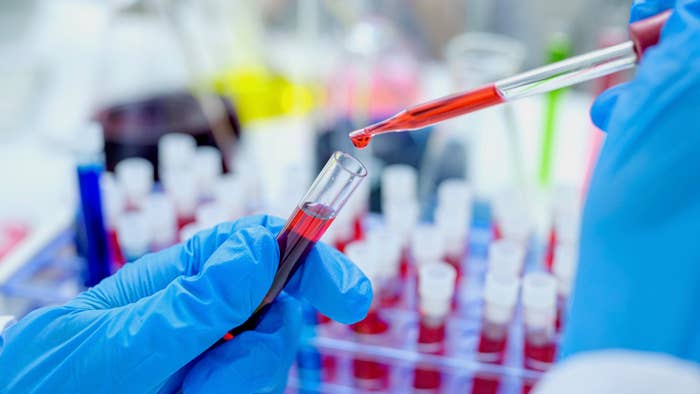 Medical researchers say a 66-year-old California man is the fourth person in history to be cured of HIV.
According to the Washington Post, the man was diagnosed with the virus back in 1988, and has spent most of that time on antiretroviral therapy. Doctors say the man, who wished to remain anonymous, entered long-term remission from the virus in 2019, after he was diagnosed with acute myelogenous leukemia.
As part of his treatment, the patient underwent a rare stem cell transplant that replaced his cancerous blood with the blood of an unrelated donor. The man's doctor said the donor was chosen because they had a rare mutation known as CCR5-delta 32, which makes its carrier resistant to most strains of HIV infection. 
"CCR5 is a receptor on CD4+ immune cells, and HIV uses that receptor to enter and attack the immune system," read the City of Hope website. "But the CCR5 mutation blocks that pathway, which stops HIV from replicating."
The man has asked to remain anonymous and is publicly known as the "City of Hope patient," a reference to the California medical facility where he was treated. Researchers say the patient, who underwent chemotherapy after the transplant, has been in remission from HIV and the cancer for nearly a year and a half. He reportedly stopped taking ART in March 2021.
"When I was diagnosed with HIV in 1988, like many others, I thought it was a death sentence," the patient said in a statement. "I never thought I would live to see the day that I no longer have HIV."
According to City of Hope, the man is the fourth and oldest HIV patient to go into remission from the virus. The first was San Francisco resident Timothy Ray Brown, who underwent the stem cell transplant in 2007. Though experts say the transplant procedure isn't feasible for most HIV patients, they're confident these types of "cured" cases will bring them closer to finally eradicating the disease.
"[The patient] saw many of his friends die from AIDS in the early days of the disease and faced so much stigma when he was diagnosed with HIV in 1988. But now, he can celebrate this medical milestone. We can find no evidence of replicating HIV in his system," said Jana K. Dickter, City of Hope associate clinical professor in the Division of Infectious Diseases. "We are excited to continue our research on future breakthroughs for people living with HIV."