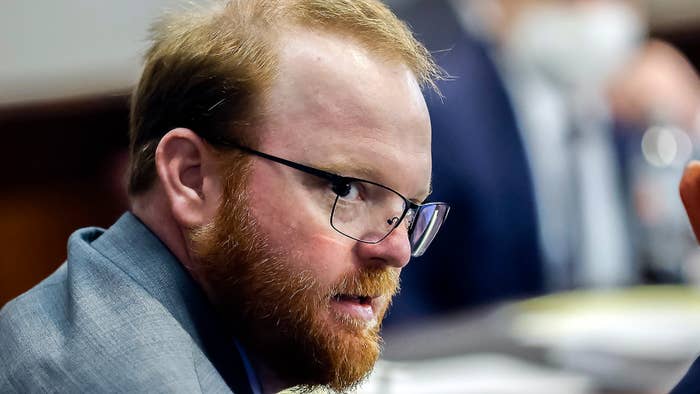 The white men who were convicted of murdering Ahmaud Arbery had a history of sharing racist and violent messages online, an FBI intelligence analyst said Wednesday.
While testifying during the defendant's hate crime trial, Amy Vaughan told the jury that two of Arbery's killers—Travis McMichael and William "Roddie" Bryan—repeatedly sent bigoted private messages and memes on social media in the years before Arbery's death. Vaughn provided dozens of conversations Travis and Bryan had with unidentified individuals; some of the messages included the use of the N-word as well as threatening language toward the Black community.
According to the Associated Press, the FBI was able to retrieve the conversations through each of the men's phones. Investigators say they were unable to access the phone of the third defendant—Travis' father, Greg McMichael—because the device was encrypted. 
Vaughn pointed to several online conversations in which Travis continued to use racial slurs against Black people. One of the messages included a video of a Black man dancing to racist lyrics, and another included his claim that Black people "ruin everything." The FBI also highlighted several racist comments Travis had left under Facebook posts. 
In June 2017, Travis shared a news story involving an altercation between two white women and two Black men at a restaurant. Using a racial slur, Travis wrote that he would beat the men "to death if they did that to (name redacted by the FBI) or my mother and sister." He also said that killing the men would be like putting down a rabid animal. 
In December 2018, he commented on a video in which a Black man pranked a white person, writing: "I'd kill that fucking n****r."
Prosecutors also shared evidence of Bryan's repeated use of racial slurs online. A number of these posts mocked Martin Luther King Jr. Day and included "a derogatory characterization of a Black person's lips." In the days surrounding Arbery's murder, Bryan allegedly sent angry messages about his daughter dating a Black man. 
In 2016, Greg McMichael took to Facebook to share a meme that claimed white Irish slaves received harsher treatment than any other race in America, "but that the Irish aren't asking for handouts."
Vaughn's testimony supported arguments from prosecutors that racism was the main factor behind Arbery's death. The 25-year-old Black man was killed Feb. 23, 2020, after the McMichael's saw him jogging in a Georgia suburb. The father and son claimed they chased Arbery in their pickup truck because they suspected he had committed a crime. Their neighbor Bryan joined the pursuit in his own vehicle and recorded Travis getting out a truck and confronting Arbery with a gun. Moments later, a scuffle ensues and Travis opened fire on Arbery, wounding him three times. He was declared dead at the scene.
In November 2021, the McMichaels and Bryan were found guilty of murder charges. The father and son were sentenced to life in prison without the possibility of parole. Bryan was sentenced to life imprisonment with the possibility of parole after 30 years.
The men are now on trial for hate crimes. They are facing a jury of eight white people, three Black people, and one Hispanic person.