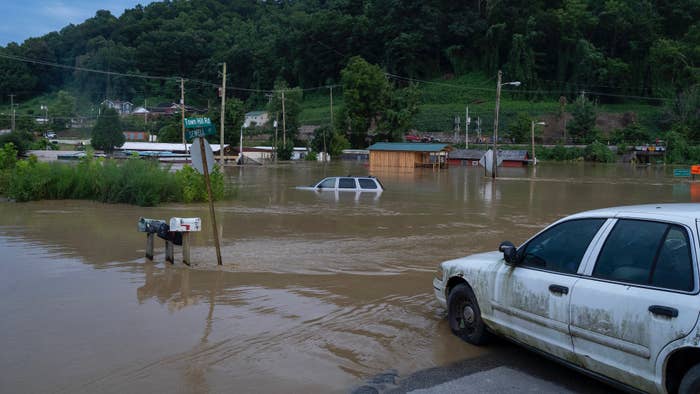 A devastating flash flood in eastern Kentucky has left at least 25 people dead and dozens of others reported missing.
"It is devastating," state Gov. Andy Beshear told NPR. "We have whole towns that are underwater, houses that were in the line of the water are just gone; not a piece of the house left. "We've lost 25 Kentuckians, each one a child of God, that isn't going to be there at that next holiday, and we're going to lose more before this is done."
The Democratic lawmaker confirmed six children, including a one-year-old, are among the 25 dead. National Guard troops and other rescue teams continued to search for victims on Saturday. Around 1,300 people have since been rescued by boat or aircraft in Kentucky, as well as areas of Tennessee and West Virginia. 
"It's hard, it's even harder for those families and those communities," Beshear said in a press conference. "Keep praying, there's still a lot of people out there, still a lot of people unaccounted for. We're going to do our best to find them all."
According to NBC News, the severe weather conditions have left tens of thousands of people without power, and multiple counties without clean water. The governor confirmed Saturday at least three cities and more than a dozen counties had declared a state of emergency.
Additional rainfall in the state is expected early next week.
"While it won't be as severe, we already have so much water and we're saturated, it's going to be a problem," Beshear told NPR. "And then you go into next week and it's going to be really, really hot, and we are going to have a lot of people that are without power. So, we're bringing every resource to bear. What we face is tough."
On Friday, President Joe Biden declared a major disaster in Kentucky and ordered federal aid to assist in the state's recovery efforts. According to the White House, the aid will be sent to the counties of Breathitt, Clay, Floyd, Johnson, Knott, Leslie, Letcher, Magoffin, Martin, Owsley, Perry, Pike, and Wolfe.