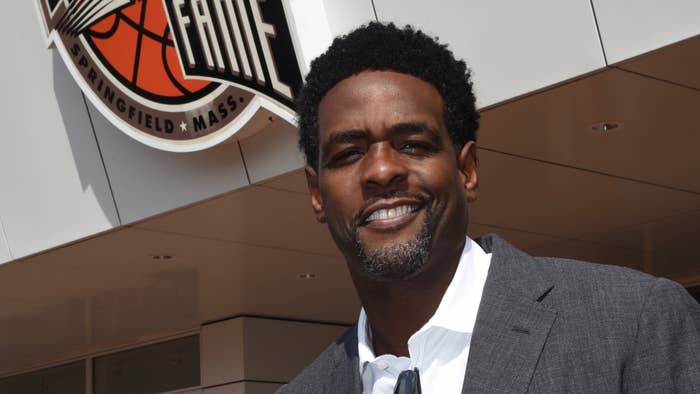 Chris Webber has announced the official roll out of Players Only—a cannabis lifestyle brand he co-founded with business partner Lavetta Willis.
The 49-year-old Hall of Famer formally announced the launch on Thursday, and shared some insight into his overall vision for the multi-million project. 
"Players Only is more than a cannabis brand – it's a lifestyle brand," Webber said in a statement. "We truly have a unique opportunity to change the narrative around cannabis, empower rising entrepreneurs and set a new standard in this growing industry. We're thrilled to launch our versatile offerings and begin the process of creating meaningful economic change in communities across Michigan. Shout out to TerrAscend and Gage — our Michigan family. Much love to Cookies and Berner, let's go!"
Players Only will offer a wide range of products, including cannabis flower strains, all-natural oil cartridges, pre-rolls, vapes, as well as branded apparel and footwear. The company will also deliver strain collaborations with heavy-hitters across the entertainment and sports worlds; we're talking everyone from Quavo and Raekwon to Matt Barnes, and Jason Williams.
"We have been working with legacy cultivators and operators seeking to establish their place in the regulated market for quite some time," Willis said. "The opportunity to incorporate legacy strains and expertise into the Players Only platform and menu furthers our goal of uplifting black entrepreneurs who have been building brands and intellectual properties for decades."
The brand will launch with C4, Time Out, and G.O.A.T.'s Milk strains, in addition to exclusive branded strains like Non-Laters and Whipped Cherries. Players Only is expected to drop additional strains—such as Blueberry Hotcakes and Ray Jackson's Black Sox—in the upcoming week.
Players Only will be available for purchase at select Gage and Cookies dispensaries across Michigan. In support of the launch, Webber will host a Players Only activation in his hometown of Detroit, with plans to expand to more U.S. markets.
You can learn more about the brand at its official website.