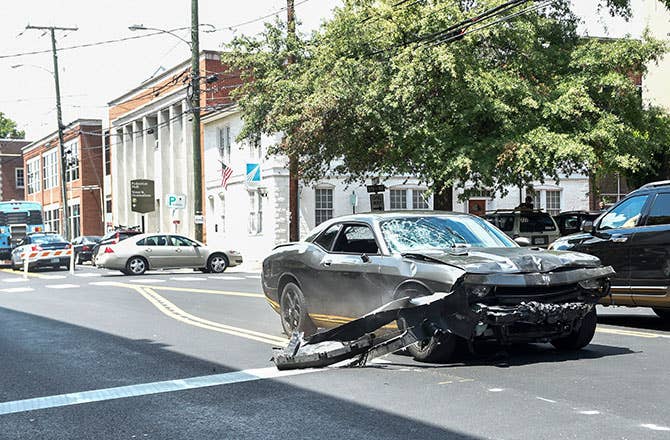 The man accused of plowing his car through a crowd of counter-protesters last week is now facing five additional felony charges.
Authorities told CNN that James A. Fields, 20, has been charged with two counts of malicious wounding and three counts of aggravated malicious wounding in connection to the vehicle crash that left one dead and dozens injured in Charlottesville, Virginia. The horrific incident occurred during the violent white nationalist rally "Unite the Right."
Fields, who has been linked to the white nationalist movement, is suspected of intentionally driving his Dodge Charger into a group of counter-protestors and killing 32-year-old Heather Heyer. Fields has already been charged with second-degree murder.
The victims related to the new "charges suffered serious injuries and in some cases permanent physical disabilities," the Charlottesville Police Department wrote in a statement. "This continues to be an ongoing criminal investigation with additional charges anticipated in the near future."
Days after the deadly rally took place, two women who were reportedly injured in last Saturday's car crash filed a lawsuit against Fields. Sisters Tadrint and Micah Washington have accused Fields of hitting their vehicle from behind after he drove his car into the crowd. According to CNN, the sisters claim the collision caused injuries to their heads and extremities. The lawsuit also lists 27 other groups and individuals as defendants, including Jason Kessler and alt-right figure Richard Spencer.
The Washingtons are seeking $3 million in compensatory damages and $350,000 in punitive damages.