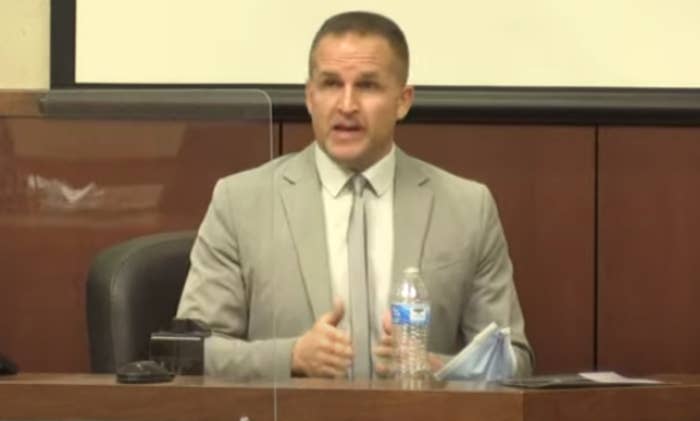 Brett Hankison, the former police officer who was indicted in the Breonna Taylor raid, has been found not guilty of endangering Taylor's neighbors, The Daily Beast reports.
The 45-year-old Kentucky man was facing three wanton endangerment charges for firing bullets that entered a neighbor's unit during the 2020 shooting. Hankison was the only officer charged in connection to the botched raid, which left Taylor—a 26-year-old Black woman—dead.
During the trial, Hankison said he and his fellow officers had forcefully entered Taylor's home in the early hours of March 13 to execute a search warrant. Moments after police rammed through the door, Taylor's boyfriend, Kenneth Walker—a licensed gun owner who was in bed with Taylor at the time—opened fire at what he thought were intruders. A shootout ensued within the apartment, and Hankison ended up firing multiple rounds.
Though Hankison's shots never hit Taylor, they did enter a neighboring unit while a pregnant woman and 5-year-old child were inside. The Louisville Metro Police Department terminated Hankison four months after the raid, accusing him of "blindly firing 10 rounds into the apartment."
"I find your conduct a shock to the conscience," Interim Police Chief Robert Schroeder wrote in a 2020 letter, which noted Hankison was previously disciplined for reckless conduct. "I am alarmed and stunned you used deadly force in this fashion. The result of your action seriously impedes the department's goal of providing the citizens of our city with the most professional law enforcement agency possible. Your conduct demands your termination."
In September 2020, a grand jury indicted Hankison on three counts of wanton endangerment in the first degree.
Hankison and his fellow officers, Myles Cosgrove and Sgt. Jonathan Mattingly, fired a total of 32 shots inside Taylor's apartment during the raid. Hankison claimed that once Mattingly was shot in the leg, he ran from the doorway and shot through the patio door and window to Taylor's bedroom. 
"I knew Sgt. Mattingly was down and I knew they were trying to get to him, and it appeared to me they were being executed with this rifle," Hankison testified. "I thought I could put rounds through that bedroom window and stop the threat."
Authorities later confirmed that no rifle was found inside Taylor's apartment, just the handgun that belonged to Walker. 
"This is not a case to decide who is at fault for the tragic death of Breonna Taylor," prosecutor Barbara Whaley told the court, as reported by ABC News. "This is not a case about civil rights violations under federal law or the United States Constitution. And this is not a case about Kenneth Walker. Whether what he did that night was right or wrong, this is not your decision."
Taylor was reportedly shot six times during the raid, and was pronounced dead at the scene. None of the involved officers were charged directly in Taylor's death.