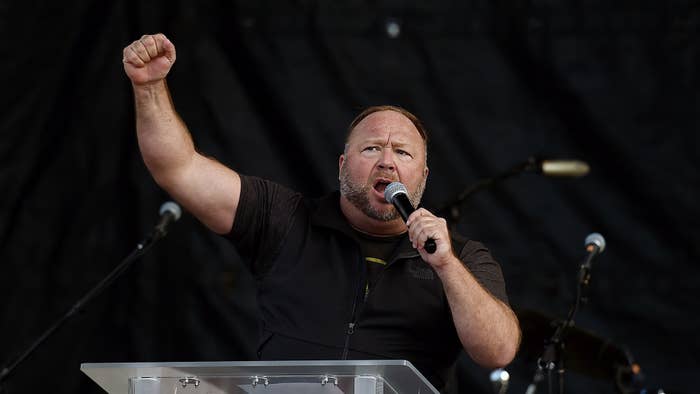 UPDATED 8/5, 6:09 p.m ET: Alex Jones has suffered another legal blow.
On Friday, a Texas jury ordered the Infowars founder to pay an additional $45.2 million in punitive damages to Neil Heslin and Scarlett Lewis, the parents of 6-year-old Sandy Hook victim Jesse Lewis. The decision came just a day after the jury awarded the family $4.1 million in compensatory damages for defamation and intentional infliction of emotional distress.
Jones, who now owes the plaintiffs more than $49 million, previously claimed that a penalty of just $2 million would "sink" his businesses; however, economist Bernard Pettingill, Jr. testified Friday that Jones has an estimated net worth of between $135 million and $270 million.
According to Deadline, Jones was not in the courtroom when the verdict was read.
This story is being updated.
Alex Jones has been ordered to pay $4.1 million to the parents of Jesse Lewis, a 6-year-old boy who was among those killed in the Sandy Hook school shooting.
According to CNN, Neil Heslin and Scarlett Lewis filed a defamation lawsuit against Jones in 2018, after he spent years making baseless claims about the massacre. The tragedy took place on Dec. 14, 2012 at Sandy Hook Elementary School in Newtown, Connecticut, where 20 children and six adults were fatally shot. Using his various media platforms, Jones theorized the school shooting was nothing more than an elaborate hoax intended to justify a crackdown on gun rights. He claimed no one was actually killed in the event and that those involved were "crisis actors."
During the two-week trial, Heslin and Lewis told the court they've endured years of relentless harassment and attacks fueled by Jones' conspiracy theories. The parents originally sought $150 million in compensatory damages for defamation and intentional infliction of emotional distress. Jones' legal team asked the jury to cap the damages to $8—one dollar for each compensation charge.
Jones also claimed that any award of more than $2 million would "sink" his media ventures. The Austin jury must now decide whether Jones will have to pay any punitive damages to the plaintiffs. Heslin and Lewis' lawyer Mark Bankston said his clients were satisfied with the jury's latest decision.
"Neil and Scarlett are thrilled with the result and look forward to putting Mr. Jones' money to good use," the attorney said Thursday. "Mr. Jones on the other hand will not sleep easy tonight. With punitive damages still to be decided and multiple additional defamation lawsuits pending, it is clear that Mr Jones' time on the American stage is finally coming to an end."
During the trial, Jones conceded that the Sandy Hook shooting did, in fact, take place.
"It was…especially since I've met the parents. It's 100 percent real. … I unintentionally took part in things that did hurt these people's feelings, and I'm sorry for that," he said during his testimony.
Lewis told the jury an apology wouldn't suffice.
"There has not been a sincere apology," she said. "But if there was, ever, I liken it to being in a car accident and you run over someone and cause tremendous bodily damage and you look at that person lying on the ground and say, 'I'm so sorry, I'm so sorry, I'm not accountable for any of the damage I just caused. But I'm sorry.' That's how I see it."