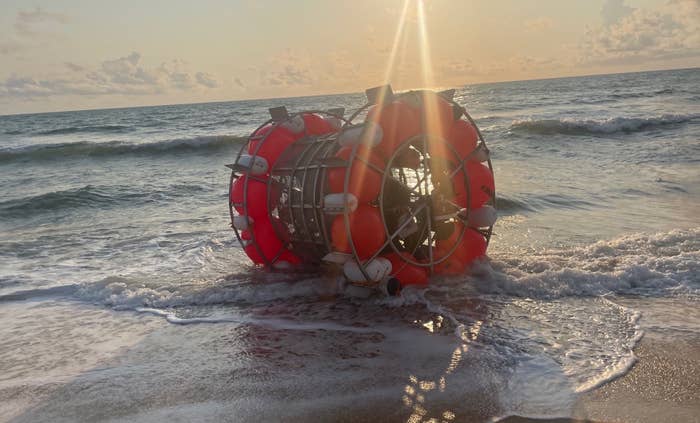 A Florida man has been arrested after trying to cross the Atlantic Ocean in a homemade hamster wheel.
The Associated Press reports officials discovered Reza Baluchi, 51, of Florida, about 70 miles off the coast of Georgia while Hurricane Franklin was headed toward the area. Baluchi is facing federal charges after it took five days for the U.S. Coast Guard to bring him ashore.
Baluchi was charged Tuesday with obstruction of boarding and violation of a captain of the port order.
The Coast Guard claims Baluchi, who stated his plan was to travel all the way to England, was sailing in a hamster wheel vessel that was "afloat as a result of wiring and buoys." As a result, officials determined Baluchi was conducting "a manifestly unsafe voyage."
According to a complaint filed by Coast Guard Special Agent Michael A. Perez, Baluchi refused the support of officials, threatening that he'd harm himself, before claiming he had a bomb and would "blow himself up."
After noticing that Baluchi was holding wires, the Coast Guard contacted the U.S. Navy Explosive Ordinance Disposal Unit. The next day, on Aug. 29, the Coast Guard successfully removed Baluchi from the vessel, before taking him to the Coast Guard base in Miami Beach.