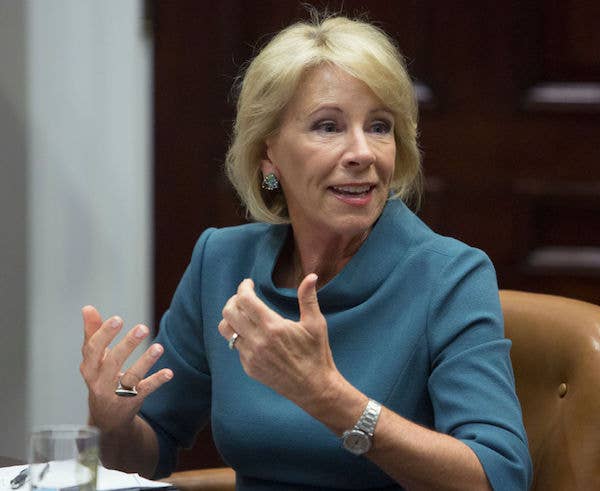 Betsy DeVosappeared on CBS' 60 Minutes where she had the opportunity to speak on this country's school systems intelligently, but the interview turned out to be more of a struggle than a win.
Being the U.S. Secretary of Education, one would think DeVos would have come prepared with helpful statistics and a plan to make schools better. Yet she couldn't even present facts about the institutions in her own home state of Michigan. "In places where there is a lot of choice that's been introduced, Florida for example, the studies show that where there's a large number of students that opt to go to a different school or different schools, the traditional public schools actually, the results get better as well," DeVos explained to host Lesley Stahl.
Stahl then asked if the public schools in Michigan have gotten better, which caused DeVos to stumble over her words. "I don't know, overall, I can't say overall that they have all gotten better," she said in a painfully cringe-worthy moment, to which Stahl swiftly interjected with saying the entire state isn't doing well.
Watch the complete fail below:
Sec. of Education Betsy DeVos struggles to answer fairly basic questions on school performance on 60 Minutes

pic.twitter.com/lFVq3USwUW
DeVos then tried to counteract with a point that there are "pockets" where some schools have gotten better, but then revealed she has "not intentionally visited schools that are underperforming." Once again, Stahl's response was perfectly succinct and shady: "Maybe you should."
DeVos has gotten a bad rap ever since she was nominated to lead the Department of Education, due to her support for charter schools and tuition vouchers that use public funds, The Hill points out. Recently, she was called out by the Parkland students following her visit Marjory Stoneman Douglas High School three weeks after the tragedy.
They claimed that DeVos failed to interact with them and only took five questions during a press conference. "I thought she would at least give us her 'thoughts and prayers,' but she refused to even meet/speak with students. I don't understand the point of her being here," one witty student wrote on Twitter.