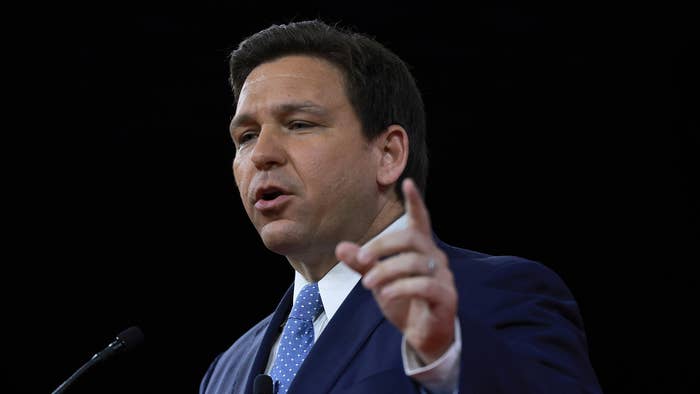 Florida Governor Ron DeSantis has signed the controversial "Parental Rights in Education" bill into law, restricting certain LGBTQ+ topics from being discussed in classrooms.
The bill, known as the "Don't Say Gay" bill by its critics, forbids school districts in the state from encouraging "classroom discussion about sexual orientation or gender identity in primary grade levels." Critics have accused DeSantis and supporters of the bill of homophobia, further demonizing queer identity, while supporters have argued it allows parents to broach these topics with their children when they deem appropriate. 
NPR reports that the Republican governor signed the bill into law on Monday, and during a press conference ahead of that he said that it's "inappropriate" to teach kindergarten kids that "they can be whatever they want to be." He even suggested that such topics were "especially not [appropriate] in Florida." Additionally, DeSantis has accused critics of "sloganeering," and that teaching kids about LGBTQ topics is part of a "woke gender ideology." 
"We will continue to recognize that in the state of Florida, parents have a fundamental role in the education, health care and well-being of their children. We will not move from that," said DeSantis, per CNN. The law dictates that kids attending school between kindergarten through the third grade must not be taught about these topics, because it's "not age-appropriate." 
LGBTQ+ organizations across the country have criticized the bill, including the Trevor Project, which argued the bill erases "LGBTQ identity, history, and culture—as well as LGBTQ students themselves."
Following the passing of the bill this week, the Walt Disney Company vowed to assist efforts to have it repealed. "Florida's HB 1557, also known as the 'Don't Say Gay' bill, should never have passed and should never have been signed into law," the company said in a statement per CNBC. "Our goal as a company is for this law to be repealed by the legislature or struck down in the courts, and we remain committed to supporting the national and state organizations working to achieve that."
There's been a big backlash at Disney, which has historically supported Republican political candidates. Gabrielle Union was among those to voice her concern, as was Oscar Isaac, who stars in the Disney+ show Moon Knight. Disney has since publicly denounced the bill following criticism, which included a walkout over its initial response. The company has vowed to donate $5 million to organizations that protect LGBTQ+ rights, including the Human Rights Campaign.