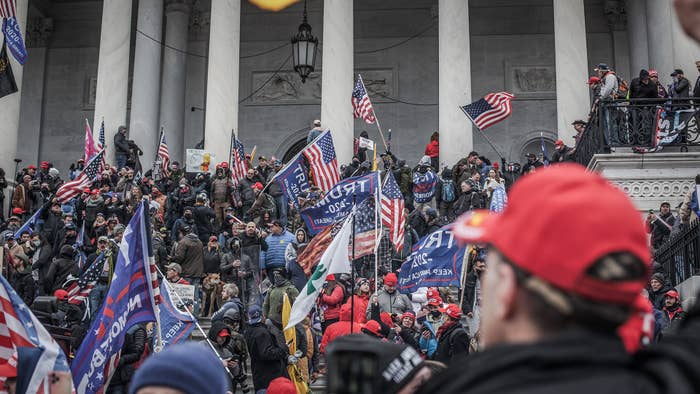 Retired New York City police officer Thomas Webster has been sentenced to ten years in prison for attacking an officer during the January 6, 2021 Capitol attack.
As The New York Times reported, Webster was the first person charged in connection with the events to defend himself before a jury. His sentencing is the longest given to an individual charged in connection with the Capitol riots yet. Webster was convicted on multiple felony charges including assault back in May, and he presented a self-defense argument as his reasoning for attacking a Washington officer with a metal flagpole.
"I think you were caught up in a moment, and as you well know, even being caught up in a moment has consequences," said Judge Amit P. Mehta of the United States District Court for the District of Columbia on Thursday. Prior to Webster's sentencing this week, the longest sentence handed out in connection with Jan. 6 was given to former police officer Thomas Robertson.
Videos showed Webster in the crowd of protesters during the Capitol attack, berating officers and repeatedly pushing against barricades. He was also filmed swinging a metal flagpole at officer Noah Rathbun, and later tackling him after pushing his way through the police line.
During the court proceedings, Webster argued that the officer provoked and punched him. Evidence showed that Webster had publicly and privately expressed support for Donald Trump's unfounded claims the 2020 election was stolen. "I felt like I was the cop and he was the protester," Webster said during court earlier this year.
On Thursday, another man charged in the Jan. 6 Capitol riots pleaded guilty to assaulting police officers. New Jersey man Julian Elie Khater was charged with assaulting Capitol Police officer Brian D. Sicknick last year, and he's facing up to eight years in prison for his actions. The 33-year-old was accused of using chemical spray against Sicknick, who died after the attack when he suffered multiple strokes.