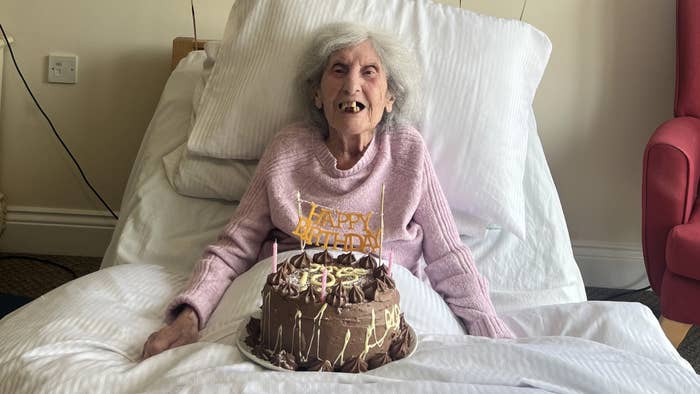 Joyce Jackman celebrated her 102nd birthday at the Silversprings Care Home in Essex, UK, and revealed her secret to living a long life.
Per the New York Post via South West News Service, Jackman said that she's able to live such a long life thanks to "good sex and good sherry." Jackman said that she "had such a lovely day" on her birthday, and was actually surprised she's been lucky enough to celebrate the milestone. "I can't believe I'm 102," she told the at the care home. "It must be all the chocolate I eat that's helped."
Jackman previously worked as a chef for the Royal Air Force during World War II. She married her high school sweetheart Terence Jackman when the war ended in 1945. "Joyce is a much-loved resident at the home," said care home manager Joanne Rix. "She's always making us laugh with her fantastic sense of humor and outlook on life. ... "It was wonderful to be part of her special day. Here at Silversprings, we work hard to support residents to lead fulfilling lives, and celebrating special occasions and birthdays plays a huge part in this."
On her birthday she was given a chocolate cake and the staff raised a glass of sherry to celebrate her "incredible life," Rix added.
Plenty of centenarians have credited the finer things in life to live for as long as they have. In 2015, 116-year-old Susannah Mushatt Jones—who was the oldest living woman in the world at the time—said bacon, eggs, and grits helped with her longevity. The following year, then 107-year-old Mario "Pops" Rotelli said his secret was a shot of whiskey in his coffee every morning for 100 years. In 2021, 105-year-old Lucia DeClark said she was able to beat COVID-19 thanks to gin-soaked raisins.