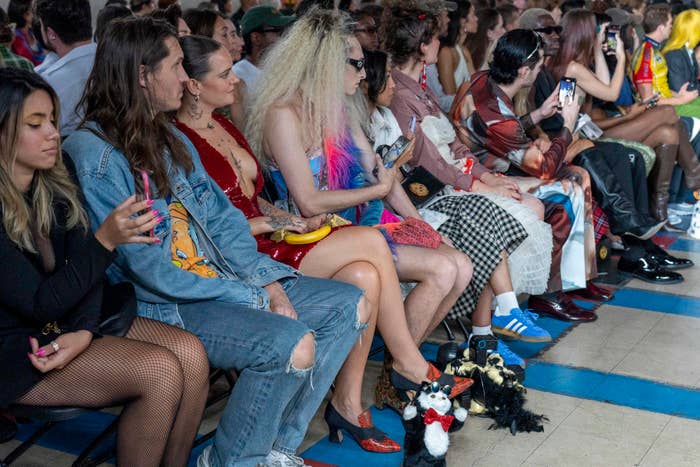 A fight during a New York Fashion Week event is going viral.
It all went down at the Interview x Emporio Armani party being held at the Bowery Hotel in New York City (Sept. 12). Markus Kelle, a well-known doorperson in NYC's nightlife scene and self-described "PR ingenue," got into a heated encounter with an influencer outside of the hotel.
Footage of the incident was shared on social media with Kelle saying, "You're from Canada so you don't fucking know, that's why you're not coming in. You're not welcome because I don't like you. Catch your flight."
The woman shouts, "You are not the PR person." "I am a PR person, you dumb fuck," Kelle replied.
The clip cuts to the influencer putting her hand in Kelle's face and pointing her finger at Kelle. It's not clear what she says during that part of the encounter as the crowd around them began to audibly react.
"The last time you got fucked was by genetics," Kelle says. The response from onlookers drowned out the influencer's retort.
"Safe flight!" Kelle yells. "What did you get out of that?" she responds.
"You're leaving, mission accomplished," Kelle says before returning to their post.
Tiktok user Shopsyro, who provided the footage that has racked nearly 10 million views on the platform, uploaded a separate video providing more context on what led the two to the exchange.
"Everybody was waiting on line. We're outside an afterparty for something. And then this girl, super rude to everyone, cuts the entire line," Shopsyro says, adding the woman was screaming and identifying herself as a "paid influencer."
Shopsyro continued, "And then she turns around and points at the rest of us waiting in line and being like, 'I'm being paid to be here, unlike these moochers.' She is the villain, she said what she said, Team Mullet Babe, Team Markus."
It turns out Kelle is making the most out of the situation and now you can own a piece of the NYFW action. For a limited time, the PR professional is selling t-shirts with quotes from the encounter including "I Wish You Well" and "I'm Matching Your Volume" according to Kelle's Instagram. However, purchases are not guaranteed to grant you entry at a future NYFW party that Mullet Babe is working the door for.
Olivia Rodrigo, who was Interview's cover girl for the September issue and rumored to appear at the party, was at the MTV Video Music Awards in Newark that night instead. Surely Kelle would have let her in.