Trump Blasted for Signing Bibles Like They Were Concert Merch
POTUS was spotted signing Bibles during his recent stop in tornado-ravaged Alabama.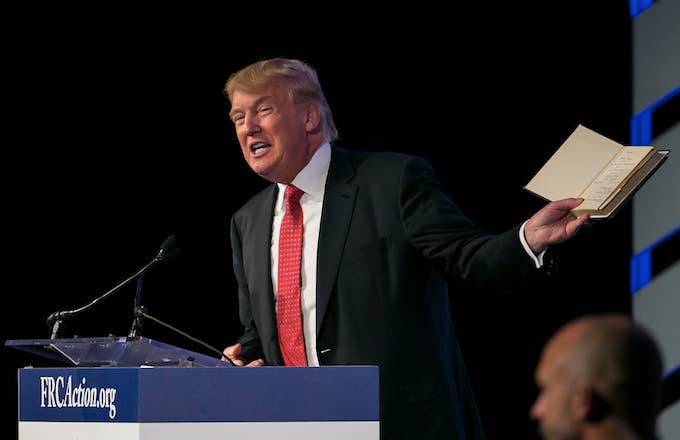 Getty
Image via Getty/Al Drago/CQ Roll Call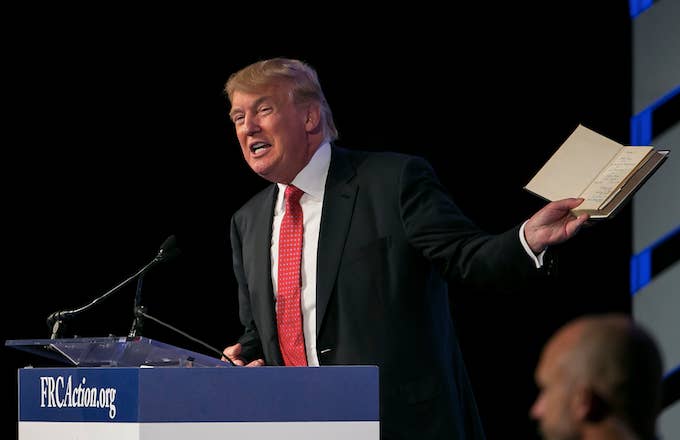 Self-admitted pussy grabber Donald Trump is now using his hands to sign Bibles.
On Friday, POTUS arrived in Alabama to survey the devastation caused by deadly tornadoes. As part of his tour, Trump stopped by Providence Baptist Church in Lee County, where he met with first responders as well as residents who were impacted by the storm. He shook some hands, snapped a few photos, and, of course, offered his autograph. 
"I enjoyed him coming," local volunteer Ada Ingram told The Hill. "I think it's a godsend. I'm sorry. The situation is bad. And there are going to be people who will say 'why did he come to my town?' I don't know why. I don't why the hurricane happened [either]. But there is a reason."
Ingram, who said she would vote for Trump again in 2020, confirmed the president had signed several items for those in attendance. Some of the items reportedly included hats, $100 bills, and, yes, the Holy Bible.
Naturally, Twitter users had a lot to say about Trump's decision to scribble his name on the Bible. Some praised the move, while most found it bizarre, distasteful, and offensive. You can check out some of the reactions below.